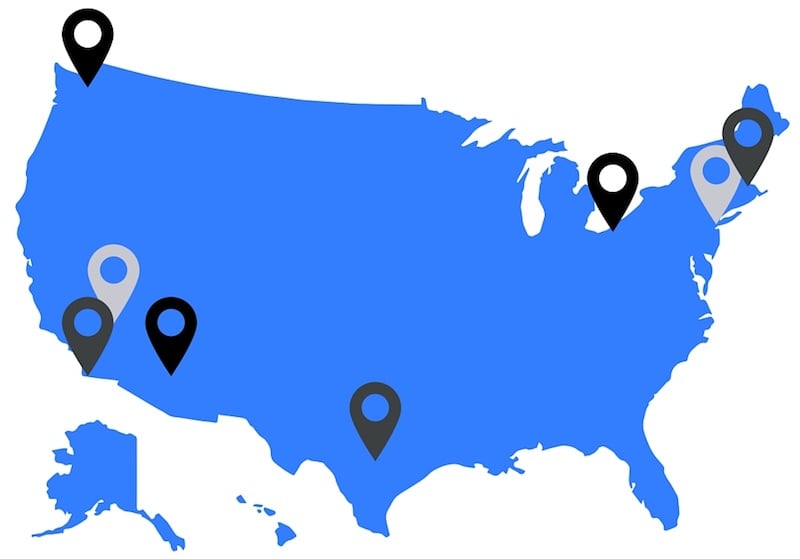 It's that time of year! Time to decide which marketing conferences you want to attend in 2016. Be prepared, because there are a lot of choices and you're probably in for a tough decision!
To make the process easier, here's our top 9 U.S. marketing conferences in 2016 we think you should attend. These were chosen based on speakers, subject matter, and event type.
1. The B2B Content to Conversion Conference
Dates: February 15-17
Location: Scottsdale, AZ
The B2B Content to Conversion Conference is centered around content marketing and demand generation. The agenda, which combines both topics, "provides real-world case study examples, as well as actionable takeaways on how marketers can better target, engage and convert prospects into customers."
At this event, you'll learn how to plan your content calendar, measure the effectiveness of your campaigns, optimize your database to reach more prospects within your target audience, and test tools and apps.
You can expect more than 600 B2B marketers and over 40 sessions. Speakers include Lee Odden of TopRank Online Marketing, Matthew Harper of Glassdoor, Jeremy Skule of NASDAQ and author David Meerman Scott.
2. Digital Marketing Innovation Summit
Dates: March 10-11
Location: New York, NY
At the Digital Marketing Innovation Summit, you'll "learn from industry leaders, exchange ideas [and] innovate your digital marketing."
Some topics on the schedule include the state of mobile, holiday marketing, the role of culture in digital marketing, local social media marketing, rebranding, engagement, and content ROI.
At this event you'll have access to over 20 industry case studies, over 20 hours of networking, over 25 industry-leading speakers and over 150 senior-level attendees. Plus, all sessions will be available after the conference via an on-demand video library.
3. Adobe Summit 2016
Dates: March 20-24
Location: Las Vegas, NV
The Adobe Summit is "the digital marketing conference that offers it all" including "deep insights, focused learning [and] endless networking." Essentially, this event promises to teach you "how you can combine creativity, content and data to create amazing experiences for your customers."
Topics include:
Core services
Digital experience management
Email and cross-channel marketing
Marketing analytics
Marketing innovations
Mobile engagement
Personalization and optimization
Programmatic advertising
This event boasts over 150 sessions, workshops and labs, and speakers include the President and COO of Mattel, the President and CEO of Adobe, and the CMO of Comedy Central.
4. Conversion XL Live 2016
Dates: March 30-April 1
Location: Near Austin, TX
Conversion XL Live is a three-day growth and optimization event that takes place in a remote location outside of a major city so that there are fewer distractions:
ConversionXL Live has a certain style. Everyone stays in the same place for 3 days. All attendees and speakers stay in the same place, nobody leaves. You can have quality conversations and form bonds for life with all your peers. No city noise to distract us. The outcome is high quality networking, discussions, learning and great parties.
This conference "will make you money" by focusing on an optimization process you can model and that will boost profits on any website. There are no sponsored speakers, only people with hands-on experience. Some of these speakers include Peep Laja of Conversion XL, Joanna Wiebe of Copy Hackers, Roger Dooley of Dooley Direct, Rand Fishkin of Moz, and Angie Schottmuller of Interactive Artisan.
5. Social Media Marketing World
Dates: April 17-19
Location: San Diego, CA
Social Media Marketing World brings together some of the best and brightest social media marketers out there. You'll join 3,000 fellow marketers at this mega conference that's "designed to inspire and empower you with social media marketing ideas."
You'll enjoy extensive networking, over 100 expert-led sessions and workshops, highly valuable pitch-free content, and recordings of every session. Some of this year's speakers include:
Mari Smith
Guy Kawasaki
Chris Brogan
Mark Schaefer
Jay Baer
Brian Solis
Joe Pulizzi
Ann Handley
And many, many more!
6. SearchLove
Dates: May 3-4
Location: Boston, MA
Distilled's SearchLove conference will cover "the latest in search, analytics, content creation, optimizing your website, paid promotions and more."
This is a single track event where all sessions are held in the same room: "We organize it this way so that you won't miss any of our carefully chosen speakers." There will be great networking opportunities, fantastic food, reliable Wi-Fi, and one-on-one time with consultants.
7. Content Marketing World
Dates: September 6-9
Location: Cleveland, OH
You should attend Content Marketing World if you want to "learn and network with the best and the brightest in the content marketing industry." What will you get from the event?
You will leave with all the materials you need to take a content marketing strategy back to your team – and – to implement a content marketing plan that will grow your business and inspire your audience.
You'll enjoy over 80 sessions, over 4,500 marketers from 55 different countries, 225 speakers, networking, hands-on labs, breakout sessions, and content on strategy, integration, measurement, and more.
Speakers include actor John Cleese, Jay Baer of Convince and Convert, Kristina Halvorson of Brain Traffic, Rand Fishkin of Moz, and Robert Rose and Joe Pulizzi of the Content Marketing Institute.
8. MozCon
Dates: September 12-14
Location: Seattle, WA
MozCon is "three days of forward-thinking, actionable sessions in SEO, social media, community building, content marketing, brand development, CRO, the mobile landscape, analytics, and more."
Speakers have not yet been announced, but are sure to share "next-level advice on everything from building a loyal community to making data-driven decisions in your marketing."
Fun is sure to be had as well, as networking events include a pre-conference activity day, a "MozCrawl," and a closing bash.
9. Inbound 2016
Dates: November 8-11
Location: Boston, MA
This year's Inbound conference by Hubspot is sure to be just as fun and informative as last year's. If you haven't checked out what we learned last year, here are a few posts to give you a taste of the event:
Session types include keynotes, spotlights, "bold talks," "ideas and experiences," "hacks, tips and tricks," "grow with Hubspot," as well as executive and partner/agency tracks. Fun networking experiences can be had at Club Inbound, Inbound Rocks and at Inbound Happy Hours.
---
There you have it! These are our top 9 marketing conferences in 2016. For a complete schedule of marketing conferences this year, check out this list.