It all started with a tweet.
When Rand Fishkin posed a question regarding Hubspot's blogging frequency in January of this year, a debate was sparked and testing ensued.
The Query
If you've ever subscribed to or visited a Hubspot blog, be it the Marketing, Sales, or Agency blog, you know how much content lives on those sites and how rigorous a publishing schedule they have.
Which is exactly why Rand asked this question in the first place: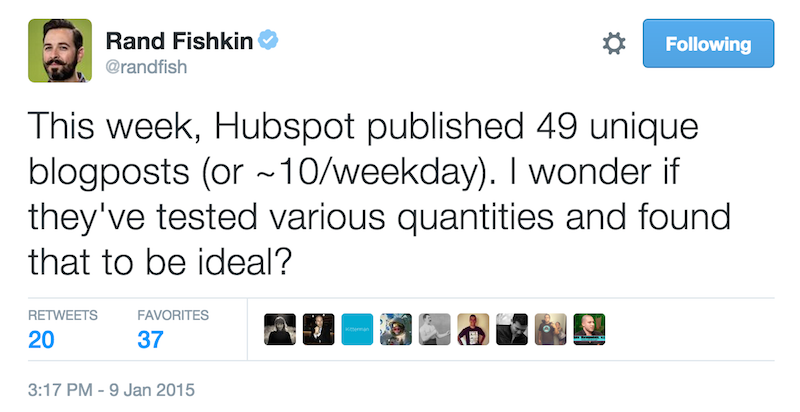 During her session at Inbound15 last week, Ginny Soskey, the Section Editor for the Hubspot Marketing Blog, said this query caused her and her team pause. They had never actually tested for publication frequency or—for that matter—which post type performed best.
Therefore, they decided to start performing tests to see just what was best for their target audience.
Setting up the Test
There was a lot of legwork to be done before the Hubspot team could actually get to testing. What was the most time consuming, Ginny explained, was categorizing all of their posts into post types.
The team found that their posts fell into eight main categories, including:
Tactical: These tactical posts included how to's and lists posts. This made up about 48% of the team's output.
Deep tactical: These were in-depth posts that were 1,500 words or more. These made up 13% of their output.
Infographic/SlideShare: These posts, which included an infographic or SlideShare deck accompanied by a bit of explanatory text, made up 13% of total posts.
Editorial: These were the "fun" posts that made up 9% of total posts.
Promotional: These posts were intended to promote eBooks, webinars, etc. and ran at about 300 to 400 words. This also made up 9% of total output.
TOFU: These lighter, top of the funnel, fluff pieces made up 4% of published posts.
Syndications: These were syndicated posts from the sales or agency blogs.
Miscellaneous: These posts didn't quite fit into any of the other categories.
All in all, the team categorized almost 2,000 posts.
What They Found
After creating different publication strategies to test them against each other—including benchmark, high volume and low volume strategies—the team came across some interesting findings.
Here's what they found:
High volume, low comprehensive content gets the most leads.
Posts that have success in the first month have higher success rates over time.
The best performing posts types in terms of traffic were (in order from best performing to least):

TOFU
Deep tactical
Infographic/SlideShare
Promotional
Tactical

The biggest sources of lead generation, on the other hand, were:

Promotional
Tactical
Deep tactical
Infographic/SlideShare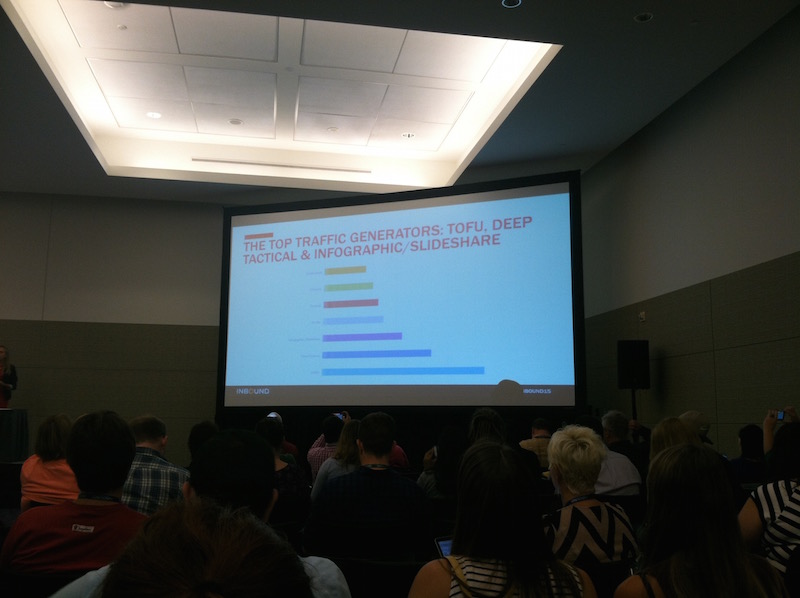 As you can see, there was no "silver bullet" piece of content. Those that were the best at driving traffic didn't produce as many leads and vice versa.
Conclusion
Ginny and her team found that their current publication schedule (of four posts a day) was hitting the mark, but that the types of content they were publishing weren't. If Rand had never posed his question in the first place, they would have never known!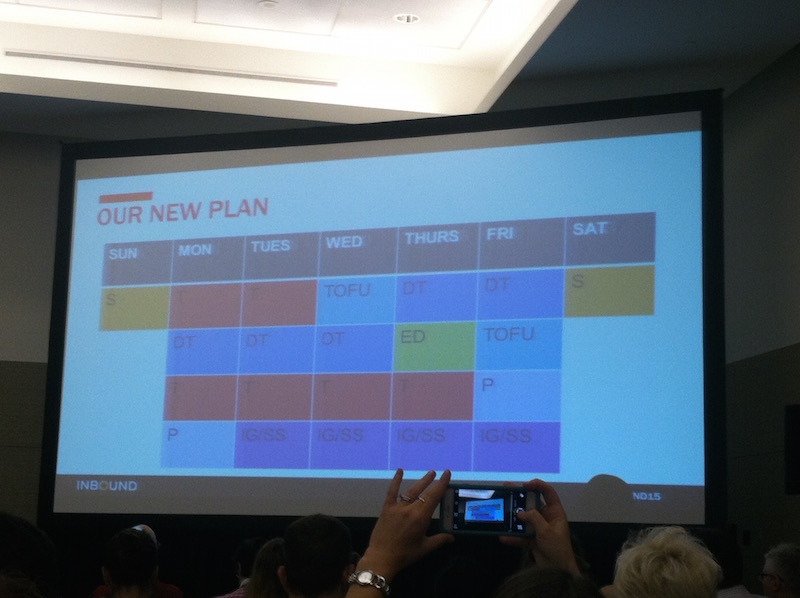 In order to remedy the problem, Ginny simply replaced a few of the non-essential or poor-performing content types with well-performing ones. She took out a few Editorial and Miscellaneous posts and replaced them with Deep Tactical, Infogragraphic/SlideShare, and Promotional posts.
Now It's Your Turn
Ready to do this same type of test on your own blog? Ginny suggests you start assigning post types ASAP as this was the most time-consuming part of the project. Next, learn Excel like the back of your hand and use its many tools to make the data mining process easier. You may also want to get a developer on board to help you build a tool and streamline the process.
Last but not least, you have to be okay with "good enough." As Ginny said, they couldn't find that illusive piece of silver bullet content, and it's quite possible you won't either! So don't sweat it, your "good enough" will be much better than those who haven't tested at all!