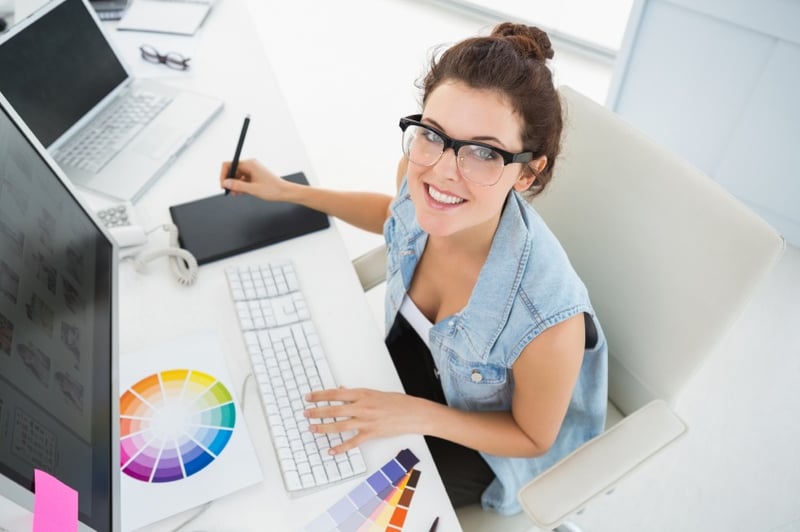 Do you want to get 94% more total views of your content? Then it's time to go visual.
Social media star Peg Fitzpatrick recently shared some awesome tips and tricks for visual marketing. She talked about visual branding, apps that can make your life easier, and how she got noticed by Guy Kawasaki.
Here are some of the key takeaways from her presentation and how you can start harnessing the power of visual marketing!
Why Visual Marketing?
First and foremost, why is this type of marketing so important? Let's take a look at some telling statistics:
93% of communication is visual
Visuals are processed 600,000 times faster than text
While people only retain 10% of what they hear and 20% of what they read, they retain 80% of what they see
Content with visuals receives 94% more total views and is 40 times more likely to be shared on social networks
To put it simply, human beings are visual beings, and visual information is much more sticky than any other type of content.
What Constitutes Visual Marketing?
Visual marketing consists of the following:
Blog graphics: Any branded images that are in your blog posts help people recall your company and what the piece of content was about.
Infographics: Infographics can improve website traffic by 12% and Google searches for infographics have increased 25-fold in the past five years.
Social Media Graphics: Peg Fitzpatrick's right hand man Guy Kawasaki recommends that you include an image in every tweet.
Presentations and Slide Decks: Take advantage of

SlideShare

, which boasts 60 million unique visitors a month.
Videos: It's 50 times easier to get a video to rank on the first page of Google.
Avatars: Yes, even your avatar is a form of visual marketing. These are incredibly important, as people can deduce a lot from this image. Make sure it's memorable, well proportioned, and showcases your personality! It was Peg's avatar that caught they eye of Guy Kawasaki and sparked a long-lasting professional relationship between them!
Creating a Style Guide
Before you start creating all of these wonderful types of visual content, you need to first establish a style guide for your business.
Peg recommends that you stick with simplicity and clarity. Don't try to overdo it; a simple, understated style guide resonates best with online viewers.
Here are four steps to creating your style guide:
Start by choosing your color palette. Pick two to three colors tops, and save the hex codes for future use.
Decide on the mood and feel you want your brand to convey. Is your business serious, playful, hip?
Pick two to three fonts you'll use across all of your visual content and website. This will give your brand cohesion.
Last but not least, choose the type of image you want to represent your company (young, modern people in workplaces or illustrations of computer tech?) and choose a filter to use over all of them.
Apps to Make Life Easier
Peg is the queen of helpful apps. Here is her top five list to help make visual marketing a cinch.
Conclusion
Not only is visual marketing essential to your inbound marketing efforts, it's fun! Take some time to establish how you want to visually represent your brand, and get to work creating stunning visuals for your audience. Not only will they be more memorable, they'll drive more traffic to your site!