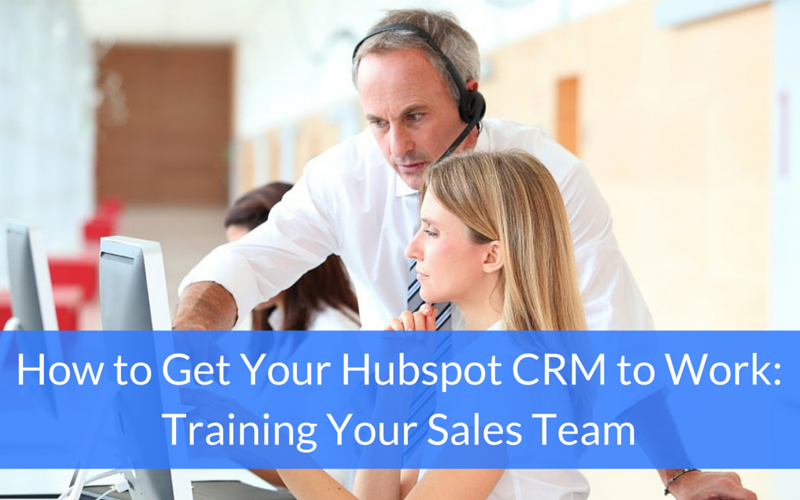 By now, your HubSpot CRM should be ready to rock. You understand how to use the Contact, Companies, Deals and Tasks features and have set up your Lead Statuses and Deal Stages using Sequences.
To refresh your memory, you can always watch this HubSpot video that gives a quick tour of the platform.
Now that the machine is built, your salespeople need to be taught how to use it correctly.
Here's how we train our clients (and their salespeople) to use the HubSpot CRM effectively and efficiently.
1. Enter Contact
Create a new contact as needed. Make sure you enter all of the information you have about the prospect.
2. Add Company
If you have the contact's company email address, the contact's work email will automatically add a company or associate it with the company record. The work email will populate the website, which will populate all of the contact information for that company as well as other public information. (Cool, right?)
3. Add Lead Status
Begin managing the lead status in the contact record.
4. Add Tasks and Sequences
Enroll the contact in the desired email, call and task sequences.
5. Complete Tasks
It's a best practice to add notes with the current situation and next steps, as well as update it to the next lead status.
6. New Tasks
Add a new sequence if applicable or manually assign a follow up task.
7. Create Deals
When you meet with a prospect, add a new deal to the pipeline. Move the lead status to "open deal" and create a new deal. Add everything you know about the deal so far, and create new tasks for the next steps as needed.
8. Maintain Deals
Keep detailed, regular notes of activities in the Appointment and Contract deal stages.
9. Close Deals
All deals should systematically progress towards Won, Lost, or Stalled. Remember, they can't remain in the active pipeline forever. Remember to also update the lead status to match the outcome of the deal.
---
By adopting a CRM that makes salespeople more efficient and moves deals down the pipeline faster, you'll see dramatic improvements in your close rates and overall revenue.
What's more, if you train your sales team to use these nine steps to get their own CRMs up and running, they'll be ready to dominate their pipelines and close more deals!