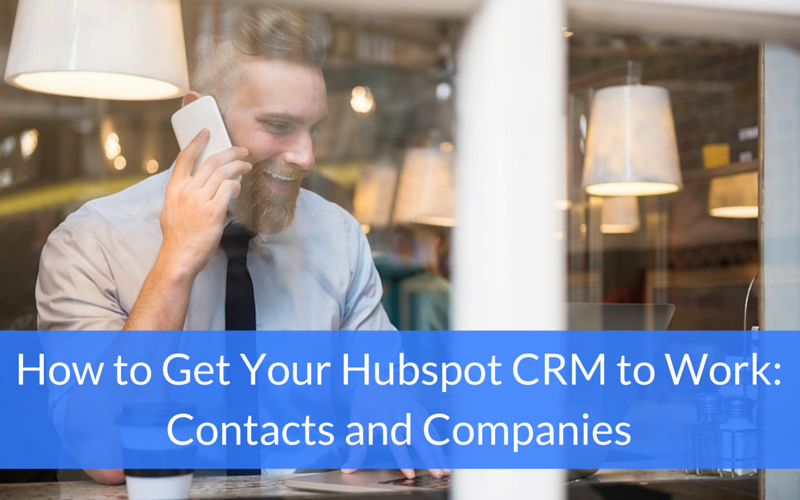 Are you using the HubSpot CRM to manage your daily sales activities? If it's not properly set up or maintained, you might not be working as efficiently as possible.
In this first part of our seven-part series on how to get your HubSpot CRM to work, we'll take a closer look at the Contacts and Companies features of the CRM.
Let's jump in.
Contacts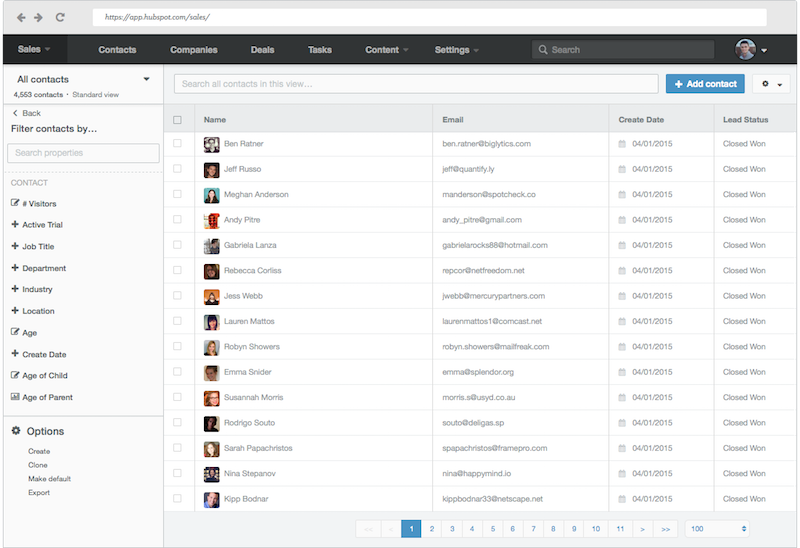 This tab shows you all of your contacts in the HubSpot CRM. All of the contacts from the HubSpot marketing platform are automatically added, however, more can be imported manually into the CRM.
Each contact record will show you:
Current information the contact has provided (intelligence collected from smart forms in marketing)
Imported intelligence from social media (followers, score, social media profile links)
Lead score and lifecycle stage
The complete history of their activity with you (on your website, blog, offers, emails, social posts, etc.)
You can also add custom contact properties with ease
Integrations
The CRM becomes much more powerful when you integrate your other communication tools. For example:
When you connect your email, you'll be able to send pre-written emails that are automatically customized to your lead.
When you connect your phone, you'll be able to automate your call tasks and keep record of your call activity.
When you connect your calendar, you can keep record of your meetings in the CRM.
The nice part about the Contacts dashboard is you can do all of these things from the dashboard, without having to go into the contact record. One less click means you're moving faster.
Other Perks
Another nice feature for the Contacts dashboard is that you can filter your views by statistics generated on the public domain (location, industry, revenue) as well as internal database statistics (engagement: emails opened, site pages visited, assets downloaded, etc.).
Did an important announcement just hit a lot of contacts in a certain industry? Shoot them a quick email and let them know what your company is doing about it for them.
Want to call the hottest leads first? Filter the contacts that have frequented your website over the past month.
Are you an expert of a particular product offering for your company? Find all the leads that have downloaded assets relating to that offer.
Companies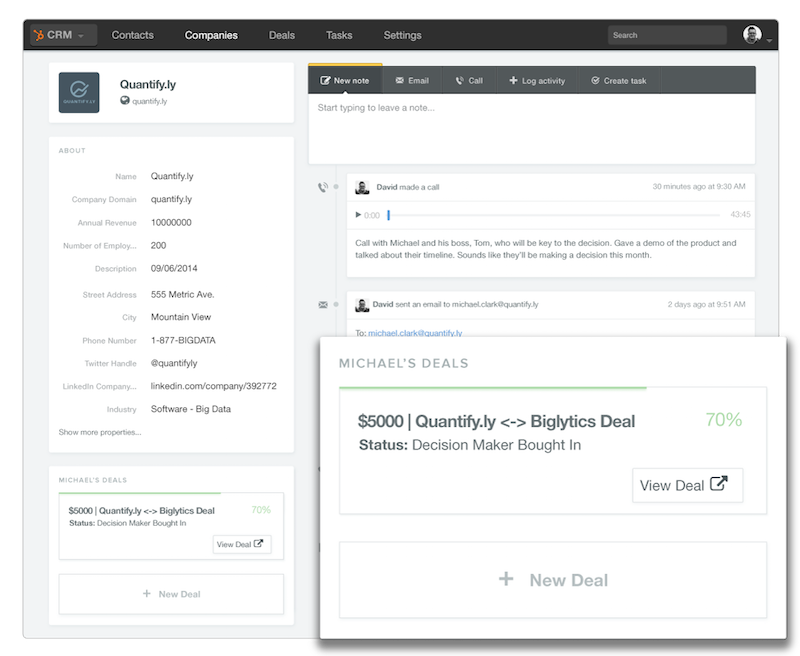 While "contacts" show the personal interaction on a micro level in your CRM, "companies" show the big picture, the macro level. If you're a B2B company, you can't have one without the other. In other words, you can't do business with a contact without doing business with their company, and vice versa.
HubSpot makes this process easy for you! All you have to add is a company name and a website, and magically the company information is populated, including:
The company description
Contact information including phone and address
Social Media company pages like LinkedIn, Facebook and Twitter
The contacts in your database that are connected to the company
Latest interaction with your company
On this page you can add new deals, store important attachments (proposals, brochures, etc.), and schedule important tasks and reminders so you never let a hot lead turn cold.
Conclusion
Hopefully you now have a better grasp of the powerful features of both the Contacts and Companies components of the HubSpot CRM.
To learn more about its features and functionality, stay tuned for the rest of our "How to Get Your Hubspot CRM to Work" seven-part series! Here are some upcoming posts you'll definitely want to check out:
Deals and Tasks
HubSpot Sales (formerly Sidekick)
Setting up Lead Statuses
Setting up Deal Stages
Setting up Sequences
Training Your Sales Team