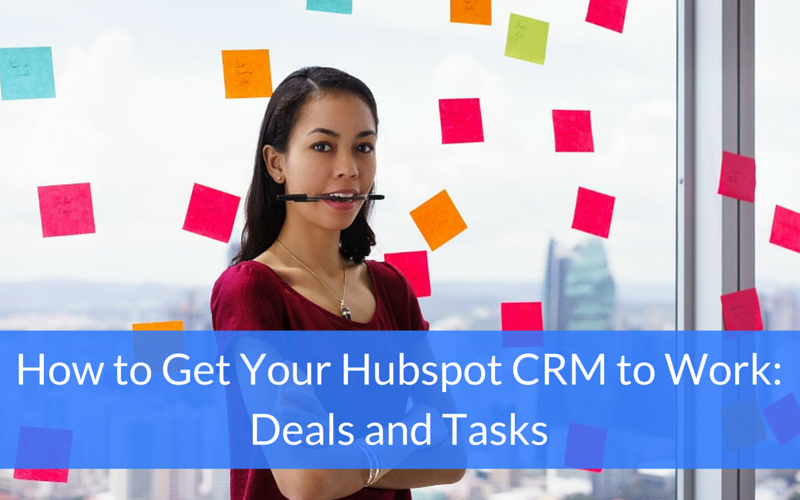 If you're keeping up with our series, you've already learned how to harness the power of the Contacts and Companies features of the HubSpot CRM.
Now it's time to take that knowledge and apply it to two more powerful features: Deals and Tasks. Deals allows you to add and view deals and their stages, while Tasks allows you to create tasks and set reminders.
Let's take a closer look at each.
Deals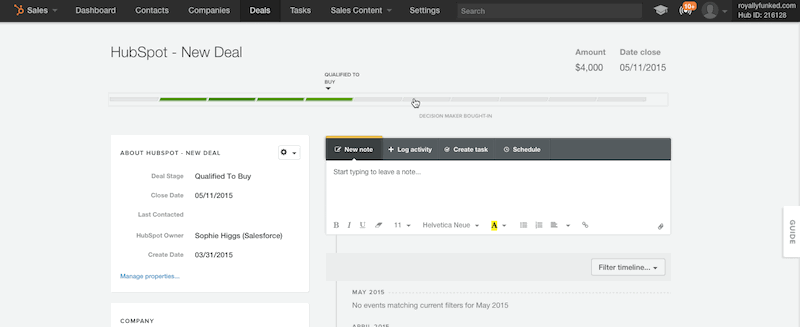 via HubSpot
If you're not using this tab, then your CRM is just a really fancy address book. All roads in the CRM lead to deals, so it's very important to get this set up correctly and keep up with it consistently. Think of deals as a project management tool for sales.
1. Define Your Process
Like any project management system, the first thing you'll have to do is define your process. Every sales process is unique, so if you haven't already defined your sales process, we can help.
2. Customize Your Stages
Once you have a plan in place, you can customize your deal stages around it. We're going to take a closer look at deal stages later on, but the deals function like a Trello board: Each stage has a "list" and each deal is a "card." Moving the deal to new stages is done with a click-and-drag.
3. Stay on Top of It
From there, it's a matter of staying on top of it; create new deals, complete your tasks for each deal stage, and move them into hotter deal stages as they progress. The progress indicator shows how far along the deal is. When the deal is closed, it's automatically shown in the reporting section.
Tasks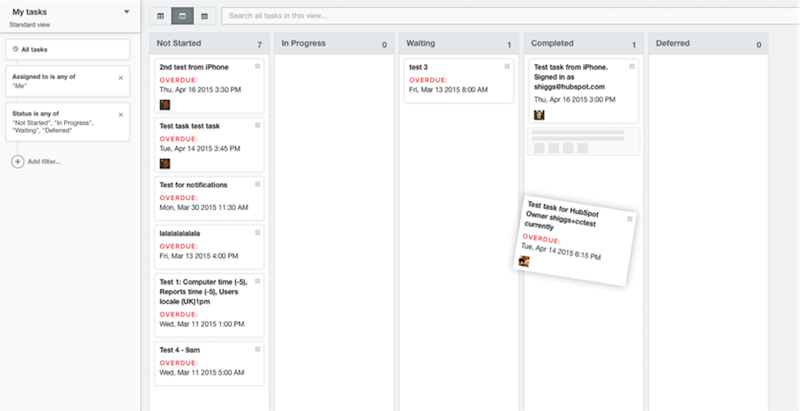 via HubSpot
As Companies is to Contacts, Deals is to Tasks. Deals shows the macro level of what is happening in the sales process, Tasks shows the micro level. In real life, you can't have a new deal without working for it, and Tasks show what needs to be done. Tasks bring your CRM to life.
Salespeople who don't leverage new technology might have their own "system" of remembering tasks. Their own system might include a legal pad, sticky notes, a stack of business cards to call through, or any number of other antiquated methods.
Modern salespeople know how important it is to not let the funnel cool down and they are far too busy to remember everything on their own. They are on the go, and they want to keep everything digitized so they aren't brought down by clutter. They want to stay on the phone, not stay in their email. These salespeople will love Tasks.
There are three views for Tasks: Table, Board, and Agenda.
Table view lists the tasks that need to be done by due date, in sequential order.
Board lists the tasks by status: haven't started, in progress, waiting, completed, or deferred.
Agenda shows the tasks that need to be done for the day, like a virtual calendar.
Each task will show status, due date, assigned to, description, point of contact, company (if applicable) and deal (if applicable). You can also automate your tasks in order to close more deals (more about that in a future post in the series).
Conclusion
Now that you're a wiz at creating and utilizing both Deals and Tasks, you're ready to learn how to use HubSpot Sales (formerly Sidekick) to give your CRM an extra boost. Stay tuned for the next post in the series to learn all about it!