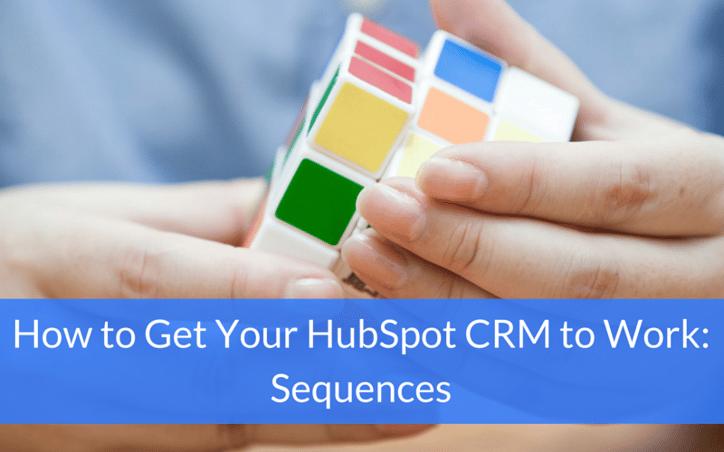 Before we move on to how to set up sequences in the HubSpot CRM, let's first review what we've already learned.
We kicked off the series by showing you how to get the most out of the Contacts, Companies, Deals and Tasks features. Next, we showed you how to use HubSpot Sales (formerly Sidekick) to see when people are opening your emails and revisiting your website. Then we dove into setting up lead statuses to help sales reps manage prospects up to the first meeting, and deal stages to help them manage leads from the first meeting to close.
Now it's time to cover sequences, which can help your salespeople manage the tasks needed for all lead statuses and deal stages.
Let's jump in!
Sequence Basics
The Sequences feature is for the sales team what the Workflows feature is for marketing, and they're set up very similarly.
Sequences automates your tasks by allowing you to:
Send a series of pre-designed emails and call scripts/reminders for specified time intervals
Automatically un enroll the contact out of the sequence when they reply
Edit all your templates so you can customize and personalize the automated messages before enrolling a contact in a sequence
Follow up with leads more efficiently
Building a Sequence
To build a sequence, you first need to create your email templates in HubSpot Sales. Using the email templates and documents features in HubSpot Sales, you can create emails and upload all of your existing sales promo materials ahead of time in order to streamline and simplify your tasks.
Next, create the sequence in HubSpot Sales:
Navigate to HubSpot Sales

→

Sequences
Click + New Sequence
Name your sequence and choose from one of your templates
Click + Add another step and dictate when the emails should be sent (i.e. how many days/weeks should pass before sending the next template)
Select the second template
Continue to add steps until your sequence is complete!
Using Sequences
Sequences not only allow you to automatically send email, they also let you decide when you want to schedule follow up calls. This will simplify your task list because the emails will be sent without you having to lift a finger, meaning the only thing that will show up on your task list are upcoming calls.
Use sequences with both lead statuses and deal stages to automate the tasks needed for each status or stage. We have found that each deal and lead requires a unique cadence. Therefore, we recommend scheduling tasks manually and also including detailed notes in the contact record with the current situation and next steps (so you won't have to review the entire history each time).
---
Stay tuned for the next, and final, post in our How to Get Your HubSpot CRM to Work series, in which we'll teach you how to train your sales team to use the HubSpot CRM.