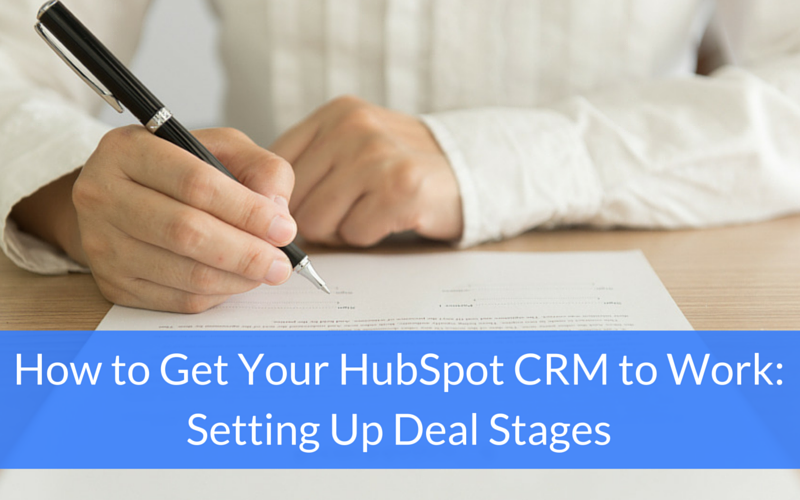 In the last post in our HubSpot CRM series you learned about Lead Statuses. Using the Actions and Outcomes features, you should now be able to identify real opportunities. And once that happens, you'll need to know how to set up Deal Stages.
Let's jump in.
Know When to Add a Deal
Too many sales organizations create deals or opportunities without restraint. That causes big problems with forecasting.
The most important thing to remember about adding a new deal is this: you don't have a potential deal until you've at least held one meeting with the prospect.
Setting Up Deal Stages
As with anything else, the typical deal progression is going to be very different for every company. For that reason, deal stages are customizable. That being said, we teach our clients to keep deal stages simple and easy to manage.
Here are the six deal stages we suggest you use.
1. Appointment Held
The first discovery meeting has been held with the client and you're officially putting them on the deals board. Make sure to add your notes from the meeting and assign your next steps (emails, calls and meetings).
2. Follow-up Appointments
Usually this means you're in presentation mode, you need more than one discovery meeting, and/or you're engaging with multiple stakeholders.
3. Contracting & Negotiation
This is when you've submitted a proposal or agreement.
4. Closed Won
Congratulations! You beat the competition and you have a new client!
5. Closed Lost
You won't win them all! Don't burn the bridge though; if they get buyer's remorse from "the other guy," you may want to be there to pick up the slack.
6. Stalled
This is a VERY important deal stage! If a deal gets "pushed" multiple times (e.g. it didn't start on the projected date, the lead isn't approving the proposal or contract, the lead isn't providing the money to start, etc.) then move the deal to stalled. Take the deal out of your projections in order to avoid false forecasting.
---
As with lead statuses, you can set up sequences to automate the tasks needed for each deal stage. We have found, however, that each deal and lead requires a unique cadence.
We recommend scheduling tasks manually and also including detailed notes in the contact record with the current situation and next steps. This way, you won't have to review the entire history each time.
Be sure to come back to read our next post in the HubSpot CRM series on Sequences. Whereas lead statuses help the sales rep manage a prospect up to the first meeting and deal stages help them manage leads from the first meeting to close, sequences help them manage the tasks needed for all lead statuses and deal stages.