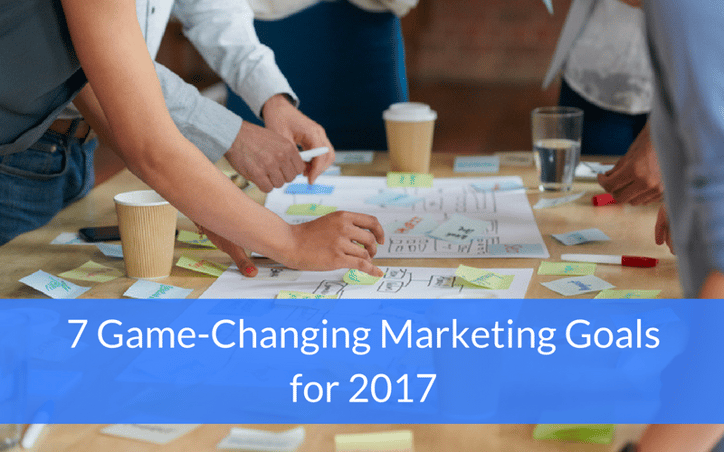 Every year you should strive to be better and better at what you do. Assessing where you started, how far you've come, and what areas still have room for improvement is a great way to set your goals for the coming year.
Your business goals should be no different. When it comes time to set goals for the coming calendar year, have your teams first assess the progress they've made in the past year and brainstorm ways to keep up the momentum and improve upon those accomplishments.
If you need help setting some marketing goals, here are a few you might want to consider for 2017 (our team at xoombi plans to improve upon these as well!).
1. Have a Documented Strategy
A documented inbound marketing strategy makes it easier to keep projects on track, bring new team members on board, and apply that successful strategy to different campaigns.
In fact, the Content Marketing Institute found that 60% of B2B marketers in North America that have a documented strategy rate themselves effective, whereas, at 32%, those with only a verbal strategy find themselves less effective.
2. Create More Videos
As we've mentioned in previous posts, video marketing can generate leads, boost lead conversion, and drive ROI. That's because people respond more to video content. Just take a look at some stats:
On-site video increases web traffic by 200-300%
Video now appears in 70% of the top 100 search results listings
On-site video doubles a visitor's time on a website
There are many different types of videos you can create and publish, including video testimonials, landing page videos, video Q&As or FAQs, sales follow up videos, product/demo videos, teaching videos, and more.
3. Publish a Creative Newsletter
Email marketing is still one of the most effective forms of marketing. So instead of just the traditional blog subscription newsletter, why not mix it up a bit? Maybe it's time to launch a new, creative newsletter that's more fun and interactive.
You might want to test out different types of content, like graphs, videos, surveys, GIFs, and more to see what people like and engage with the most.
4. Tell a Better Story
Being able to tell a story will help you connect with more prospects. After all, people are moved by emotion, and stories are a great way to weave that crucial emotion into any piece of content.
For example, you can take your target audience's main pain point and tell a story of how frustrating it can be (empathy) and how resolving it can lead to a reduction in stress (mental well-being) and a healthier business (financial stability).
5. Employ Influencer Marketing
Influencer marketing is a great way to not only reach out to and get to know industry influencers, but can also lead to great social sharing and link building opportunities.
Make sure you always keep in mind the "What's In It For Me" (WIIFM) factor for the influencer whenever you pitch an idea their way, as they probably get these types of requests on a regular basis.
6. Use More Personalization
Personalization, whether it be web or content personalization, makes people feel more connected to your brand and more likely to purchase from you.
Employ personalization techniques throughout your marketing campaigns in order to connect with your prospects and customers and let them know you've catered certain assets specifically to them.
7. Measure Effectiveness
The most important thing you can do to see how far you've come and how much further you need to go is by measuring how effective your new marketing tactics are.
Keep track of how well (or how poorly) received your marketing messaging is in order to be able to improve it for future incarnations. After all, if you're not measuring how something's performing, you're essentially shooting in the dark.
What other marketing goals have you set for yourself and your team for 2017? Please share them with us in the comments!