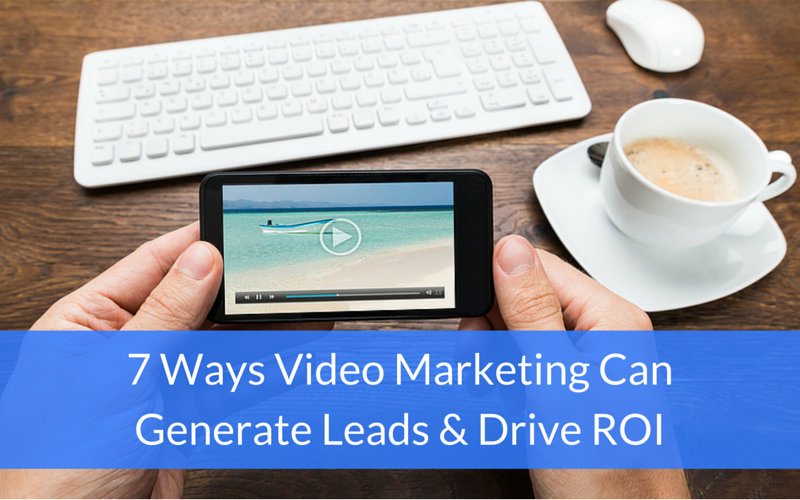 We recently wrote a post outlining how video marketing can boost lead conversion. Now let's dive into how it can also help generate leads and drive ROI.
During the same webinar referenced in our previous post, Quintain CEO Kathleen Booth outlined seven ways in which this incredibly engaging form of marketing can help you target and convert the prospects you want.
Here's how lead gen forms, video testimonials, and including videos on your landing pages can make your overall video marketing efforts more effective.
1. Use in-video lead generation forms.
Overlay a lead gen form directly in the video itself. This form (called a "turnstile") can be at the beginning to gate the content, during the middle to entice people to enter their information in order to see the rest, or at the end to use for follow up.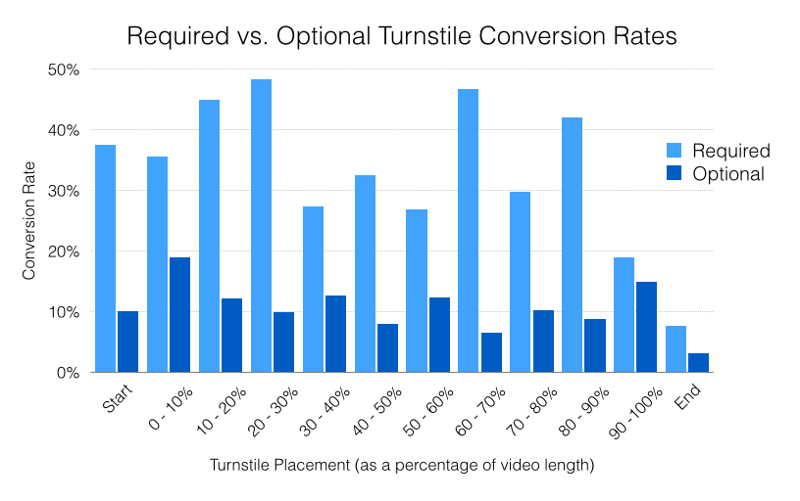 via Wistia
Wistia has found that placing this form 10-20% into the video will yield the highest conversion rate (40-50%). You can even use this technique in videos you post to social, generating leads directly from social media sites like Twitter.
2. Create teaching videos.
These can include recorded webinars or a series like Moz's Whiteboard Friday.
3. Offer product and/or demo videos.
These help you show rather than tell and help prospects learn about your product and whether or not it suits their needs. In these videos, you'll want to describe, use, and demonstrate the product. It's been found that conversion rates on product pages are higher if they include a video, even if people don't actually watch the video.
This technique can also work for SaaS in the form of demo videos. Utilizing these videos led to longer session durations and increased free trial conversions.
4. Add videos to your landing pages.
We've talked about different ways in which you can improve conversion rate optimization on landing pages, and using video is another great way to truly capture your audience's attention.
In fact, studies have shown that if you use video on your landing pages, you can increase conversions by up to 80%. That's because videos increase the length of time people stay on your page, giving your brand messaging more time to sink in.
Furthermore, including the CEO or a team member in the video is a great way to establish trust, making the visitor more likely to give you his or her contact information.
Why else does this technique work? People are lazy! Many would rather watch a video than read marketing copy.
5. Create a video Q&A or FAQ.
Use a Q&A format for videos by designating a hashtag users can leverage to ask questions that you'll answer in your next video segment.
You can also take the top frequently asked questions of all time and create a video to answer them.
This technique can also be leveraged as a thank you video when you get a super positive response from a customer.
These types of videos can help advance people through the buyer's journey, build rapport with your community, and also build brand super fans. Remember, these videos don't have to be super polished and can be either professional or fun in nature.
6. Employ video testimonials.
Most companies leverage testimonials on their websites. But are you using video testimonials?
Testimonials work because it's good for prospects to see that a third party had a positive experience with your product or service (and that it actually works). However, very few people believe them if only the first name or initials of the person giving the testimonial are mentioned.
Due to this, video testimonials work wonders at establishing credibility, primarily because they're hard to fake. It might cost you more, but it could definitely help generate leads and drive ROI.
7. Send sales follow up videos.
Whenever you have a sales meeting—whether it be a discovery call or demo—the typical follow up is an email. But what if you followed up with a personalized video?
Not only will this technique help put a face to your name, it's a great way to build trust between you and the prospect. You can also use this video as a way to introduce the prospect to other people on your team that would be working on his or her account should s/he decide to move forward.
These videos don't need to be fancy; they can be 30 seconds or less, quickly created and easily sent.
Is It Working?
To figure out if these techniques are working, Kathleen recommends that you pay attention to the following metrics:
Video count: To measure reach
Play rate: To measure relevance
Engagement: To measure quality
Social Shares: To measure word of mouth
Form Submissions: To measure lead gen and prospect interest
Conversations: To measure clarity and community
You can also use tools like the HubSpot CRM to see what videos certain prospects have watched and, using a tool like Wistia that integrates with HubSpot, see how long people have watched them and what portions they skipped over or rewatched.
What other video marketing techniques have you employed to generate leads and drive ROI? Tell us in the comments!