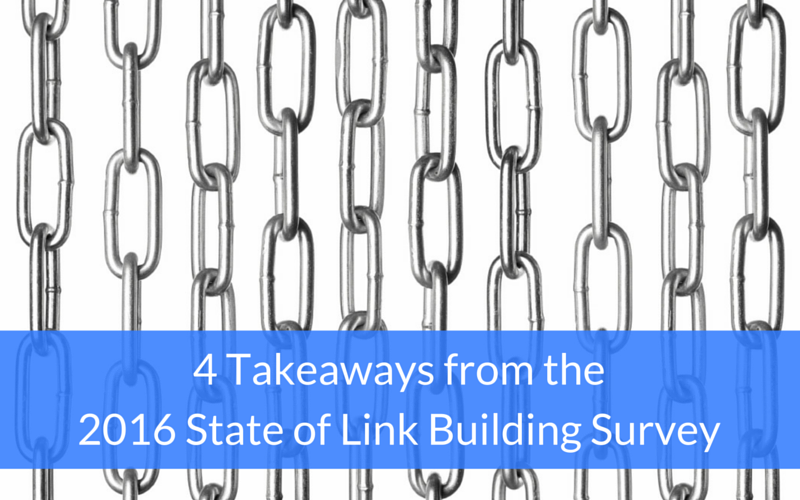 The state of link building survey began in 2013. Although 2015 didn't see a survey, 2016 saw it brought back, and with it, some interesting findings.
Moz and Credo collected 435 responses (compared to 315 in 2014) to the survey, which included questions "designed to reflect link building's evolution into a more legitimate and integrated marketing channel."
Most of the respondents (41%) worked at an agency, followed by in-house SEOs (27%) and consultants/freelancers (12%). Furthermore, the majority of respondents (65%) worked for companies that had one to 50 employees.

via Moz
Without further ado, let's take a look at some of the survey findings and what they mean for inbound marketers.
1. Link Building Reigns Supreme in the Small Business Market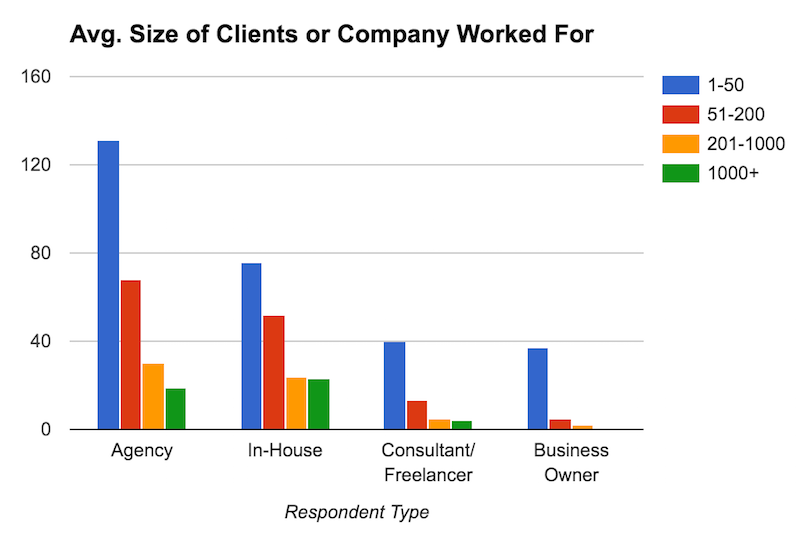 via Moz
The survey found that a majority of respondents stated that they worked for a company with one to 200 employees. So why does link building seem to reign supreme in the small business market?
"The common line of thought is that enterprise businesses naturally earn so many links that active link acquisition isn't as necessary," explained Nicholas Chimonas, Head of Research and Development at Page One Power. This makes sense, as companies like Coca Cola and Apple are linked to regularly, while small businesses must actively seek links, which brings us to our next takeaway.
2. Link Building Still Requires a Manual Process
The survey found that "the manual promotion, the deliberate intention of earning all of the links you deserve via manual outreach, is what seems to have been missing in many marketing strategies of late."
While, according to Rand Fishkin, the ideal content promotion process should go something like this—publish, amplify, grow network, get links, grow authority—the "get links" part of the process just doesn't happen. And, as Nicholas points out, "link building—outreach, embeds, nudges, etc.—are still essential."
He also adds that when it comes to PR, successful PR creates some of the highest-quality link opportunities, but "most of them are left on the table; they still require manual outreach to convert to links."
3. Link Building Doesn't Get the Budget It Needs
Partially due to this still largely manual link building process, a proper link building strategy requires the right budget. However, there was a mismatch between the percentage of budget allocated to link building and the time spent on delivering the work.
Good link building takes a lot of time, effort, skill and experience, and the budget needs to reflect this. One reason this might still be happening, Nicholas explains, is because:
Link building has historically been a fairly quick SEO fix, so a lot of potential clients require new education on how modern link building works and [need to] buy into the idea that they may invest for several months before seeing a return.
4. Content is the Most Popular Link Building Tactic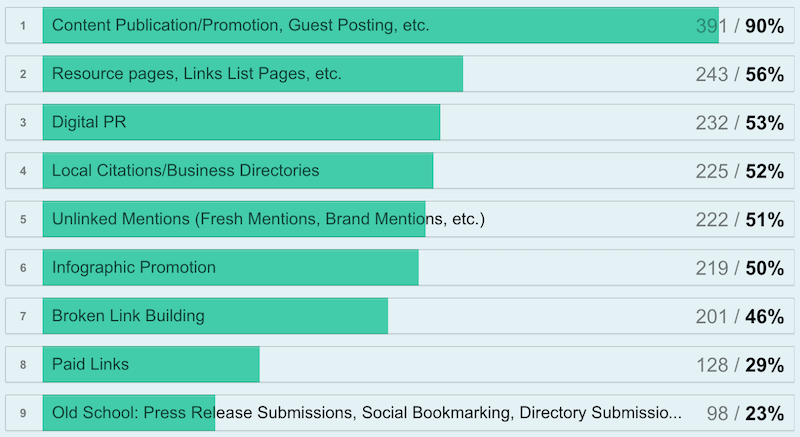 via Moz
When asked which link building tactics survey respondents employed, 90% selected "Content Publication/Promotion, Guest Posting, etc." This question was a "choose as many as you like" format, with a majority of tactics receiving at least 50% of respondent votes.
Why does content rule? Because "content links in the body of the page is what we're all after. The creation of content is a value proposition with the strongest chance of leading to an acquired link." This is why creating links by creating content (like with guest blogging) is used more than any other tactic.
Conclusion
So what are the takeaways from the 2016 State of Link Building Survey? To summarize:
Unlike large corporations, small businesses need a more active link building strategy.
The link building process is still fairly manual.
More budgetary resources need to be allocated to link building.
Content creation is the most utilized link building tactic.
Keep these takeaways in mind when creating your own link building strategy so that you too can benefit from the SEO juice that comes with acquiring links.