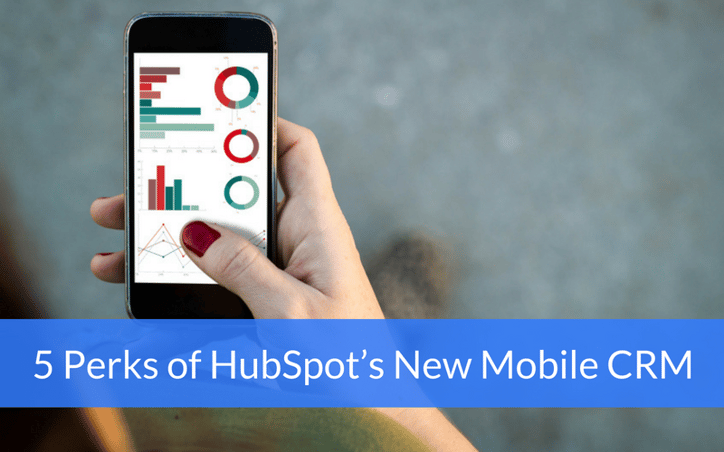 HubSpot recently introduced its new mobile app for iOS. The app, which includes a mobile CRM, offers everything you need from HubSpot.
According to the company, "We've taken the best parts of our existing CRM, Sales, and Marketing apps, and combined them into a single mobile experience." The new app provides users with "a view into the full lifecycle of your contacts, from top funnel marketing efforts to in-progress deals and sales tasks."
Here are some of the new perks and how they can benefit you and your business.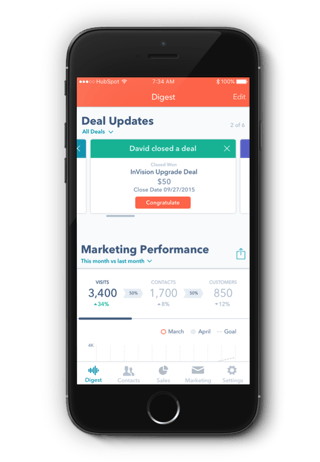 1. Access your contacts from anywhere.
The new app allows you to access your contacts in HubSpot right where you need them—your phone. You can easily "pull up contact records to get more context from contact properties and recent interactions when you're on the move."
2. Easily review the most important information.
The HubSpot app's customizable digest helps you keep an eye on your overall sales and marketing health. Customize your own digest to "display the most important metrics at a glance." You can include information from your email, landing page, and blog performance, preparing you to "dive into deals and sales tasks", which brings us to the next perk.
3. Tend to deals and sales tasks with the mobile CRM.
You can access insights from your sales pipeline right from your pocket. Using HubSpot's Deals and Tasks feature on mobile, you'll be able to "add notes, activities, or tasks, and keep track of deal stages."

4. Keep tabs on your email marketing performance.
The app also makes it easy to:
Assess the impact of your conversion and nurturing email campaigns via detailed analytics
Review your send engagement and deliverability metrics to help inform your overall email marketing strategy.
5. Enjoy the user-friendliness of recently redesigned features.
With the introduction of the new app, HubSpot has also redesigned some features to enhance the user experience. It includes new landing page, blog and email reporting features as well as a "fully redesigned sales activity stream."
Conclusion
HubSpot plans on consistently improving their mobile CRM and overall app. Since it's still in its early stages, they say they plan to continue to "add features over time."
You can download the free app from the iTunes app store and give your welcome feedback to HubSpot once you've given it a go!