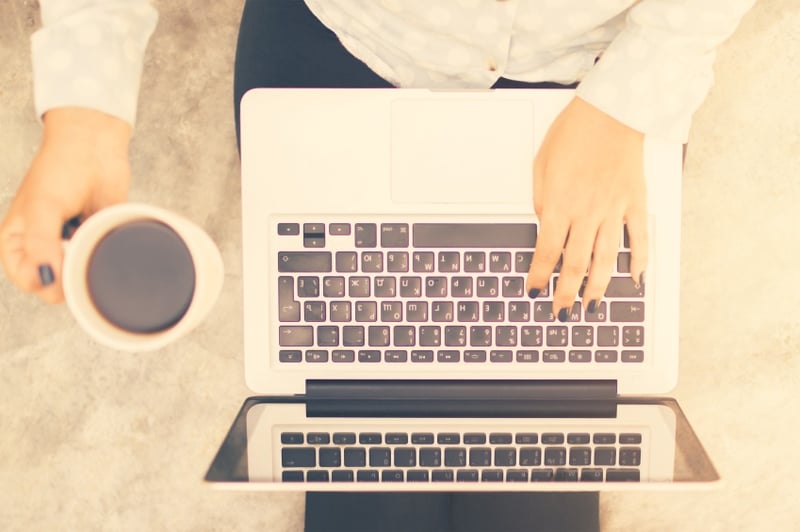 We get it; launching an inbound marketing strategy can be difficult.
The idea of inbound is still new to many people and can be a tough concept to grasp. That's because after years and years of singing the same old marketing tune, recalibrating, understanding, accepting, and implementing a new marketing approach can be overwhelming and intimidating.
Furthermore, once you get your inbound marketing strategy off the ground—as 90% of companies have now done—it's more than likely you'll run into a few obstacles. Don't get discouraged; these hurdles are common and can be overcome!
During a survey of 270 marketing, sales and business professionals from around the world, Ascend2 uncovered the challenges these individuals believe are hindering their inbound performance.
Here are the top five most common obstacles to inbound marketing success and what you can do to overcome them.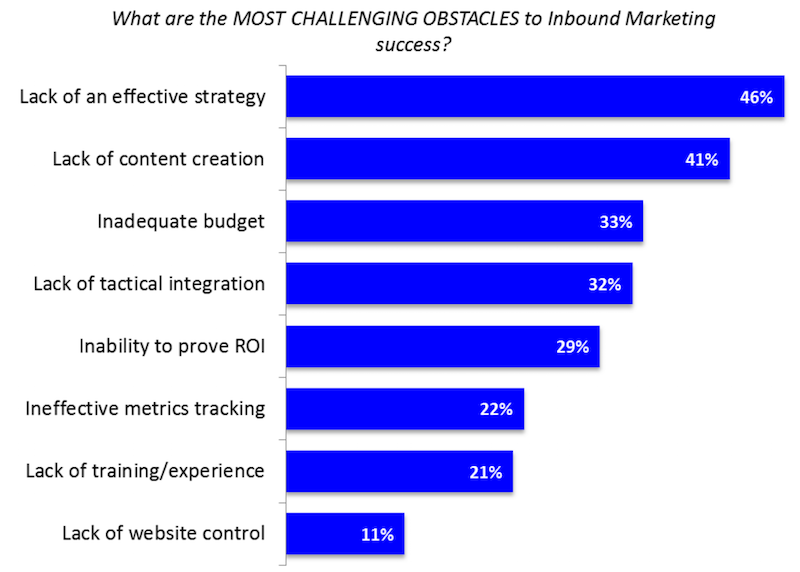 Graph via Ascend2
1. Lack of an effective strategy.
A lack of an effective inbound marketing strategy, cited by 46% of executives interviewed, topped the list. While integrating search engine optimization, social media, content and other tactics for inbound purposes is great, if you lack an overall strategy, your efforts will probably fall flat.
That's because the strategy is what ties all of these different activities together. Think of it this way: all of these efforts are the patches of a patchwork quilt, and the strategy is the thread that stitches them all together. Without that thread, you may begin to wonder why you're doing all of these things in the first place, making it hard to justify these activities to your boss.
In order to create and maintain an effective inbound strategy, you need to set your goals, determine your target audience, and know what's already out there and how you can differentiate yourself from it. Then it comes down to executing, assessing, adjusting, and executing your strategy again and again.
2. Lack of content creation.
A lack of content creation came in second at 41%. This one is especially important seeing as 51% of executives said it was the most effective tactic for inbound marketing, yet 54% said it was also the most difficult to execute.
Why is content creation so tough? Because writing quality, valuable content takes time and skill. First of all, writing is a massive time drain. Quality blog posts, tip sheets, eBooks and the like are well researched, well written, well laid out and well edited. You will need someone on your team dedicated to producing quality content or you'll need to outsource your writing projects.
Secondly, writing for the web is a very specific skill. Not everyone who is a great writer is a great web writer. That's because there are certain aspects of online content creation for businesses that don't apply to other types of writing (think keywords, paragraph and content length, links, etc.). That can make finding someone who is skilled at creating content that drives traffic like finding a needle in a haystack.
3. Inadequate budget.
33% of respondents said an inadequate budget was the most challenging obstacle to inbound success. This one's tricky because it's very dependent on each particular business. However, one conclusion that can be drawn from these findings is that companies aren't freeing up enough resources to fund meaningful and effective inbound marketing campaigns.
While the hesitance to put up money for a "new" type of marketing is understandable—especially if the inbound team doesn't have a documented strategy or has difficulty proving ROI—it's important that inbound is approached and funded as a whole rather than as individual parts. (In other words, you have to purchase the entire quilt, not just certain patches.)
4. Lack of tactical integration.
A lack of tactical integration followed closely behind budgetary constraints at 32%. This is where marketing automation can make all the difference. After all, if you invest your time executing inbound tactics but don't have the tools to integrate them, it's going to be much more difficult and time consuming.
If you really want to take inbound seriously and/or take your strategy to the next level, consider marketing automation software like Hubspot to "nurture prospects with highly personalized, useful content that helps convert prospects to customers and turn customers into delighted customers."
5. Inability to prove ROI.
This is a common obstacle that 29% of survey respondents said was keeping them from attaining the next level of inbound success. One of the best ways to prove your inbound ROI is to utilize UTM tracking and monitor your progress using analytics software like Google Analytics or Hubspot Analytics.
UTM tracking allows you to track sources of traffic (e.g. which post on a certain social media site sent users back to your website) by adding a bit of code to the end of a URL. This means you can distinguish between traffic that's coming to your site organically (e.g. from someone clicking on a link in your bio) and traffic that's coming to your site from your activity (e.g. things you're posting on social media).
Ultimately, this allows you to see what's working and what isn't and helps you prove your inbound ROI.
Final Thoughts
If you're experiencing any of the above five obstacles, don't get discouraged. These are common hurdles that every inbound marketer has to work through at some point on their inbound journey.
Need help overcoming these obstacles and setting up a successful strategy for your organization? Check out the checklist below to get started with your first inbound campaign.