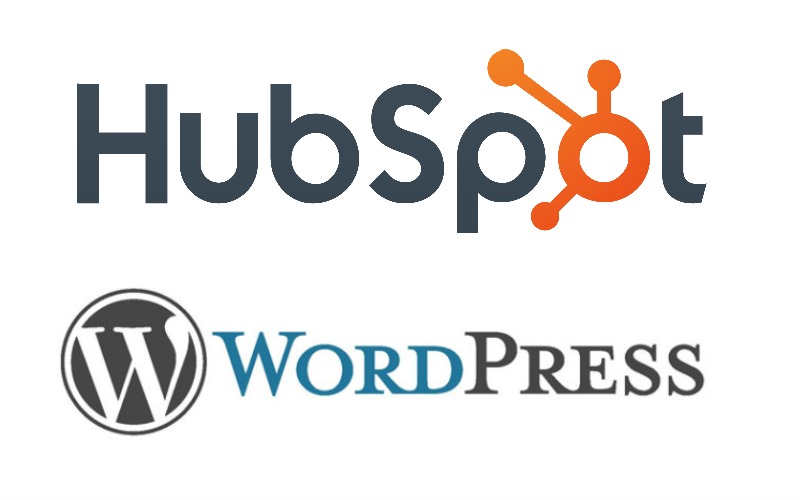 So you've decided to try your hand at inbound marketing, but which platform is best suited for your inbound efforts?
We've had many a client come to us and ask, "Which is better: Hubspot, Wordpress, or both?" Therefore, we've decided to give you the pros and cons of each so you can make an informed decision of which to go with.
Here's how Hubspot, WordPress, and combining the two measure up.
HubSpot Only
This option eliminates Wordpress and is best suited for organizations that are fully committed to aligning inbound marketing and outbound sales.
Required Software
HubSpot: Price Varies by Plan, but base packages range from $200 to $2,400+ per month depending on number of contacts and add-ons.
Advantages and Disadvantages
PROS:
All-In-One Solution allows you to run your website, blog, landing pages, campaign management/marketing automation software, and sales CRM all on one platform and a single source database
Strong operational workflows and efficiency
Website security
Strong customer support
Easily setup multiple blogs as subfolders (Ex. Persona Specific, Industry Specific, Customer Blog, Company News, etc.)
Smart content
Simple domain mapping
Automatic URL redirects
CONS:
Appears costly in comparison to other alternatives

Pricing Structure
Website Design & Development Projects

Longer learning curve than Wordpress
Concerns about migrating away from the platform
Wordpress Only
This option eliminates HubSpot and is best suited for organizations that, due to budget constraints, previous experience, or alternative preferences, are not likely to ever choose the HubSpot solution.
Required Software
Web Hosting: Price Varies by Provider and Plan (ex. GoDaddy, BlueHost, etc.)
Wordpress.com: Free to $299 per year
Wordpress.org: Dependent on web host, security, etc.
Inbound Now: $150 per year (main platform)
Mailchimp: $600 per year (email marketing)
Gravity Forms: $99 per year (forms and lead capture)
Hootsuite: $360 per year (social media marketing)
Wordpress SEO: $90 one time fee (blog post SEO)
CRM: Price Varies by Platform
Advantages and Disadvantages
PROS:
Cheaper compared to other alternatives
CONS:
Frankensystem: Each update to any plugin/platform risks breaking the integrations
Fragmented operational workflows are less efficient
Integration between Marketing and CRM software required (two separate databases)
Additional website backup plugin required
Additional security plugin required
Troubleshooting requires third party support (if it exists—not recommended)
Combining HubSpot and Wordpress
This option is best for organizations that are experimenting with various solutions and want to give HubSpot a try. They are willing to sacrifice operational inefficiencies and SEO challenges for a short period of time to make a more informed decision.
In this scenario, the website is hosted on Wordpress, while the landing pages (blog optional) run on HubSpot.
Required Software
HubSpot: Campaign Management and Marketing Automation
HubSpot Plugin: Tracking and Analytics (less robust than Google Analytics)
Wordpress: Content Management System
Blog Options:

Blog runs on HubSpot via a subdomain (not recommended for SEO purposes)
Blog is hosted on Wordpress so you can publish under a subfolder
Advantages and Disadvantages
PROS:
Cheaper than the HubSpot only option
Concerns about migrating away from the HubSpot platform are limited to CTAs and Landing Pages
CONS:
Manual updates to Navigation Menu, Headers, Footers, Sidebars, etc. have to be made on both sites
Each time a CTA is used, it must be individually copied from HubSpot and pasted into Wordpress
This is a short-term experiment (not recommended for a time period longer than 12 months)
Conclusion
If you're committed to inbound marketing, we recommend our clients ultimately end up running their site only on Hubspot. If they need some time to test the waters before diving in, a Hubspot/Wordpress combo is a great way to try out Hubspot's powerful software.
Given that everything is housed on one platform, Hubspot makes it incredibly easy to run inbound marketing campaigns. Instead of having to move back and forth between platforms, or use multiple plugins that might not work properly with one another, everything is seamlessly integrated in Hubspot.
From building out campaigns and lead nurturing workflows to watching MQLs turn into SQLs and sending them over to sales, Hubspot is the best in the biz when it comes to smarketing software.