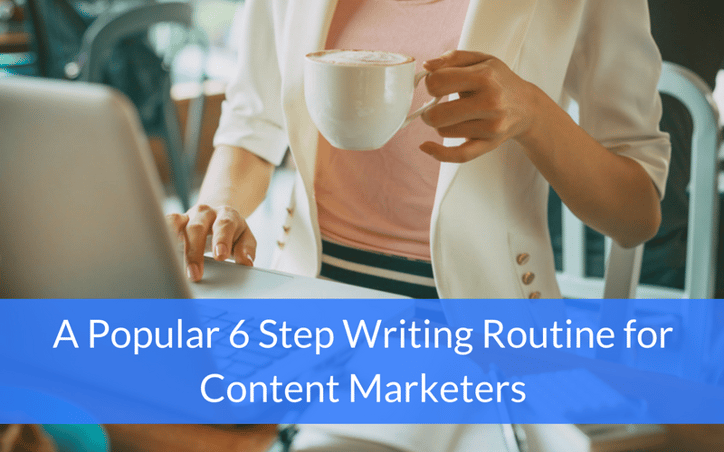 Content marketers these days have to write a lot of content. Whether working in house or for an agency, writing projects can run the gamut from social media sound bites and blog posts to extensive eBooks and tip sheets.
Whether you're a content marketer or simply someone who wears a lot of hats at your company, one of which being content writer, how can you keep churning out quality content at such a high rate?
One of the best ways is to have a writing routine. This will allow you to prioritize your writing assignments and better tackle the most important ones when you're in the right state of mind.
Recently a conversation about such routines popped up over at Inbound.org. Here's what other inbound and content marketers had to say about their own routines and how it directly affected their productivity.
1. Tackle tasks that require more concentration first.
Most marketers dive straight into their most challenging work first thing in the morning.
This will usually consist of writing assignments that require more research or concentration. Getting these projects out of the way first things is also beneficial if you have a deadline.
2. Listen to music to get your creative juices flowing.
Sometimes you simply need some inspiration to get those juices flowing. Whether it's chill music or ambient noise, try out different types of sounds until you find something that works for you. For a list of sound tools and playlists to start you out, check out these marketing productivity tools.
3. Complete easier projects midday.
You might need a break after working on projects that require a lot of brainpower, so once you've completed those tasks, work on easier projects during the middle of the day.
This can consist of writing social media copy, managing social media accounts, etc.
4. Designate a "multitasking time."
Structure your days so more mindless tasks can be completed when you know there may be distractions.
These tasks might include manipulating images for posts or formatting posts in whichever content management system you use (WordPress, HubSpot, etc.).
5. Set a deadline.
Even if you're not given a deadline by your employer or client, setting a deadline for yourself might inspire you to action, keep you from procrastinating, and help you finish up your work in a more timely manner.
6. Do whatever works best for you.
Often times we read so much about something working for other people that we figure it must work for us; however, this doesn't always ring true.
As Dave Gerhardt brought up during the Inbound.org conversation, there's "too much advice about how the best writers write first thing in the morning." He goes on to say that it doesn't matter when he writes, "it matters how fired up I am about the thing that I'm writing."
This is all to say that you have to figure out what works best for you. Whether you're a morning person that knocks it out of the park in the morning or a night owl who tends to write your best stuff while burning the midnight oil—if it works for you, go with it!
What effective habits have you incorporated into your own writing routine? Please share them with us in the comments!