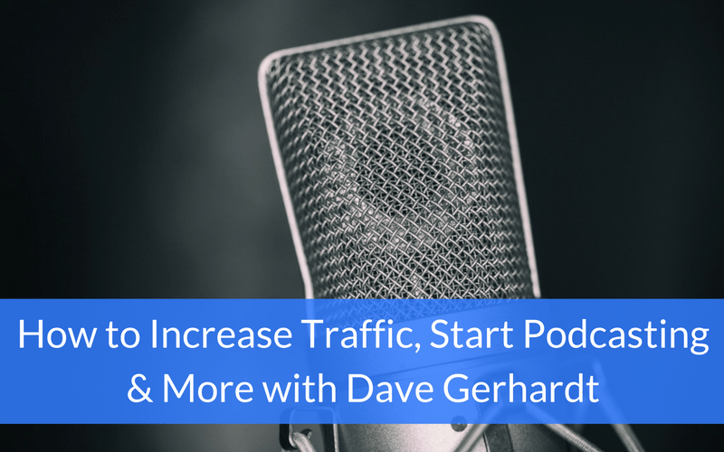 If you read our recent post 6 Inbound Marketers You Don't Know (But You Should), you saw that Dave Gerhardt was number one on the list.
Due to his experience and accomplishments at both HubSpot and Drift, we wanted to learn more about his journey and how he was able to achieve such rapid growth over a relatively short period of time.
Just look at some of his stats:
Catapulted HubSpot's podcast "The Growth Show" to number five on the iTunes charts for business podcasts
Received over 500,000 downloads of "The Growth Show" in the first year
Helped Drift increase overall traffic by 300% and blog traffic from 200 to 40,000 visitors a month
Launched a podcast for Drift that gets over 10,000 downloads a month
Helped Drift switch from an MQL to a PQL model, resulting in over 4,000 businesses using the app
To learn how Dave did all this, we reached out to him for an interview and he obliged! Read on to learn how to start podcasting, why a product qualified lead (PQL) model is the way to go, and how he was able to increase traffic for Drift.
Seeing as you've started three podcasts yourself, what tips do you have for starting a business podcast?
1. You have to be good at it.
Obvious advice, right?
Well, podcasts are the new blogs (in the sense that everyone is doing them now). Content marketing and inbound marketing are everyone's go-to market strategy these days, and podcasting has now become a go-to channel.
But here's the truth about podcasts: A lot of them are terrible. Just like there is crap content out there with blogs, there is crap content out there with podcasts. The only way to build an audience with a podcast is by creating something that is worth listening to. Podcasting starts with understanding that just because you can have a podcast, doesn't mean you should.
2. The host matters.
The most underrated part of podcasting is the host. You need a great host—someone who is enjoyable to listen to and can carry a conversation. If you want people to tune-in on a regular basis, you need to have a solid and consistent host.
I've seen companies launch podcasts and have five different executives and employees rotate as hosts, and when you do that, the listener never has a chance to feel like they are building a real relationship with the host.
3. Have a backlog of episodes.
The other tip is to launch with a huge backlog of episodes. It's really easy to launch a podcast with two to three episodes and then come to a grinding halt. I'd launch a podcast with at least five to 10 episodes in the bank.
4. Marketing is tough.
Understand that marketing and promoting a podcast is really tough. It's probably the channel that is the furthest away from direct response marketing. I can send an email, run Facebook ads, do cold outreach, and promote episodes on social, but I have absolutely no control over when someone actually will download and listen to my podcast.
So, if you're getting into podcasting for things like lead generation or to grow traffic, you're doing it for the wrong reasons. It's more of a branding play than anything else. However, the really good marketers have figured out how to turn podcast topics into other parts of their marketing strategy.
When it comes to what you've helped accomplish at Drift, can you speak more to the benefits of a PQL model over enterprise sales?
Honestly, in my opinion this is the most fun form of marketing. With the PQL model, the number one thing that matters is driving people to our website and getting them to create a Drift account, not content downloads, webinar attendees, or any other metric like that. Marketing's job is to drive qualified traffic to Drift and make it easy for people to sign up.
Also, from a nurturing perspective, we have way more tools at our disposal. We have product usage data to actually figure out what people are doing and the behaviors or successful customers that we want to drive. Then we can use all of that data to create targeted campaigns for different segments of PQLs.
We can see who the highly active PQLs are and send them one message, while we send a group of leads that have integrated with Slack another message, and the group of people who have done nothing another message.
How did you help increase traffic to Drift by 300% and increase blog traffic from 200 to 35,000 visitors a month? Any specific tricks you'd like to share?
Here's the un-sexy answer: Hard work.
We made a commitment to great content and putting in the time to promote that content.
There's a tough balance to find. I think too many people forget about the marketing part of content marketing; but the people who focus on the marketing part too much end up creating content that isn't great.
There's so much noise with content today that you really need to commit to creating great content or it just doesn't work.
Listen to your current audience—figure out how they found you, why they're there, what they'd like to read about—and work on turning those 200 visitors into 2,000 as a first step.
I spent the first two to three months at Drift growing our blog and doing nothing but manual outreach to people, email marketing (getting email subscribers) and getting them to share our content. I went more in-depth about the whole process in this post.
A big shout out to Dave for doing the interview! Have more questions for him? Leave them in the comments and we'll forward them along.