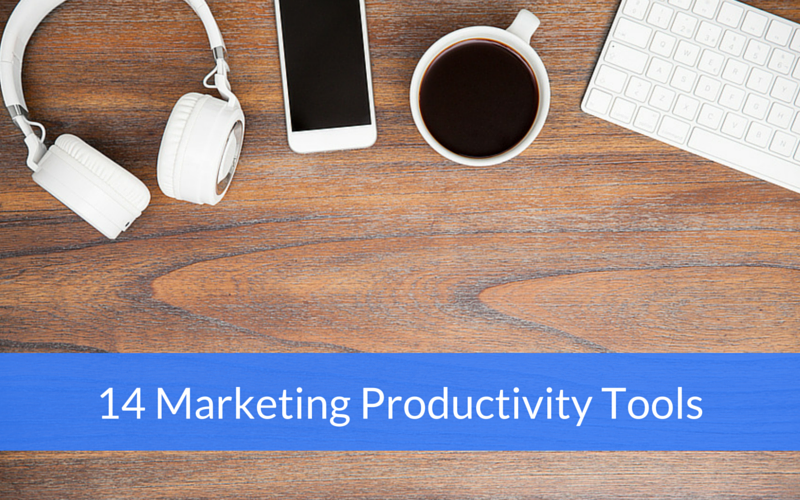 Everyone has different productivity rituals.
Some people may find that sitting in a certain spot or drinking a certain beverage helps them get into go mode. But sometimes the routines that worked for us in the past just simply doesn't cut it anymore.
So what are some things you can do to increase your marketing productivity and get more stuff done?
What follows are 14 marketing productivity tools that will help you avoid distractions, concentrate better, be more creative, and even help you fall asleep easier when the work day is done!
Music
Music Itself
It has been found that listening to music while working can increase productivity and make repetitive tasks more enjoyable. According to "Music—an aid to productivity" in the third volume of Applied Ergonomics:
A series of experiments has investigated the relationship between the playing of background music during the performance of repetitive work and efficiency in performing such a task. The results give strong support to the contention that economic benefits can accrue from the use of music in industry.
The Mood
It's also been suggested that it isn't the music itself, but rather how listening to your favorite music improves your mood is what causes increased productivity. As one New York Times article points out:
Dr. Lesiuk's research focuses on how music affects workplace performance. In one study involving information technology specialists, she found that those who listened to music completed their tasks more quickly and came up with better ideas than those who didn't, because the music improved their mood.
Ambient Noise
And it's not just music; ambient noise and sounds have also been found to increase creativity. A study published in the Journal of Consumer Research found that "Results from five experiments demonstrate that a moderate (70 dB) versus low (50 dB) level of ambient noise enhances performance on creative tasks."
Tools
Seeing as most of my work time is spent writing and copy editing, I prefer "chill" and ambient music with little to no vocals. I've personally found that vocals are distracting when I have to concentrate on writing or editing words.
Interested in this own proclivity of mine, I reached out to members of Inbound.org to learn what music and sound apps have helped them be more productive.
Here are a few playlists and tools to get you started:
1. My own Chill playlist.
2. Inbound.org member Rolf van Root's Getting Things Done playlist.
3. Coffitivity is a site that "recreates the ambient sounds of a café to boost your creativity and help you work better." Many tracks are free, while a premium membership will cost you $9 a year.
4. Focus@Will is a service that provides "scientifically optimized music" to "increase your focus [and] stop your brain from wandering." According to their site:
Every track has been remixed, re-edited and scientifically remastered specifically for focus enhancement. We're soothing your fight or flight mechanism, engaging your brain's limbic system, to increase your attention span and general concentration.
Check it out with a 15-day free trial.
5. Noisli is an ambient and nature sound site that helps you:
Block out annoying noises
Get quickly into the zone
Increase productivity
Reduce stress
Use the site to mix different sounds, like rain, thunder, wind and water, to create your perfect environment.
6. This Concentration Productivity Music mix on YouTube.
Light Dimmers
Over-illumination has been shown to cause stress, headaches, and make it harder for people to fall asleep naturally (think circadian rhythm and melatonin).
Therefore, apps that automatically dim your computer and phone screens' brightness and display colors can help you get a better night's sleep, increasing your level of alertness and productivity during the day.
Tools
7. F.lux is a free application for Mac OS X that "makes the color of your computer's display adapt to the time of day, warm at night and like sunlight during the day." Simply input where you live and what kind of lighting you have and the app will do the rest automatically.
8. While the latest iPhone software now offers a "Night Shift" mode, if you're using an Android, check out Twilight, an app that harmonizes your screen with the sun cycle, reduces blue light, and is great for reading in the dark.
Site Blockers
One of the biggest inhibitors to productivity these days is the accessibility of social media and other time-wasting sites. But guess what? There's an app for that!
Tools
9. First of all, it's probably best to know how much time you're actually spending on these sites in order to see how many hours a day you're being productive. RescueTime "helps you understand your daily habits so you can focus and be more productive." There's both a free option and a paid option for $9 a month.
10. StayFocusd is a Chrome Extension that "increases your productivity by limiting the amount of time that you can spend on time-wasting websites." It does this by restricting the amount of time you spend on websites you deem as time wasters. Once your allotted time is used up, the sites will be blocked for the rest of the day.
11. Freedom is another tool that blocks distracting websites online (on both Mac and Windows) and apps on your phone. Get started for free and cover multiple devices for less than $2.50 a month.
Writing Rooms
Writing takes time and concentration. Since we both write and browse on our computers, writers can now get more easily distracted than ever. Enter writing rooms.
Tools
12. WriteRoom allows Mac users to write without distractions by providing a full-screen writing environment. It's available for $9.99 in the Mac App Store.
13. Dark Room is pretty much the same product as WriteRoom but made for Windows users. The software is free, but donations are accepted.
Meditation
Last but not least, one of the best ways to lower stress, help you sleep better, and be more innovative is through meditation. In fact, according to the Harvard Business Review, research on mindfulness "suggests that meditation sharpens skills like attention, memory, and emotional intelligence."
Tools
14. Headspace is a site that lets you try out online meditation. Sign up to get 10 days free and you'll have access to ten-minute sessions that introduce you to meditation and teach you how to meditate.
Are there any other tools you use to boost marketing productivity? Please share them with us in the comments!