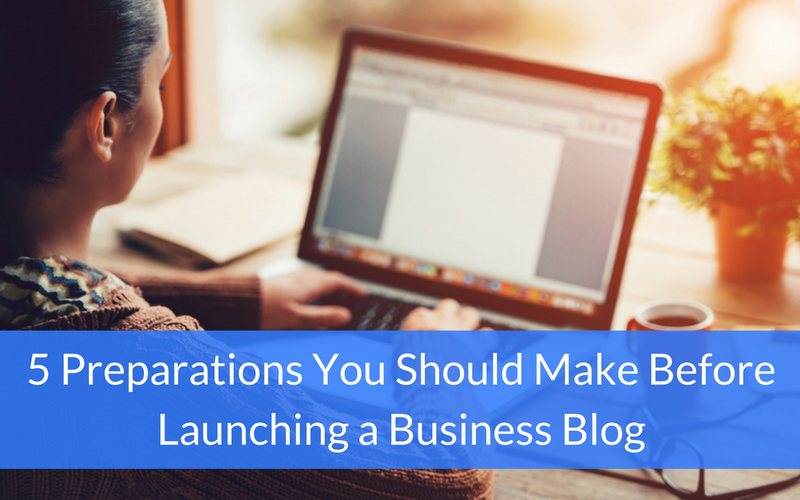 We recently published a post that gave readers steps to follow to start a blog, including how to pick a niche, create and promote content, and more. However, once you've gone through the groundwork of strategizing comes the time to actually launch your business blog.
To help with that process, here are five preparations you should make in order to make your blog a worthy business endeavor.
1. Set Goals
It's important to set both short-term and long-term goals for your blog. This will provide proper expectations from the outset.
You can set goals for both things you can influence and things you can't. For example, you can set a goal to get from one post a month to two a month within six months of blogging, working your way up to one post a week.
You can also set goals for how many views, interactions, CTA clicks and conversions your posts bring in.
2. Build an Opt-in Form
Make sure you build an opt-in form on your blog in order to build subscribers. This will allow people to sign up to receive email notifications when you publish, bolstering your email list and keeping you top of mind.
You can choose to have daily, weekly, and/or monthly blasts, and allow subscribers to choose the frequency at which they'd like to hear from you.
3. Join a Stock Photo Site
With social media sites like Instagram and Pinterest on the rise, visuals are only becoming more important!
Research and join a quality stock photo site like iStock, Shutterstock or Getty Images. With a paid subscription, you can use the images for commercial purposes and add your own flair to make them stand out and fit your brand.
4. Make Connections
Make connections with the big players in your industry. This will put you on their radar and potentially create a relationship that could benefit your business big time!
You can usually find the big players in your niche on Twitter. Get started building a relationship with them by sharing their content and tweeting at them.
Eventually, you can reach out to them to see if they'd contribute a quote or a bit of advice for a blog post you're writing (much like we did with our "6 Influencers Reveal Their Social Media Pet Peeves" post).
5. Develop a Content Calendar
Last but not least, develop a content calendar. This will help you see the big picture of your blog and lay out all the necessary content elements you'll need to include in the coming months.
Start with those goals you set earlier, incorporate any major events and/or milestones coming up for your business, and build campaigns around these items. Populate the rest of your calendar with posts that speak to your target audience's pain points and frequently asked questions.
Conclusion
There you have it! These five prep tips will help you create a solid foundation before hitting publish and launching your business blog.
By setting goals, having a way for people to stay up to date with your blog, incorporating awesome images, making connections with industry influencers and developing a content calendar, you'll be well on your way to establishing a successful blog for your organization.