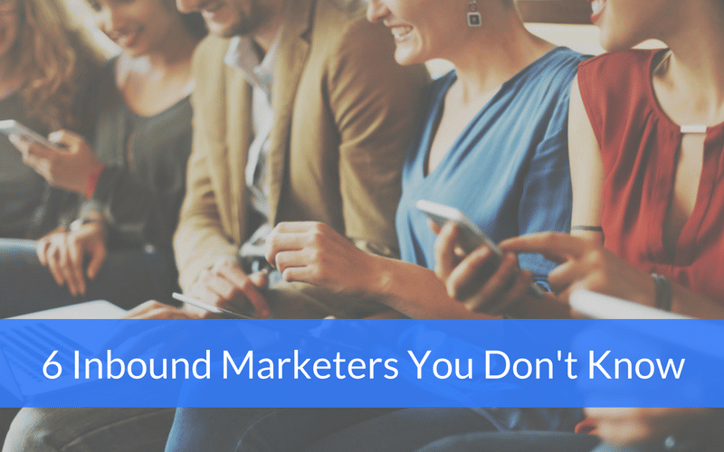 Most of us know the big names in inbound marketing, including Rand Fishkin, Neil Patel, and the like, but what about those other, lesser known inbound marketers that are killing it?
A recent discussion over at Inbound.org got me thinking—who are these awesome inbound marketers we've never heard of and what can we learn from them?
Here are a few of these folks, links to their sites, and what they specialize in (i.e. what you can learn from them!).
1. Dave Gerhardt
I met Dave at last year's HubSpot Inbound Conference when he was still working at HubSpot and producing, hosting and marketing The Growth Show podcast. He now is the Marketing Lead at Drift, where he's helped increase web traffic by 300% and grown blog traffic from 200 to 35,000 visitors a month. Basically, he knows a thing or two (or 1,000!) about inbound marketing.
He now writes for Drift's blog where he shares his expertise on topics like:
Improving customer experience
Content marketing
Email copy
Conversion rate optimization
2. Sean McCabe
Although he doesn't call himself an inbound marketer, his approach is very inbound. His aim is to help people build and grow sustainable businesses, teaching others how to "build an audience, attract clients, or make a living teaching what you know."
His blog is packed with useful information on everything from writing a book and tracking time usage to growing an audience and finding motivation.
3. Devesh Khanal
Devesh Khanal is the founder of Grow and Convert and is fluent in all things CRO, email list building, user experience, and content marketing.
You can read some of his insightful posts about on-site customer feedback surveys, lead nurturing, content upgrades, and converting blog traffic over on the Grow and Convert blog.
4. Ben Young
Ben Young is the CEO of Nudge, "the first analytics platform for native content." He does great work in the areas of native advertising, content, and analytics and offers a weekly newsletter on these topics and more.
On the Nudge blog, Young has authored some great articles, including his weekly series "This Week in Native Ads," "Native Content Best Practices," and "Three Ways Mobile Impacts Your Content."
5. Paul Jarvis
Another one who doesn't consider himself an inbound marketer, Paul Jarvis "makes things for people who make things online." He offers multiple courses, one teaches designers, writers, freelancers and developers how to run their businesses better, while another teaches how to make MailChimp work for your business.
His newsletter and blog feature articles like:
The business of creativity
The audience and the outcome
Make automation great again
6. Henneke Duistermaat
According to her Inbound.org profile, Henneke is an "irreverent marketer and business writing coach on a mission to stamp out gobbledygook." Other inbound marketers have acclaimed her as an excellent writer: "Every sentence floats off my screen and is filed away by my brain."
Henneke runs Enchanting Marketing where she regularly blogs on topics like improving your writing skills, connecting with customer desires, writing persuasive business content, and more.
---
Who are some of your favorite, lesser-known inbound marketers? Let us know in the comments!