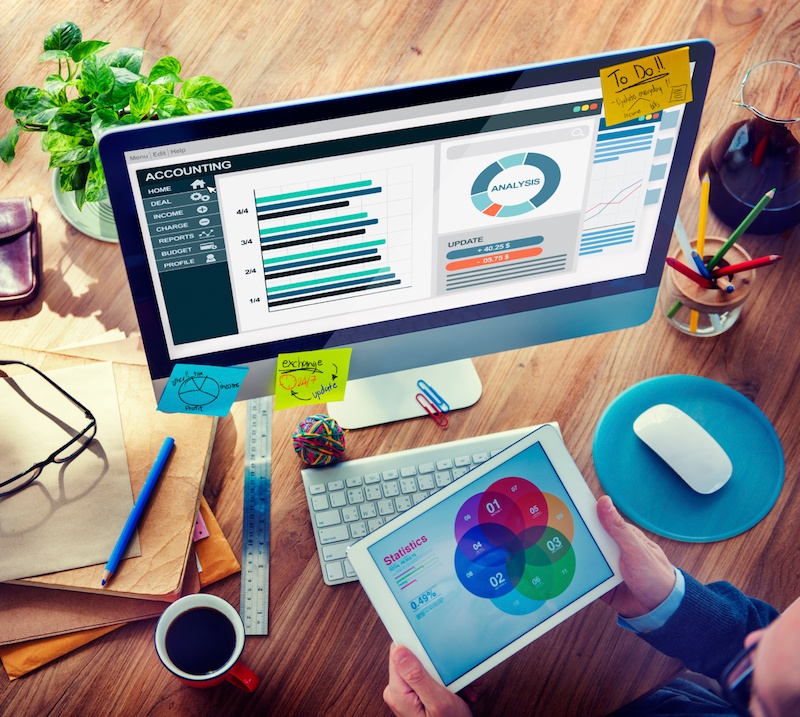 The world of content marketing is only growing and expanding as time goes on. There is a higher demand for it because more people are seeing how truly valuable it is.
In this article we'll examine 13 telling content marketing statistics and dive into why they matter and what they mean for the present and future of the industry.
13 Content Marketing Statistics
1. 27 million pieces of content are shared each day. (source)
Holy content overload. One of the downfalls of content marketing becoming so popular is that everyone is producing content. This means that consumers are being overwhelmed by it, making the landscape more competitive. Essentially, we're all vying for a few moments with those precious content-viewing eyeballs.
2. On average, 75% of ideas are turned into content, published once, and never repurposed or reused again. (source)
This makes me sad! How much time do you put into creating content? Ok, now how much time do you spend going back to that content and seeing how you can repurpose it?
I get it, it's easy to hit publish and be done with a piece of content. But some content just lends itself perfectly to other content types! For example, have you written a fun list post recently? Go back and see how it could make a great infographic or SlideShare presentation. Repurposing blog content is great for reaching new, different types of visitors and making your content more appealing and interactive overall.
3. Content marketing costs 62% less than, and, per dollar spent, generates approximately three times as many leads as, traditional marketing. (source)
Wow. This stat is impressive. How many dollars does your company spend on traditional marketing? If you have some wiggle room in your budget, try allocating a small portion of that to content marketing and see what returns you get. You might be surprised at how effective—and cost effective—it is.
4. The most effective B2B content marketers allocate a larger portion, 42% of their total budget, to content marketing compared to 28% for less-effective marketers. (source)
Did your content marketing experiment prove to be effective? Then it's time to allocate more money to create and maintain an ongoing content marketing initiative. And, fancy this, the more money you allocate, the more effective it will be!
5. 78% of CMOs believe custom content is the future of marketing. (source)
More and more CMOs are jumping aboard the content marketing train. That's because content has proven itself to be a worthy marketing tool. It's useful, it's helpful, and Google loves it.
6. On average, companies with blogs produce 67% more leads per month. (source)
And leads aren't the only things blogs are good for. According to Demand Metric, "blogs are responsible for 434% more indexed pages and 97% more indexed links," meaning they're also great for SEO. Maybe that's why 59% of B2B marketers consider them the most valuable channel.
7. Two thirds of B2B marketers say content acts as fuel across all channels (including social, events, demand generation, etc.). (source)
There is a lot that falls under the umbrella of content marketing. Social media posts are content, email is content, and guess what online event marketing needs? Content. What's more, you can use one piece of content to fuel these other channels.
Let's say you write a great blog post. Use the most insightful snippet of it to promote on social media. Have more to say? You can also use that same content as a jumping off point for a webinar that can further boost your lead generation efforts.
8. 94% of B2B marketers use LinkedIn as part of their content strategy. Other popular platforms include Twitter (87%), Facebook (84%), YouTube (74%) and Google+ (62%). (source)
Furthermore, according to the Content Marketing Institute, 66% of B2B marketers rank LinkedIn as the most effective social media platform followed by Twitter (55%), YouTube (51%), SlideShare (41%) and Facebook (30%).
9. 70% of people would rather learn about a company through articles rather than an advertisement. (source)
People like to be treated as people, not objects with money that you want them to give you. That's why content works so well. Instead of being like an ad and shouting "HEY! Give us your money!" content is more like "Hello there. I know you struggle with this problem; let me tell you how to fix it. Oh, and if you're interested, I can provide additional assistance."
10. 61% of consumers feel better about, and are more likely to buy from, a company that delivers custom content. (source)
Not only do consumers prefer to learn about a company through content, they feel better about companies that produce custom content. That feeling of good will is why those same consumers are more likely to make purchases from those businesses: they feel like they have more of a relationship with them.
11. 44% of B2B content marketers have a documented content strategy. (source)
Less than half of B2B content marketers have a content strategy, which means there is a lot of room for improvement! Before jumping into the content marketing game, take the time to develop a content marketing strategy. This will give you the overarching view of why you're doing what you're doing and what goals you're trying to reach.
12. 67% of marketers find measurement to be the single most formidable content marketing challenge. (source)
We get it; it can be tough to figure out the ROI of content marketing. However, if you use an analytics suite and implement UTM tracking on your campaigns, you can easily decipher what content is working and what isn't. The more you know using the data at your fingertips, the more effectively you can use your content marketing budget.
13. 74% of B2B marketers use marketing automation to deliver targeted content according to the stage of the buyer's journey. (source)
Marketing automation makes content marketing easier and more effective. Not only does it allow you to target content by stage of the buyer's journey, it also lets you know exactly when that content needs to be leveraged and to whom it should go.

Conclusion
Hopefully these content marketing statistics have given you a better understanding of the current marketing landscape and what that landscape might look like in a few years.
Now the question is, will you be the one making strides or left behind in other marketers' dust?