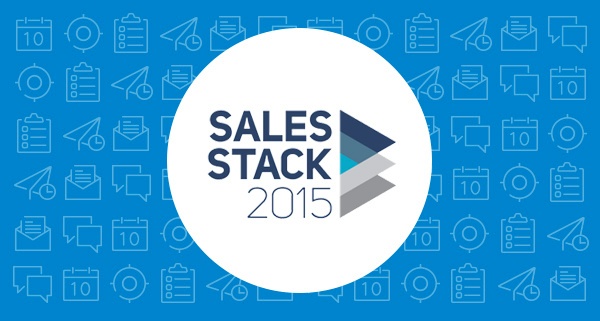 Image via ToutApp
If you haven't noticed yet, we learned a lot in San Francisco last week. Along with all the lessons on sales and marketing alignment and social selling we learned, there were a lot of great sound bites.
Here are some of the most thought-provoking sales quotes from the Sales Stack 2015 Conference and what we learned from them.
1. "During sales calls, get rid of the phrases 'touching base' and 'checking in'."
John Barrows, sales trainer and CEO of J.barrows, believes that every sales call needs to start with "The reasons for my call is…"
This will immediately give the prospect a specific reason for why you're calling, which is why phrases like "just touching base" and "checking in" need to be eliminated from your sales vocabulary.
Ultimately, salespeople should always be adding value. If you have no value to add, why are you calling the prospect in the first place?
2. "Practice the ABCs of marketing."
Lesley Young, GM of Commercial Sales and Operations at Box, ensures both her sales and marketing teams abide by the ABCs of marketing—well, more like the ABCDEs!
Here are they are:
A: Focus on the individual (the prospect or customer)
B: Understand their behavior
C: Market towards them continuously over time.
D: Make sure your marketing efforts are directed towards a specific outcome.
E: Be everywhere, all the time.
Lesley underscored that all of these should align with relevance, context, and curiosity.
3. "There are small companies and there are forever small companies."
When talking about business growth, Kyle Porter, CEO and Founder of SalesLoft, commented on small companies and forever small companies.
While some companies are not either interested in or ready for growth, others are only small for a short while. This is an important difference to keep in mind when evaluating your own company. Are you a small company just for the time being, or are you a forever small company?
4. "All roads lead to the phone."
Aaron Ross, the moderator for the panel "The Playbook for High Performing, High Tech SDR Teams" and author of the book Predictable Revenue, was prompted to say this after listening to how Armando Mann deals with incoming leads.

Armando, VP of Sales and Customer Success at SalesforceIQ, said that after someone signs up for a trial of their product, an email is sent out five minutes later and a sales rep calls the individual within 10 minutes. He emphasized the importance of making that phone call within that time frame, as usually prospects are still playing with the tool.

He also went on to say that discovery doesn't happen over email and "you don't close over email." Every important interaction happens over the phone. In fact, they've found that their success rate is 15 times higher when they're able to reach those prospects over the phone than only via email.
Conclusion
There were so many insightful things said at the Sales Stack Conference, almost too many to write down!
We hope you're able to take away some nuggets of wisdom from the above four quotes, and that you join us at the conference next year!
If you're interested in learning more about what happened at this year's Sales Stack Conference, you can check out recordings of the panels here.