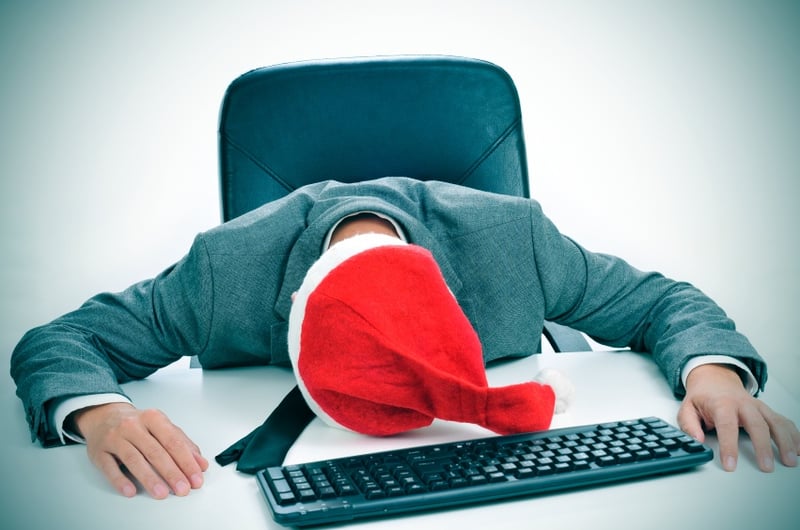 It's a common misconception that B2B buyer activity slows down during the holidays.
However, during a study conducted by Software Advice, Derek Singleton found that "companies may underestimate the opportunity to generate leads and reach buyers by phone around Christmas and the New Year."
Let's first take a look at some of the study's findings.
The Numbers
Derek first looked at the percent change in the number of unique visitors six days before to three days after Christmas.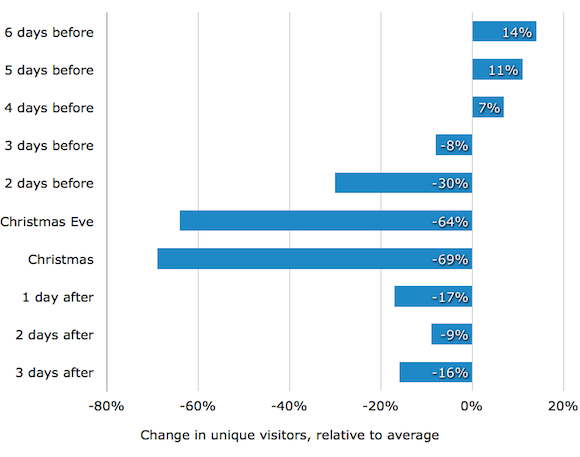 Chart via Software Advice
While there is a considerable drop in traffic on Christmas Eve and Christmas Day, traffic is still above average a few days before the holiday and only drops 14% below their monthly average the days after Christmas.
Next, the study looked at conversion rates during the same time period.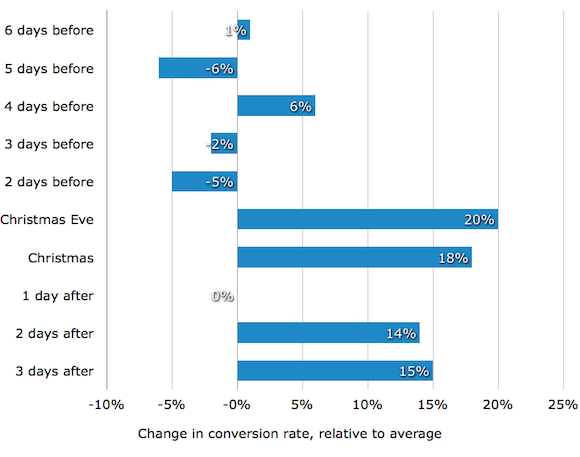 Chart via Software Advice
As you can see, Software Advice's average conversion rate actually increases on Christmas Eve, Christmas Day, and the second and third day after. Since lead conversions are 391 percent higher if you call within a minute of an online inquiry, it's important that your salespeople be in the office (well, not on Christmas Day) to contact these leads as they come in.
How to Keep Sales Teams Engaged
Not only did the study find that conversions that come in the week before and after Christmas qualify at or above the average December qualification rate, it also found that conversion and qualification rates the week after New Year's were above the January average.
By using this data, you can show your salespeople how important it is that they stay at the top of their game during the holiday season. Moreover, you may want to further incentivize them this time of year in order to motivate them to not fall into a holiday slump.
Sales Emails
Since your sales team will likely be out of the office on Christmas Eve and Christmas Day, make sure they have sales emails scheduled to go out on these days. The study found that conversion rates on both days are 19 percent higher than the December average.
These emails should include lead nurturing content, like a tip sheet or eBook, to help initiate the buying process. You may even want to give these emails a holiday theme and position the content as a type of virtual present.
Conclusion
While the holiday season might not be the highest-performing time for your organization, it's important to remember that for most B2B companies, this time of year represents a slowdown in business—meaning more people may be willing to talk to you about your solution.
What's more, the study found that B2B buyers are still "actively researching purchases and willing to engage with salespeople during this period." Therefore, as Derek pointed out, "having your sales team around to respond to and qualify web-generated leads this time of year may be more important (and lucrative) than you think."