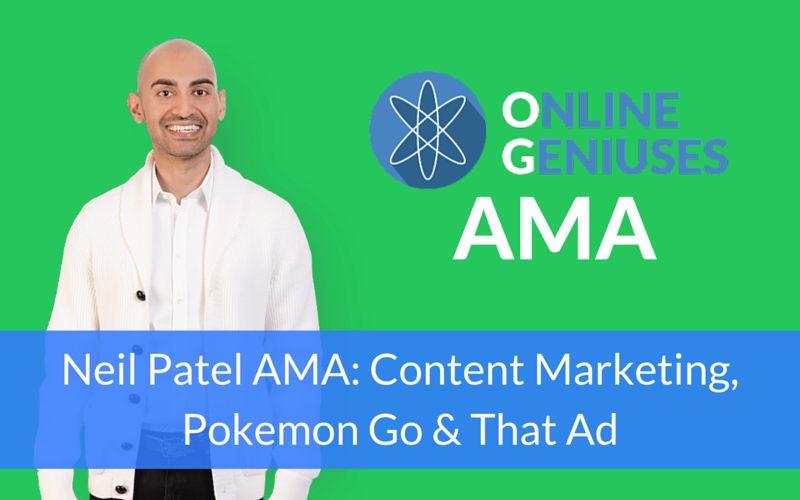 The awesome internet marketing community Online Geniuses recently hosted an AMA with Neil Patel, co-founder of KISSmetrics, Crazy Egg and Quick Sprout. You might remember him from our post on influencers' social media pet peeves.

I'm such a fan girl.
During the AMA, Neil answered questions on everything from email, content marketing and SEO to the future of digital marketing and Pokemon Go!
Let's jump right in.
Email Marketing
1. What are your top tips for reengaging a list that has been hit hard over time?
If you want to reengage a list, make sure you use casual subject lines like "I need your help..." This is the best way to get opens through the roof. You also want to make sure you over deliver before you try and sell anything.
2. What's been the biggest contributor to rapid list growth?
An exit popup. Check out the one I use on my blog. It converts really well.
3. We're seeing a steady drop off of email engagement. I want to survey our blog and newsletter subscription list and ask them what type of content they'd like to see. Should I send a short survey?
I would survey my audience to find out what their biggest issues are and then create content around that, as it is what they are most likely to open and read. Send them a survey monkey link and make the survey short and to the point, but ask enough detailed questions where you get what you need.
4. What are three good channels to increase email subscribers for a B2B company?

Linkedin, Facebook and Google (paid or SEO).
Content Marketing
1. In a world where it seems like everyone is trying harder and harder to promote their content, what would you suggest to a company that has the ability to create good content, but doesn't have a clue on how to promote it, and eventually get it shared as much as possible?
Check out this video that will teach you how to promote. It's the exact strategy I use.
2. When you use ghostwriters for your self-promotional content, what are your top tips for making sure the content meets your needs?
If you are going to use ghost writers then you should give them a writing guideline in which you break down how you write posts, your tone of voice, the structure, etc. Then from there test them out on a post: Have them first outline it and once you approve that have them write the introduction. Keep giving them feedback until they get it right, and then let them write the rest.
3. How do you approach micro-moments, from a strategic and/or tactical sense with your content marketing? Smaller articles, catchier headlines, value at the start of an article, mobile optimization?
It comes down to the headline. That is the key with these smaller pieces of content. From there I optimize one thing I want readers to engage with, such as becoming a lead or calling a number, as it is difficult to provide multiple options.
4. When it comes to analytics in content marketing, what data points are the most valuable?
I look at click through rates of a headline, email open rates, social shares, time on page and number of comments. Of course I also look at visits.
5. Do you think that the flood of new content is going to slow down for better, more qualified long-term content? You are likely publishing really frequently; do you imagine that in the near future you might be able to slow down?
I don't see it slowing down. Eventually people will write more and have the quality increased too. That is my goal as well.
6a. What's your strategy concerning publishing platforms (like Medium and LinkedIn)? Do you republish your content as straight duplicates? Do you make a new version for these platforms?
I push out unique content for each channel. I've found this performs the best.
6b. How do you have the time to write it all?
I have people helping me add the content into WordPress, editing it, making sure we cite the right sources, coming up with ideas, etc.
SEO
1. Do you think the SEO market is growing or shrinking?
I think it is slowing down from the number of companies trying to do it, as many have given up, but from a budget standpoint it is growing. Overall it is growing internationally, but in the US it has slowed down.
2. What's the number #1 thing that you see [SEO] agencies doing wrong?
They're not surveying their clients each month to ask them how they can improve and if they are happy. This would help reduce churn, which most SEO companies have issues with.
3. What SEO strategy do you think works best in your experience, a fat-head (a few high-volume terms) or long-tail (many low-volume terms) strategy?
Long tail by far.
The Future of Digital Marketing
1. What's the most important technological change we're going to see in the next five years, and how is that going to change the way marketers do their marketing?
Social media is going to be connected to everything. For example, when you walk into a restaurant it will show you what your friends ate there and like, and they will give you recommendations. Everything will be personalized.
2. What software potential in the digital marketing space do you still see (e.g. competitive analysis/CRO/SEO/content distribution)? In other words, if you had $10 million and you were going to crank out a new product, where would you invest it?
I would try to create software that truly automates marketing and makes the changes on your site for you. That is where the future is going. No solution crafts your emails for you and sends them out automatically. No solution says, "You have X SEO errors" and then just fixes them for you.
The question becomes: Can a computer understand how to fix things? For example, if your title tags are off, knowing what keywords to put in there to increase CTR is great, but if it doesn't read well or isn't attractive then people won't click. It's hard to teach a computer creativity.
Extra Tidbits
1. Any idea on why Pokemon Go went viral? Any lesson to be learned from it?
People love games and they did something that is innovative/new. Plus Pokemon has a big brand. Lesson to learn: Always innovate and invest a [lot] of money into branding.
2. Who are some of your influencers?

Matt Mullenwag, Mark Zuckerberg, Elon Musk, Bill Gates, and Jack Welch.
3. Who might be three relatively new players in a B2B SaaS space that have crossed your radar and appear to be doing it right?
The older school players tend to be kicking butt more. The big thing that these new SaaS companies aren't focusing on is sales and branding. That's why the old school guys are able to do billions in revenue (forget valuation), while the newer school ones cap out.
4. Which tools do you think are absolutely necessary in todays online-marketer job?
Google analytics, SEMrush and Ahrefs.
5. What are your top 5 blogs?
TechCrunch, Economist, BBC, Backlinko, and Fortune.
6. You seem to spend a good bit of time building your personal brand. Any tips for someone trying to do the same successfully?
Start off with blogging. Evergreen content is where you should start, and of course as you build your blog build your social following. Then after a year or two, expand into speaking.
7. What methods would determine how to effectively vet out potential prospects/clients that aren't a fit without putting every viewer/prospect off of filling out a form, specifically on a landing page?
Ask for revenue, budget, company size and, when they are looking to get started, what services they need. The reason you ask for revenue is that it helps you determine if they really have money (a lot of people lie about their budget, but less lie about their revenue).
8. There was a lot of criticism about one of your ads. Did you ever respond to this or do you tend to not respond to such criticism?
I didn't respond to it. I always ignore responding to criticism unless it is on one of my sites. If people use data and facts or even voice their opinion (even if it isn't on my site) I take it into consideration, but I usually try to never respond; it just fuels the fire.
Ready to learn more about email and content marketing and how to leverage these powerful tactics to boost online engagement? Check out our checklist below to get started with your first campaign.