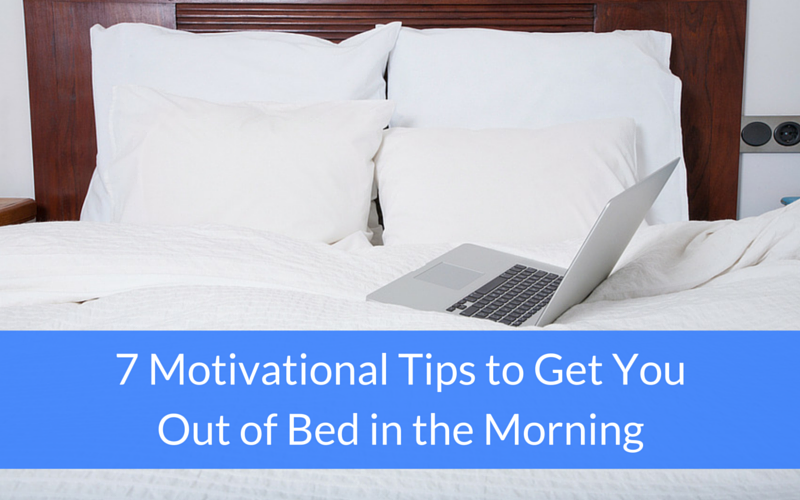 Motivation is key when it comes to getting your day started, and some days, we all need a little extra push.
For those days when it's just a little more difficult than usual to get out of bed, here are a few motivational tips that might inspire you to get moving!
1. FOMO
FOMO, or fear of missing out, can be a real motivator. When it comes to being productive, this can translate to a fear of missing out on a business opportunity or a fear of time running out on a project or deadline. This is especially true for entrepreneurs and those in the startup world, as there is often a very real time crunch for finding investors, getting a product or service to market, etc.
2. Have Your Own Project
One thing you can do that will make you excited to start each day is to have a project of your own. Whether you run your own business or work for someone else, starting a project (that's "your baby") will allow you to have ownership of the process and be responsible for its success. Planting the seed and wanting to watch it grow will get even the slowest starters up and running!
3. The Sooner You Get Started…
…the sooner you'll be finished. This can be a great motivator for those who like to get things knocked off their to-do lists quickly so that they can spend time with friends and family in the evenings.
4. Meditation
As we mentioned in our post on marketing productivity tools, meditation can lower stress, help you be more innovative, and even help you sleep better. Since meditation can also sharpen skills like memory, attention, and emotional intelligence, why not start your day practicing it? Meditating first thing every day will help you start slowly, give yourself time to wake up, and put yourself in a good head space to tackle the day's tasks. Speaking of Headspace, check out their site for 10 days of free online meditation.
5. Be Responsible to Someone
Helping others is a powerful motivator. Whether it's a child, a mentee or mentor, a coworker or a boss, being responsible to someone will peel you out of bed on the toughest of days! If you're a solopreneur, you can ask another solopreneur friend to be your accountability partner.
6. Work Towards a Goal
Having set goals you're working towards is another sure-fire way to stir motivation. What current professional goals do you have? These can range from the micro level (like reaching a certain number of conversions on a landing page) to the macro (like making your way up the ranks in a certain number of years). If you wake up on the wrong side of the bed, think of these goals—both small and large—to give yourself some perspective and think of what you need to do today to accomplish them in the long run.
7. Learn Something New
The prospect of learning something new is a great nudge. Identifying the skills you want to learn or hone and setting out to obtain them is a great way to enrich your life both personally and professionally. And, given the landscape of the inbound marketing industry, there is always something new to learn!
What gets you going in the morning? Share your motivational tips and tricks and what really drives your productivity in the comments.
Want to know if we can help you reach those marketing goals you're working towards? Crunch the numbers in our Inbound Marketing calculator.