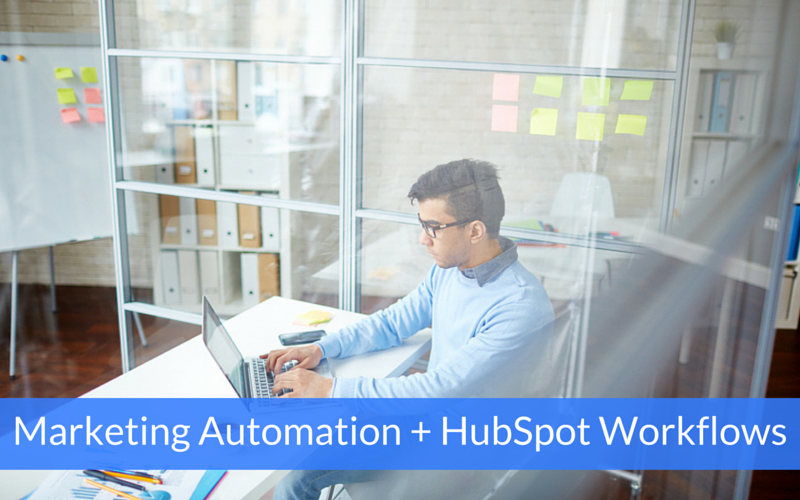 Marketing automation can make your job a lot easier.
It can allow you to "set and forget" certain processes so that they run automatically instead of you having to go in and manually maintain them.
For example, say a lead downloads a top of the funnel offer. Instead of having to manually send him or her a follow up email to see if s/he has any questions about the asset, you can use marketing automation to do it for you.
But what tools should you use to set up and get your automated processes off the ground?
Enter HubSpot Workflows. Not only are they easy to set up and use, it's easy to see how your workflows are performing.
The Basics of HubSpot Workflows
Successful automation depends on triggering timely and relevant actions based on a user's context. According to HubSpot, "Workflows combine the power with the context required to effectively scale your marketing efforts."
Workflows take customer interaction into account from all over the web, whether it be opening an email, visiting your website, engaging with your brand on social media or reading a blog post. Workflows use all of this data "to create personalized, relevant marketing with context."
And this applies throughout the entire buying lifecycle. Workflows help you build a pipeline of engaged contacts, nurture them with timely and relevant content, and provide your sales team with integral prospect information to help them close the sale.
Types of HubSpot Workflows
There are three types of workflows: Standard, fixed date and property-based.
Standard workflows begin once a contact meets the designated starting criteria (i.e. when a specific response is given on a form, when someone visits your pricing page, etc.).
Fixed date workflows begin on a selected date (e.g. in anticipation of an upcoming webinar, conference, or holiday).
Property-based workflows center around a property you select (such as an account activation date, expiration date of a trial period, a contact's birthday, etc.).
Starting Conditions
Once you've determined which workflow is best for your needs, you'll need to choose a starting condition. Your starting condition will determine who gets enrolled in your workflows.
You can do this manually or automatically. If you choose the former, you'll need to manually enroll contacts into your workflow. If you choose the later, contacts will be enrolled when they meet certain criteria you set.
For example, you can enroll contacts based on clicks on a call to action (creating workflows for people who are interested in one of your gated assets), form submission (creating workflows for people by industry), page view (creating workflows for people interested in one of your services), etc.
Setting Up a Workflow
Once you've determined the type of workflow and starting condition(s), it's time to add actions and/or delays.
For example, if you chose to trigger a workflow based on a specific form submission, you might want to add an action in the form of sending an email specific to that form. You can either create the email as you create the workflow or create it beforehand; just make sure you save it for use with automation.
After you save this action, you might want to add a delay of a few days before sending out another email, and so on.
Testing It Out
Once you've added all of the actions and delays you need, it's important that you test out your workflow. This will allow you to ensure everything is working properly.
Use either your own email address or an internal one (like info@yourbusiness.com) so you can see how contacts will receive your emails. Remember, you will be receiving all emails in the workflow but without any specified delays.
If everything looks correct, it's time to activate your workflow!
Activating Your Workflow
Toggle the active status switch to "On" to activate your workflow. You will then see a pop up activation summary that will allow you to review your workflow as well as enroll contacts that already meet your designated starting conditions.
After doing one last check to ensure everything is exactly as you want it, click "Activate workflow now" to take it live!
---
There you have it! Now you can harness the power of HubSpot Workflows to truly master marketing automation and make your life a little easier.
Make sure you regularly check how your Workflows are performing to ensure they're meeting their objectives. For example, if your workflow is meant to nurture leads, you'll want to pay attention to the CTR of emails and the list's overall conversion rate.
Have any questions about HubSpot Workflows? Leave them for us in the comments!