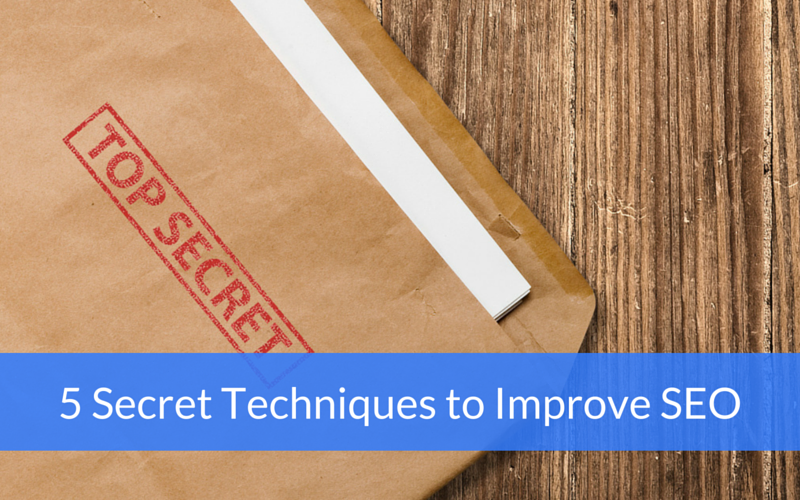 Is it just me or is SEO always getting painted as this big scary monster everyone seems to be intimidated by?
This is probably because optimizing websites for search engines like Google, Yahoo and Bing is a very difficult and tedious task for most. It continues to be one of marketers' most challenging duties when it comes to online marketing. And just when you think you're getting the hang of it, Google goes and changes its algorithm!
I wish I had a magical formula that guaranteed a top ranking on search engines, but unfortunately, there is no such thing. However, I do have a few secret techniques to share that can help improve SEO.
1. Keep Content Fresh & Unique
It's no secret that constantly publishing fresh and unique content is a powerful marketing tool.
Think about your go-to website for the latest world news. Let's say that website is CNN.com; now imagine if they didn't post a new article in two whole days. It's more than likely that you'll stop going to that site and find another source for news.
The same goes for search engines. If you aren't regularly publishing fresh content, there is nothing to entice Google to come back.
Here is my SEO tip regarding content: Remember you are not limited to a single type of content. There are many ways to diversify your newest content additions. Try adding several different types of content, such as video content, new landing pages, infographics, SlideShares, etc. These will also lure search engines to crawl around your website.
2. Long-Tail Keywords are Your Friend
Focusing on specific long-tail keywords is very beneficial to your SEO efforts. First, it is much easier to rank for long-tail keywords than common one-word keywords.
Although these long-tail keywords are much more specific, it means people finding your website with those keywords are more likely to buy your product or service.
Your long-tail keyword may attract a lower number of visitors, but the visitors coming to your site are more focused and committed to a purchase. The more specific, the higher the conversion rate.
3. Don't Overstuff Your Keywords
Want some good news? Long gone are the days you had to worry about keyword density! Google will not prioritize your page just because you mention a specific keyword in every sentence. In fact, you could actually get penalized for overstuffing those keywords, as it can make the content feel forced and unnatural to read.
My SEO tip for keyword usage is to keep the reader in mind while writing, not just the search engines. This will keep the flow of content natural and easier to read and digest.
4. Strategically Structure Your Links & Navigation
Strategically structuring your internal links throughout your content is an important SEO factor that is often overlooked.
Internal links help Google index the page more effectively. Designing a crawlable link structure helps search engine crawlers navigate through your website easier. The deeper your links go, the better.
Try to avoid links that navigate to your homepage or contact us page. Instead, strengthen other internal pages to increase overall SEO.
5. Don't Overthink It
This is my favorite secret technique to share: Don't overthink it!
All it takes is some time and knowledge. Knowledge is easy to find online and SEO doesn't have to be done all at once.
More technical SEO aspects such as .htaccess, robots.txt, 301 redirects, and absolute links can make your head spin! Don't get caught up in all the complicated parts. When you start to overthink SEO, it becomes way more complex than it should be.
---
There will always be more you can do to improve SEO, but I hope these five techniques will help get you started!