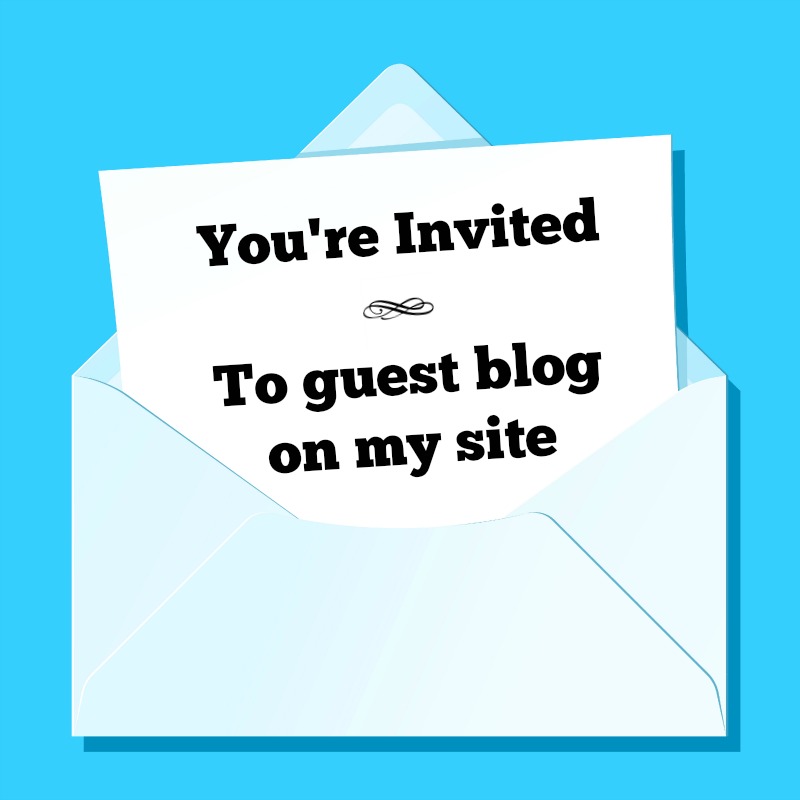 Guest blogging—publishing blog posts on other sites to expand your audience and drive traffic back to your own site—used to be all the rage, but its popularity is dwindling.
Guest publishing channels are getting noisy, content marketers aren't seeing the ROI, and they're beginning to question whether this once popular practice is still as effective as it used to be.
Rand's Take
During a recent AMA with founder of Moz and SEO superstar Rand Fishkin on Inbound.org, one user asked "Since, supposedly, guest blogging is a dying breed, and it's a main driver of backlinks today, what do you think will be the best method for obtaining backlinks moving forward?"
To this, Rand responded:
"Guest blogging isn't dying, just high-volume, low-quality guest writing. Guest contributions are as alive as ever (and perhaps actually more so now that there's more risk around the spammier kinds of activities)."
So what exactly does this mean? Low-quality guest blogging is on the outs. It's no longer enough to throw together a low-quality piece of content and offer it up to anyone who will post it. There are two problems with that:
That type of content won't provide value to the intended audience

There are duplicate content issues with that scenario
What's more, as Rand points out, "there's more risk around the spammier kinds of activities." These types of posts get flagged by Google and the sites that publish them get dinged. So, if someone reaches out to you asking for you to post something on your site, don't. If, on the other hand, someone reaches out to you asking for a cross-promotional partnership, go for it.
Guest Blogging Partnerships
If you reach out to a like-minded individual in your industry (or someone reaches out to you) and ask to create a guest blogging partnership, you have a lot to gain.
Not only will your audience be interested in what this guest industry expert has to say, you'll be able to speak to your partner's readers and increase your audience. Who knows, maybe some of those people will even become clients!
In order for these partnerships to work, it's important that you're taking your time to craft well-written, SEO-friendly, value-rich pieces of content like you would for your own site. A good rule of thumb is this: if you wouldn't put it on your own site, don't submit it as a guest post.
What to Avoid
During your foray into guest posting, it's important to avoid what Rand calls the guest posting "Slope of Madness." This is when your focus and intent strays from audience expansion and increasing authority to solely on link building.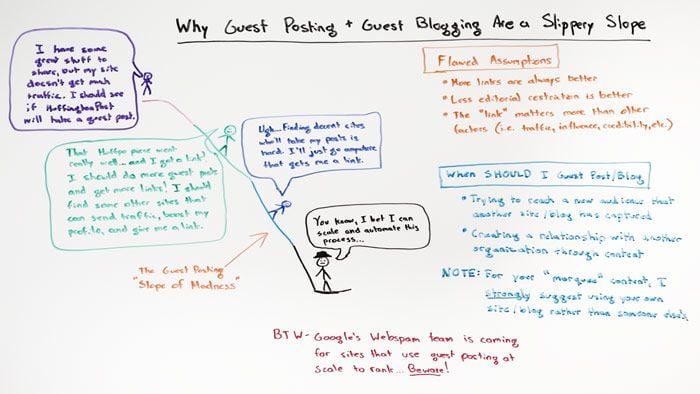 Image via Moz
Yes, it's great to have links pointing back to your site for link building, but it shouldn't be your sole motivator for participating in a blogging partnership. Make sure your partners aren't only interested in this either.
After all, the "more links are always better" mentality simply isn't the case. In fact, many posts with far fewer links rank better than those with thousands. As Rand puts it, "All links are not created equal."
Conclusion
Guest blogging can be a great tool if you're trying to increase the scope of your audience as well as your authority. Just be wise with whom you partner and where you post. If you avoid content sprinkling and create original, fabulous content with purpose, you'll be well on your way to becoming a guest-posting superstar.