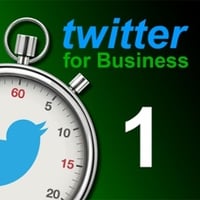 Twitter for Business teaches you everything you need to know about leveraging twitter to market your business. There are 17 lessons. You can learn the essentials in under an hour. But if you want more, there is an additional hour of bonus lessons and videos.
Twitter is one of the best ways to get the message out about your business, events, and products. Used effectively, Twitter can easily out-perform other social networking sites. This course walks you through how to use Twitter to its full potential using step-by-step, real-world examples.
Each week, for the next 17 weeks, I'll share a new video!
Objectives:
Learn details of every Twitter feature through real-world examples.
Apply methods for leveraging Twitter features that increase your reach.
Integrate Twitter with your existing online presence.
Automate your Twitter account using tools like HootSuite.
By the end of this course, you will know how to leverage Twitter for business promotions and learn analytic methods that can help you get an edge on your competition.
Audience:
This course is intended for business owners and marketers who are serious about leveraging Twitter to generating leads; sell more products and services; or establish themselves as thought leaders.
This course is designed for any level of experience. No special skills or prerequisites are necessary.
This introduction provides a quick overview of the topics I cover in the course...
Your time is valuable!
Don't waste it listening to unnecessary chatter and outdated material. Learn how to use Twitter to market your business through up-to-date, hands-on instruction of Twitter's main features.
Business owners, online marketers, and entrepreneurs from any industry can benefit from taking this course. Even seasoned Twitter users can learn to use Twitter to its full potential in this comprehensive course.
Used effectively, Twitter can out-perform other social media platforms, helping you generate leads, promote your products and services, and establish yourself as a thought leader.
The course is updated regularly, featuring the most up-to-date changes to the Twitter platform, and covering the essentials you need to launch and maintain a successful Twitter marketing campaign.
Twitter for Business Includes:
Comprehensive coverage of the Twitter platform and Twitter settings
Effective methods for customizing and optimizing your Twitter profile
Exhaustive discussion of the elements of a Tweet and Twitter features
Proven tactics for leveraging Twitter features to improve your reach
Straight-forward demonstrations of integration using Twitter widgets and other methods
Practical advice on automation, promotion, and analytics techniques
And, all of this in less than an hour!
But for those of you who want more, there is another full hour of bonus lectures and videos...
Bonus Lectures:
Tactics for finding qualified followers
Methods for improving engagement and click-through rates
Additional marketing and promotion techniques
Twitter for business BONUS VIDEOS include hands-on demonstrations of how you can:
Implement and integrate Twitter widgets and buttons on your website
Customize your profile using background images and services
Implement advanced techniques for promoting your Twitter account and your brand
Mark up your website so it can be featured in the Twitter timeline
Enough with the chatter, already... Subscribe to xoombi to get immediate updates when I publish each lesson. I look forward to sharing the first lesson next week!