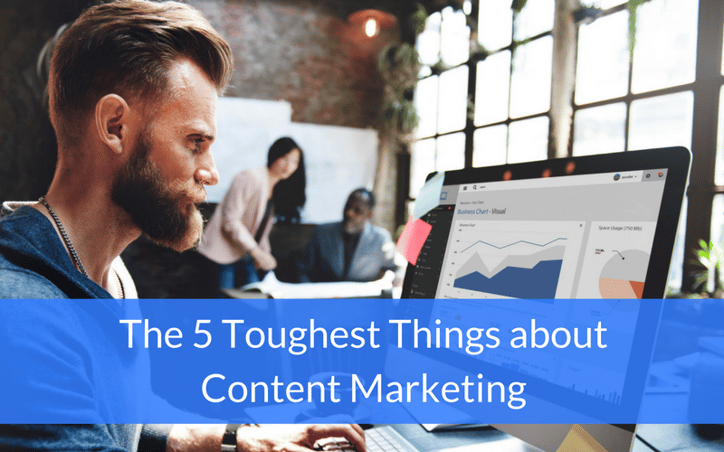 There's a lot that goes into content marketing.
From research and strategy to execution and promotion, content marketers have a lot on their plate. But which tasks prove most difficult?
Recently a few Inbound.org members chimed in on what they thought were the most difficult parts of the process and how they're working to overcome them.
1. Coming up with content ideas.
Sometimes the actual content creation can be the hardest part of the content marketing process. That's why it's important to have methods and sources that can constantly provide you with new ideas for content. If you get stuck in a rut, here are some blog post ideas that might be able to help you out.
2. Finding time to create content.
Another difficult component is finding the time to create content. We want to create blog posts and assets that address our target audience's pain points and help them find solutions; therefore, we need the necessary time to create that type of valuable content. Finding the time alone can be one of the most challenging aspects of the game.
3. Getting your content in front of the right people.
While many content marketers are confident in the planning and creation process, it can be difficult to hone in on your target audience and get your content in front of them.
It takes time and effort to find out where the largest pockets of your target audience are spending their time and focusing your efforts there. This also means marketers must actively engage with these people as much as they can to hopefully get some traction, receive feedback, and make a name for themselves and their brand.
4. Knowing who makes up your target audience.
Knowing who that target audience is, is another aspect of content marketing people struggle with. As one Inbound.org member put it, you need to "have an intimate knowledge of who your audience is and what makes them tick." This means you constantly need to be learning about your audience and improving the ways in which you engage them.
Remember, you can never have too much knowledge about your audience, which is why you should constantly be taking its pulse!
5. Doing influencer outreach.
Another difficult aspect of content marketing is influencer outreach. Oftentimes it can be tough to book and/or get a response from sources willing to talk about a specific topic. That's because most of these people are incredibly busy, meaning marketers have to contact "twice the amount of contacts as [they] expect, because most of them won't respond to interview requests."
In order to overcome this hurdle, it's important to structure your outreach around the "what's in it for me" aspect from the influencer's perspective. One member offered, "They need to see there's some form of payoff for their time, and not just doing it to help someone." In other words, you have to convey value that appeals to their interests.
Conclusion
While these are some of the toughest parts of content marketing, ultimately, the effort is worth the reward.
Working through these issues in order to better serve your prospects will allow you to become a trusted advisor, build brand awareness, and position yourself as a company that can truly help better your clients' businesses.