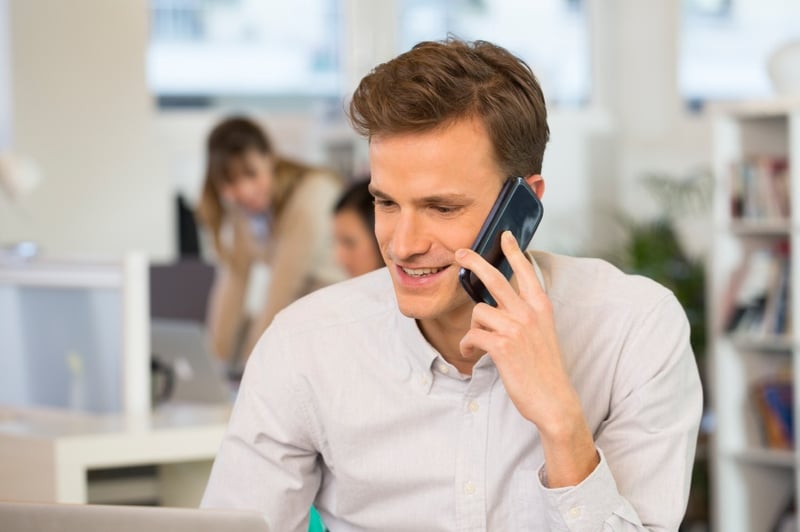 Companies are always looking for ways to create a purchasing pathway on their website to facilitate the buying/signup process online, even for complex B2B solutions. The challenge not only lies in being able to make a complex purchase online, it's also about ensuring proper expectations are set and a strong implementation is executed.
So what do you need to help facilitate this process and make sure prospects don't slip through the cracks of your purchasing pathway?
Enter salespeople.
Great salespeople play a much bigger role than simply convincing someone to buy. Here are five reasons why the internet can't replace them.
1. They identify exactly how the solution is going to solve the customer's problem.
However much copy you include and content you write about the value of your solution, it's still not custom-fit to every prospect. Salespeople can get to know each prospect's specific pain points and better articulate how the solution fits the problem s/he is trying to solve.
2. They help set proper expectations.
Unfortunately, purchasing pathways can't manage a prospect's expectations. It's important to get a salesperson involved to inform the prospect of what s/he can expect at every stage of the buying process.
3. They can better justify pricing.
An explanation of a product or service directly followed by a price tag can sometimes be hard to swallow. Involving a salesperson in the pricing conversation can better show the prospect exactly what they're getting for their money. For example, even if weekly strategy calls are included, but not a core feature of a product or service—and therefore not mentioned in the web copy—this may be the deciding feature of why a prospect picks you over a competitor. Salespeople will know the value of all services you provide and can clearly convey that value in relation to pricing.
4. They layout the foundation for successful implementation.
User manuals and other how-to content is helpful, but many prospects prefer to have someone prepare them for a successful implementation process. Salespeople are already familiar with common implementation hiccups and therefore are well-equipped to answer questions and prepare the implementation team to solve out of the ordinary issues.
5. They're human.
Salespeople are human. They can hear frustration and apathy over the phone—something your online pathway will simply never be able to do. Not only can salespeople better empathize with prospects, they can gauge their likelihood to convert much better than software. Furthermore, prospects will be able to discern the confidence your salespeople have in your product or service by how they speak about it, and that can't be reproduced.
Conclusion
Internet purchasing pathways are great tools and everyone who wants to improve sales results should be using them on their websites. However, despite their effectiveness and efficiency, they can never replace the human element that salespeople bring to the table. Creating opportunities to create that human touch will positively impact your sales efforts.