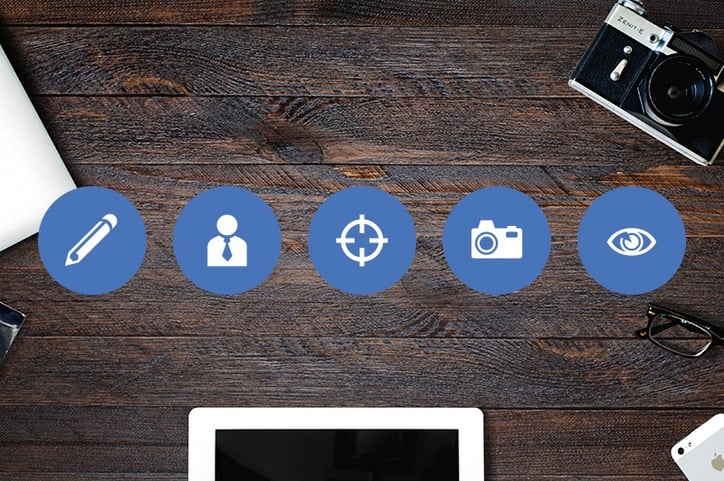 How the eyes love a good visual. Not only does content with visuals receive 94% more total views, it's 40 times more likely to be shared on social networks.
What's more, visuals are processed 600,000 times faster than text, people retain 80% of what they see, and 90 percent of information sent to the brain is visual.
So how do you know if you're doing visual marketing right?
Here are five keys to stunning visual marketing.
1. It's branded.
All of your visual content needs to be branded. This can include anything from putting your logo on all of your images and using a certain filter to incorporating text overlay.
Not only will this allow your visuals to be immediately recognized as your own, it will help viewers associate your "look" with your company wherever they see it on the web.
Make sure to follow your established style guide, adhering to a pre-determined color palette, mood, feel, image type and font.
2. It's professional.
Your content is a direct representation of your company, so make sure you put your best foot forward. When it comes to visual content, use a graphic designer. If you don't have one on your team, use a trusted freelancer who has a proven track record of following brand guidelines.
Remember, that piece of visual content might be the first thing a potential customer sees from your company, so make a good first impression!
3. It's accurate.
Make sure you do your fact checking before publishing any of your visual content. You want to ensure that you have your facts straight, that you're representing your business in the way intended, and that your content is free of any grammatical or spelling mistakes.
4. It fits the medium.
You need different types of visuals for different purposes. For example, if you're explaining the benefits of a new product or service, you may want to enlist the help of an infographic. If you're creating a shareable quote or fact, however, you're probably better off creating a square graphic.
Your visual content type will also depend on what social media platform you're publishing on. For example, pins on Pinterest get more engagement if they're vertical (approximately 735px by 1102px) while tweets with images that are horizontal (approximately 1024px by 512px) are more visually appealing.
5. It's simple.
Don't overdo it! When it comes to design in visual marketing, less is more. You don't want to confuse potential customers by having ridiculously cluttered and busy visual content. Instead, get your desired message across as simply as possible; your prospect's eyes will thank you.
Conclusion
Make sure you tell your company's story from prospecting to close. Use visual marketing at all stages of the buyer's journey and you'll see that your prospects are more engaged and responsive.
Last but not least, remember that visual marketing is fun! Don't take yourself too seriously; let your hair down and let your target audience see the fun, human side of your business.