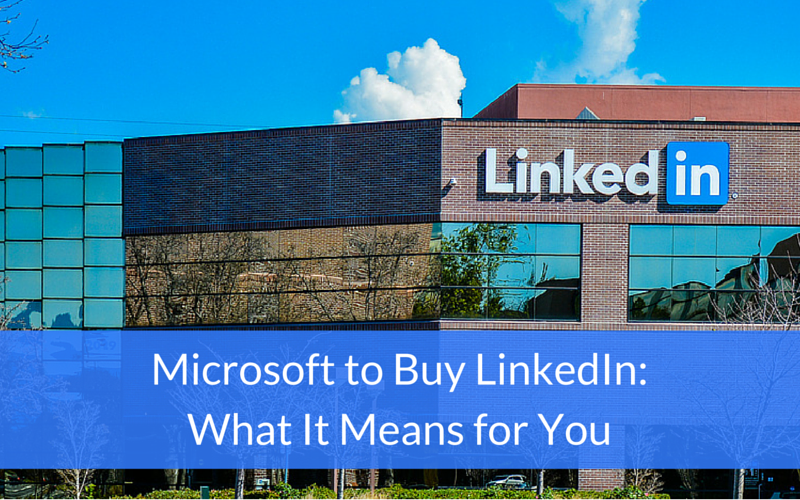 It was recently reported that Microsoft Corp. has agreed to buy LinkedIn Corp. for a whopping $26.2 billion. This will be Microsoft's biggest deal ever.
The 26.2 billion dollars break down to $196 per LinkedIn share. Microsoft CEO Satya Nadella and LinkedIn CEO Jeff Weiner said they began talking about the cash deal in February.
Seeing as Microsoft is one of the biggest producers of software tools and LinkedIn is the largest online network for business professionals, the New York Times sees it as:
Microsoft's biggest bet yet that the traditional software business is shifting quickly to cloud computing, a model in which customers rent software and other services delivered over the internet…

…It is also further evidence that Satya Nadella sees the company's future further and further removed from the PC software that once helped the company's co-founder Bill Gates turn Microsoft into the world's most valuable company.
Reid Hoffman, chairman of LinkedIn's board, sees the deal as "a re-founding moment for LinkedIn." The deal is expected to close by the end of 2016 after obtaining regulatory approval in the US, European Union, Canada and Brazil. At that time, LinkedIn will become part of Microsoft's productivity and business processes unit.
What It Means for You
So why is Microsoft making this move and what effect will it have on LinkedIn (and subsequently how you do marketing on LinkedIn)?
In the Business of Data

All screenshots via Microsoft
For starters, some insight can be glimpsed from an interview the New York Times conducted with Nadella.
"This deal is all about bringing together the professional cloud and professional network," Nadella said.
Seeing as LinkedIn, like all social media sites, is primarily in the business of accumulating data, by purchasing the organization, Microsoft will have access to all of that data.
Just think about how powerful this data is. Recruiters spend thousands of dollars a month to access it to fill job openings, and B2B businesses use LinkedIn as one of the top places to research, prospect, and generate more leads.
It's likely that Microsoft will be using this data to better position their products, learning from LinkedIn data how business professionals want to be sold to and more accurately targeting prospects.
In a personal post on LinkedIn, Nadella says that together, Microsoft and LinkedIn "can deliver new delightful and intelligent experiences." What's more, he linked to a public presentation in which a key opportunity for the acquisition read "Accelerate monetization through individual and organization subscriptions and targeted advertising."
Difficulty Marketing on LinkedIn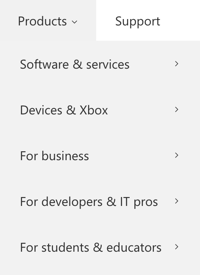 What this could also mean is competing products—especially those in the cloud space—could have a harder time reaching their audience on LinkedIn.
It's pretty clear that Microsoft is pushing their cloud-based products for business professionals. Even Nadella framed Microsoft as "the professional cloud," and in his LinkedIn post, specifically mentioned Office 365 and Microsoft Dynamics. Furthermore, if you look at their website, the first thing you find under the Products tab isn't their devices, but rather their software and services.
Seeing as Microsoft will now own the site many inbound marketers believe is the best place for B2B social media marketing, expect competing products and services to have a tougher time seeing success on the platform.
A Wider Distribution of Information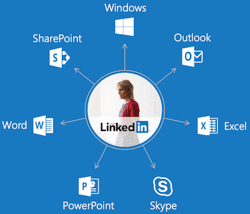 Microsoft has stated that information provided by users on LinkedIn will now be accessible through many of their products. As stated in their acquisition presentation:
Today there is no one source of truth for an individual profile—the data is scattered across many endpoints often with outdated or incomplete information. In the future, a professional's profile will be unified and the right data at the right time will surface in an app, whether Outlook, Skype, Office, or elsewhere.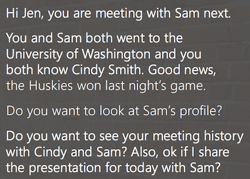 This means that you'll be able to access LinkedIn personal profile information from apps like SharePoint, Windows, Outlook, Excel, Skype, PowerPoint and Word.
Microsoft's digital assistant, Cortona, will also pull information from LinkedIn and "know your entire professional network to connect dots on your behalf so you stay one step ahead."
A More Personalized LinkedIn Experience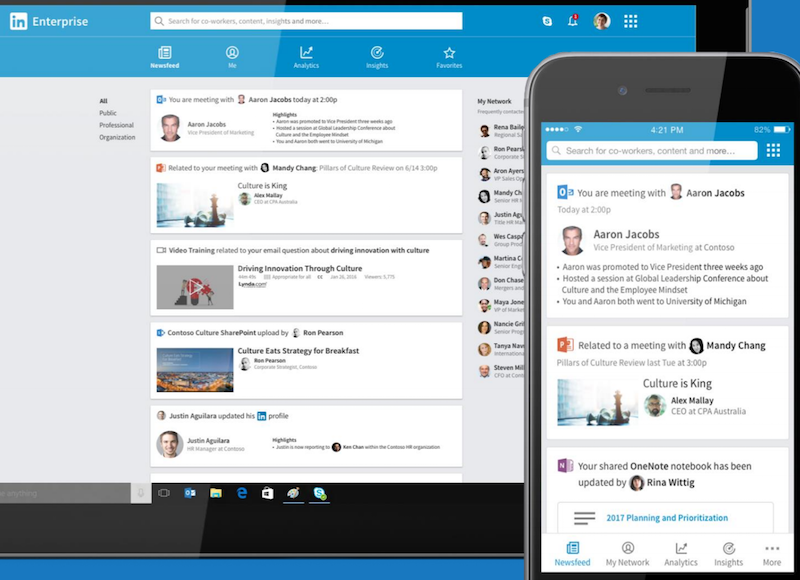 Not only will data from LinkedIn be pulled into Microsoft, data from Microsoft products will also be pulled into LinkedIn.
This means your LinkedIn newsfeed will now be "constantly informed and tailored to the happenings at work, like the meetings coming up and the projects underway."
As you can see in the screenshot above, new things you'll see on your newsfeed might include information about someone you're meeting with, content that's related to a subject you're having a meeting about, and a video that's related to a question you had in an email.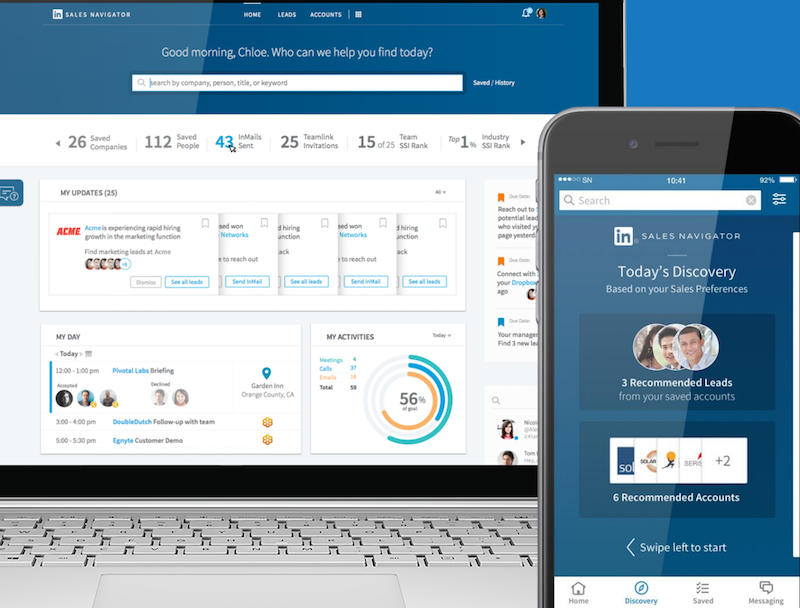 The LinkedIn Sales Navigator will also be synched with Microsoft's Dynamics CRM, serving up recommended leads and accounts.
Other changes will include synched information in LinkedIn Recruiter and the integration of LinkedIn Learning with Office for industry education.
Conclusion
Ultimately, if you're using Microsoft products, your LinkedIn experience will be radically different once this deal is complete. How those not using Microsoft products will experience LinkedIn, however, is still to be seen.
What is a safe bet is that B2B marketing for cloud-based products on LinkedIn is likely to get a bit more difficult, seeing as a competitor now owns the platform.
What do you think about the LinkedIn acquisition? How do you think it will affect you and the way you do business (if at all)?