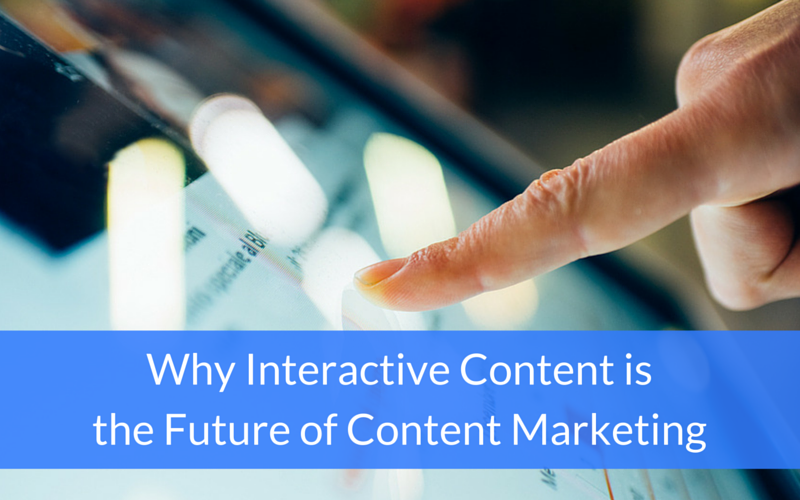 What is interactive content?
According to SnapApp, interactive content is "Content that requires the participants' active engagement - more than simply reading or watching. In return for that engagement, participants receive real-time, hyper-relevant results they care about."
This type of content comes in the form of interactive infographics, quizzes, calculators, polls and more, and is considered a better way to "educate, entertain, and engage your audience."
Think of it this way. Today, 86 percent of B2B marketers use content marketing, and 70 percent are creating more content today than they were just a year ago. Due to this content marketing explosion, more people are seeing the need to up their content ante.
Enter interactive content. Content with an interactive format adds "more value for the user by creating a two-way dialogue – enabling a personalized, user-focused experience from start to finish."
Types of Interactive Content
There are many different types of interactive content. Here are some of the most common.
Calculators
Calculators, like value and ROI calculators, give users answer options or provide fill in fields that users use to input their information. This information is then plugged into a backend set of calculations and returns a unique, numeric result for the user.
Polls & Surveys
Polls, surveys and questionnaires provide a method of gathering opinions, feedback and valuable insight from your audience.
Assessments
These series of questions help users better understand what they need, and help you bucket them into several different categories.
Brackets
SnapApp describes this as "a round-by-round 'knockout tournament' format set up to determine a winner." For example, you could take the topic of HubSpot vs. WordPress and interactively show a head-to-head comparison.
Trivia
Trivia content usually includes questions with right and wrong answers and gives users a scored output.
Contests
Contests usually require the user to give information, answer questions, or take specific actions before being allowed to participate.
According to data on interactive content from the Content Marketing Institute's 2016 Research Study, the most commonly used types were:
Assessments
Calculators
Contests
Why Marketers Need It
In the same study, CMI found that:

81% of content marketers agree that interactive content grabs attention more effectively (than static content).
79% agree that interactive content enhances retention of brand messaging.
79% agree that interactive content results in repeat visitors and more exposure.
75% plan to increase their use of interactive content in 2016.
The study also found that the top three reasons why marketers are using more of this type of content is to achieve the following goals:
Education: Interactive content is a great way to teach your target audience more about your industry and the problems your solution solves.
Engagement: It makes engagement easier; the interactivity element makes it feel as though you're having a conversation with your audience.
Lead Generation: Humans can't resist testing themselves, comparing themselves to others, competing, and sharing their opinions, making this type of content great for lead generation.
Some Great Examples
For a great example of an interactive quiz, head over to BuzzFeed to find out what city you should actually live in.
Additionally, here's an awesome interactive map of Middle Earth and an interactive infographic on web browsers and resolutions.
Getting Started
If you're itching to get started with interactive content but don't have the resources to create it yourself, you can check out companies like SnapApp (which integrates with HubSpot, Marketo and Salesforce) and ion interactive.