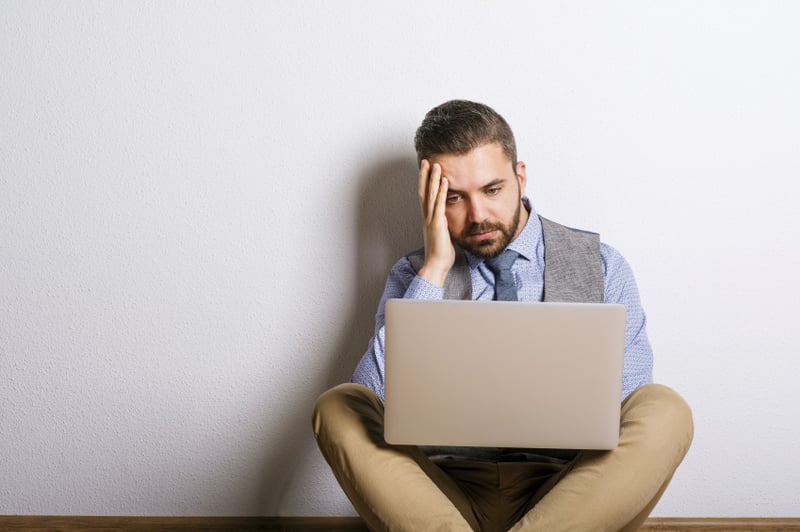 So you've decided you're ready to take the dive into inbound marketing. Good for you! Inbound is one of the most effective forms of modern marketing.
We're excited you're embarking on this journey and we're here to help. That's why we've prepared this list of inbound marketing no nos—after all, getting started on any new adventure can be confusing.
So you don't lose your way, take a look at what you shouldn't be doing. This will serve as a road map to help you stay on the right path!
1. Your website is a mess.
The whole goal of inbound is to get people to come inbound to your website, interact with it, engage you, and ultimately convert on it. Therefore, you need to view your website as your online "home." And no one wants to be a guest in a messy house.
If your website is outdated and/or provides a poor user experience, it's time to update it. Your website needs to be functional and lookin' fresh before you push the gas on your inbound efforts. You can check out our newly redesigned website or one of our client's sites to give you an idea of what we mean.
2. You don't have a plan/strategy.
Like with any new venture, you want to get started on the right foot. Before you jump into inbound marketing, it's important to first have a plan.
Have no idea what that looks like? My advice for you then is to take some of Hubspot's free courses and get your inbound marketing certification. This will give you a great understanding of the inbound methodology and what you'll need to start implementing it at your own company.
Already have an idea of what you need to get started? Right it down and map it out. By having a well-formulated and documented plan in place, it will be easier to see what you need, the time frames you need it in, and who else you need to involve in the process.
3. Your goals are too lofty.
Some people think they can start blogging or posting on social media and all of a sudden their website traffic will blow up. In a perfect world, that's exactly what would happen, but unfortunately, in the real world, it takes time to see those kinds of results.
If you don't currently have a blog or social media presence, you need to set realistic expectations. It's going to take time to build up an audience, so plan accordingly.
4. You don't have any nurturing workflows.
It can be overwhelming just keeping up with blogging, creating gated assets, pushing out posts on social media and sending out emails to prospects. However, you have to remember that once you get prospects in the funnel, you have to continue to market to them by offering value in order to move them down the pipeline.
This is why I recommend that when you're developing your inbound plan/strategy, you include ideas for top of the funnel (TOFU), middle of the funnel (MOFU), and bottom of the funnel (BOFU) offers. This will allow you to tie all of your content together and help prospects move closer to close.
5. You don't listen to your audience.
Once you go through the inbound certification training, get certified, start doing inbound and begin to see results, you're going to think you know it all. You don't, and there're two reasons for that.
First off, inbound is always changing. It's one of those industries that sees new "best practices" and strategies every year. That's because it's a very fluid industry. After all, a lot of what we do is dependent on constantly evolving entities like search engine algorithms and social media sites.
The second reason is that, ultimately, your audience will continue to tell you things about your own content and strategy that you didn't even realize. That's why it's crucial that you listen to your audience. They're the ones who will tell you if that eBook you spent hours on is actually worth their time or if that blog post you wrote in your spare time is what they really want to be reading.
Final Thoughts
Ultimately, inbound marketing is a lot of fun. After all, instead of the traditional approach to marketing in which you interrupt prospects to get their attention, this form of marketing is built around you providing value to your target audience and having them come to you.
Wouldn't you rather be in a position where you're sought out instead of having to impose your marketing on unsuspecting and ungrateful prospects?