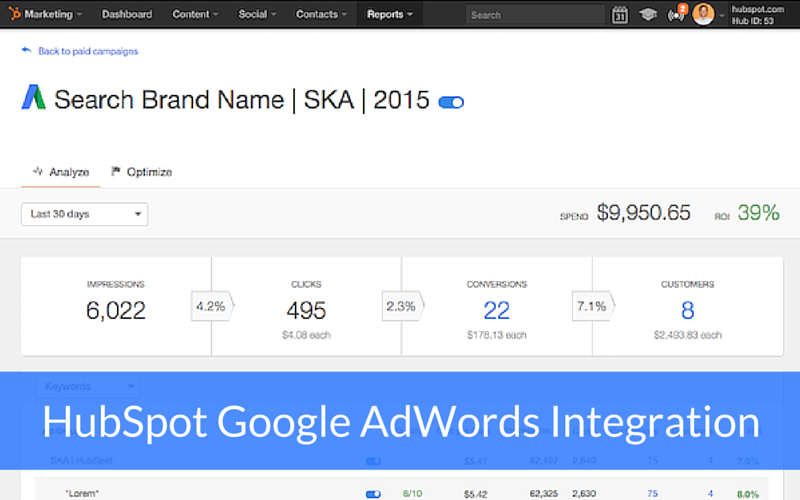 As we reported when we got back from HubSpot's Inbound conference last year, HubSpot was planning on introducing the "Ads Add-On" for both LinkedIn and Google AdWords.
While the functionality for LinkedIn Ads launched soon thereafter, the AdWords integration was in beta until recently. As of the end of March, the HubSpot Google AdWords integration is now live. So what does that mean for HubSpot users?
What is the Ads Add-On?
According to HubSpot, the Ads Add-On is "the easiest way to create, measure and leverage ads for inbound marketing."
Using HubSpot Ads, you'll be able to "create, measure and optimize Search and Social ads without ever having to leave HubSpot again." Whereas before you'd have to leave the platform and log in to Google AdWords or LinkedIn to view how your ads were performing, now everything is in one place.
How it Works
Here's how the integration works:
The Ads Add-On connects directly to your AdWords account through OAuth. Allowing HubSpot to edit AdWords campaigns and pull in ads data to combine with HubSpot data.
What This Means for You
Not only does the HubSpot Google AdWords integration save you time from logging out and in to multiple platforms, it provides other perks too.
1. Create ads inside HubSpot.
You don't have to leave HubSpot to track performance, and you don't even have to leave to create an ad.
2. Go beyond the click: Easily track conversions and ROI.
Many times people only look at click data, but those stats alone won't tell you what ads are working and which are lackluster.
The new integration combines HubSpot data with Ad data, allowing you to automatically surface conversions and ROI. You'll know exactly which ads are converting the most leads and customers—as well as track ROI down to the keyword—without even setting up a tracking code.
3. Make ads inbound.
HubSpot has made an effort to apply the inbound methodology to their ads integrations. They've "made ads inbound through a simplified approach, built-in tips, and the strategy you need to win." Whereas ads alone can "fall flat," those amplifying already great inbound efforts drive leads.
4. Associate ad campaigns with HubSpot campaigns.
You can associate your ad campaigns with your HubSpot campaigns so that you can easily see the impact of paid media in both the campaign view and under Sources. According to HubSpot,"in sources you will now see paid campaign data along with the term passed through the ads tracking link." You can also edit an existing AdWords campaign to associate it with a HubSpot Campaign, which will track all of those campaigns from that point onwards.
Conclusion
If you don't have the time or bandwidth to learn how to manage ads, then the new HubSpot Google AdWords integration may be perfect for you. It will help you avoid common mistakes and only give you the data you need to do more of what works and less of what doesn't, allowing you to drive better results at a lower cost.
Ready to take the Ads Add-on for a spin? You can request a free demo here. If you do decide it's a good fit or your business, HubSpot customers can do a free 14-day trial, after which it will run you $100 a month.