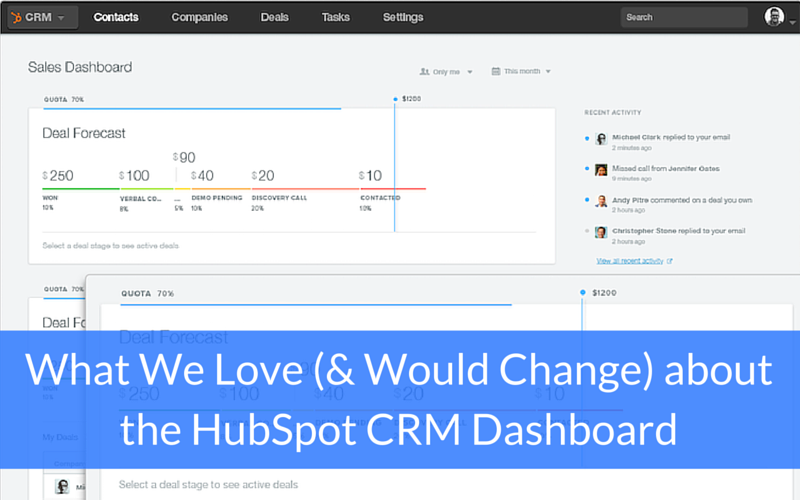 When you use a tool a lot, you learn the ins and outs of it. Not only do you come to love the ways in which it makes your life easier, you often realize ways in which it could be improved.
As you've noticed, we're big fans of the HubSpot CRM. And when it comes to the HubSpot CRM Dashboard, there's a lot to love—there are also a few aspects we, and many HubSpot users, would like changed and/or added.
Here are the things we love about the Dashboard and a few we would change.
What We Love
Just like the HubSpot Marketing Platform, the HubSpot CRM Dashboard provides a helpful, quick glance of how you're doing. It shows you:
Deal Forecast: How far your deals are progressing towards your quota.
Productivity: How many calls, emails, meetings, and tasks you've completed.
Pipeline: New leads delivered to you from the marketing platform, how many of them you've contacted, and the number of deals you're managing as a result.
Recent Activity: Your five most recent completed tasks and the details of those tasks.
What's more, a drop down list of each salesperson's set up in the CRM gives sales managers the ability to easily review these stats for the entire team. You can also view these stats daily, weekly, monthly, yearly, or within a custom time frame.
The ease of use and visibility of the most important stats right away are features we wish every tool we used had.
What We Would Change
Here are a few items that would be helpful and make the Dashboard an even more powerful tool than it already is.
1. An at-a-glance Task List including new SQLs to review.
This would immediately allow salespeople to see what tasks they need to complete on any given day, and what tasks remain in the queue. Including new SQLs in the Dashboard would also allow salespeople to quickly assess the lead's circumstances and make contact if necessary, as speed is the key to lead conversion.
2. Merging companies as is done with contacts.
While the CRM offers the ability to merge two contacts in the case they are really the same person and their information is duplicated, many HubSpot users would like to have the ability to merge companies as well. In fact, this request is so popular that HubSpot has confirmed it's on their roadmap and something they plan to build.
3. Have parent and subaccounts.
Many HubSpot users have also expressed an interest in the functionality of having both parent and subaccounts. Using such a feature, salespeople would be able to group any parent and sub-companies together.
4. Improve Dashboard metrics.
Last but not least, many users need more consistency in the Dashboard metrics, especially when they don't have access to other reporting tools. Some additional metrics they'd like to see include emails sent, calls placed, meetings scheduled and tasks completed.
Conclusion
While there are things that could make the HubSpot CRM Dashboard better, we still love the way it makes our lives easier by having everything in one place.
What's important to note is that HubSpot is constantly taking feedback from users and making improvements to their products, meaning these ideas could definitely become realities one day!
What aspects of the Dashboard would you change? Let us know in the comments!