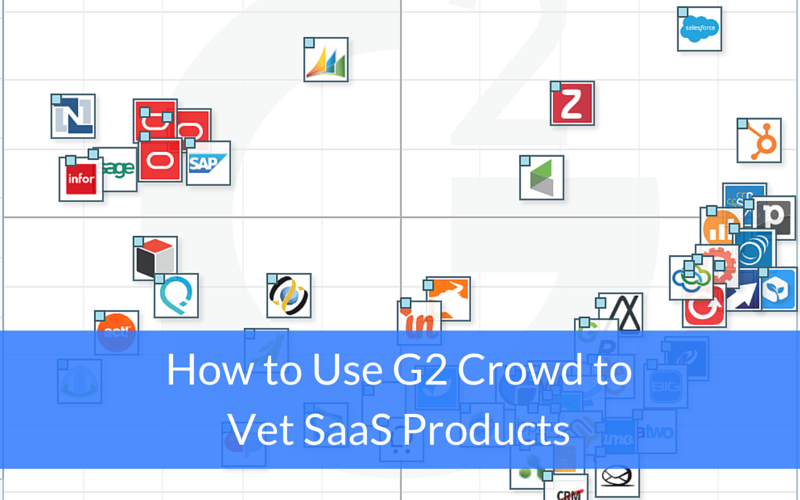 These days, there are so many SaaS products out there, it can be confusing—not to mention time consuming—when it comes time to vet them out.
What's more, the information that's out there on these products is usually biased. Whether it's directly from a provider's website, analyst reports, or sales demos, the information will likely be skewed in favor of whoever's presenting it.
So who can you turn to for real user experiences and unbiased reviews?
Enter G2 Crowd.
What's G2 Crowd?
G2 Crowd is the world's leading business software review platform that leverages "70,000+ user reviews read by nearly 600,000 software buyers each month to help them make better purchasing decisions."
By bringing the collective power of trusted peers to the forefront, business buyers now have transparency when evaluating B2B software technologies.
The Grid
G2 Crowd uses insights from everyday users, expert peers, and aggregated data to score competitive SaaS products on what they call "the Grid."
As we shared in our article on the 3 best CRMs on the market, the Grid looks like this: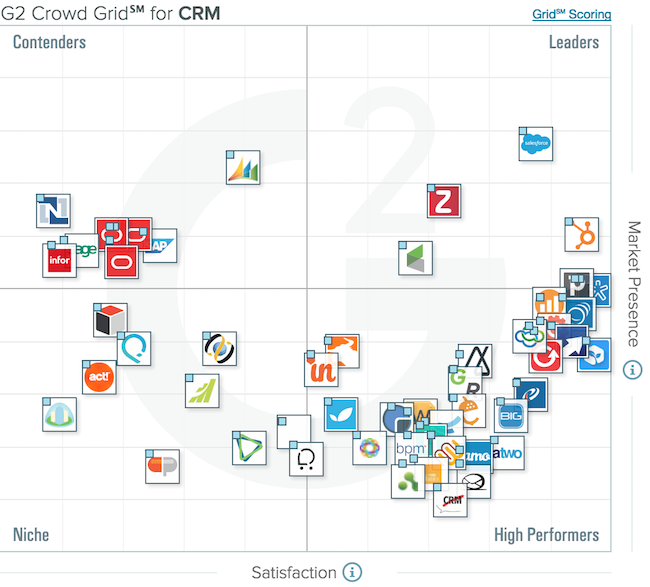 The G2 Grid rates SaaS products based on customer satisfaction and market presence. The satisfaction score is based on ratings and reviews gathered from the user community, whereas the market presence score is determined by data aggregated from over ten different online sources and social networks that indicate the product's market share, vendor size and social impact.
Using the Grid, you can see market leaders, high performers, contenders, and niche products. These are determined as follows:
Leaders are highly rated by G2 Crowd users and also have "substantial scale, market share, and global support and service resources."
High Performers are highly rated by users, but don't yet have the market share and scale of the Leaders.
Contenders have a significant market presence and resources, but they've received "below average user satisfaction ratings or have not yet received a sufficient number of reviews to validate their products."
Niche products don't have the market presence of the leaders and may have been rated positively, but don't have enough reviews yet to validate their success.
Diving into Comparisons
When it comes time to vet SaaS products, G2 Crowd has you covered, as they have a ton of categories you can choose from (I tried to count them all, but the list was extensive).
Here are the 18 main categories, each of which have sub, and some even have sub-sub categories:
CRM & Related
Analytics
CAD & PLM
Collaboration & Productivity
Content Management
Development
Digital Advertising
E-Commerce
ERP
Hosting Services
HR
IT Infrastructure
IT Management
IT Security
Office
Professional Services
Supply Chain & Logistics
Vertical Industry Software
Once you've found the category you're looking for, you can click on the vendor in the Grid to take you to the vendor's page. Here you can access reviews, read the product profile, view pricing, check out their mobile apps, read FAQs, compare it with similar products, and request a demo.
Partnering with G2 Crowd
Want your SaaS product to be on the site? Check out this page to learn about the perks of partnering with G2 Crowd. By joining, you'll be able to have your raving customer reviews in a public forum, "increase the odds of getting on prospects' radar and short-lists," and reduce internal effort in the referral process.
Conclusion
Overall, if you need to vet SaaS products, G2 Crowd is a great place to start. Not only will you have access to unbiased reviews from actual users and your peers, you'll be able to narrow down the viable options quickly and efficiently.