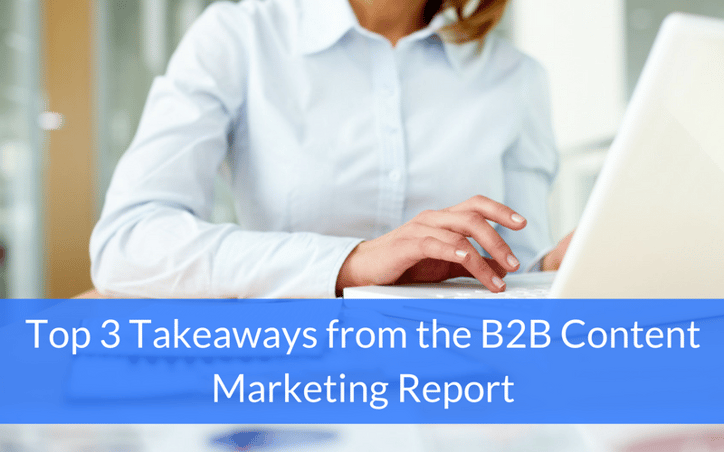 One of the best ways to see how you and your team are performing is to benchmark your efforts and achievements against others doing the same thing.
If you're doing content marketing for your company, one of the best resources you can use for this purpose is the Content Marketing Institute's B2B Content Marketing Report. This report includes content marketing benchmarks, budgets and trends.
The Content Marketing Institute (CMI) and Marketing Profs report presents the findings from a survey of 1,102 B2B marketers across North America (out of 2,562 respondents worldwide).
Here were some of the most standout takeaways from this year's report and what they mean for your own marketing efforts.
1. Most organizations are now using content marketing as a part of their overall marketing efforts.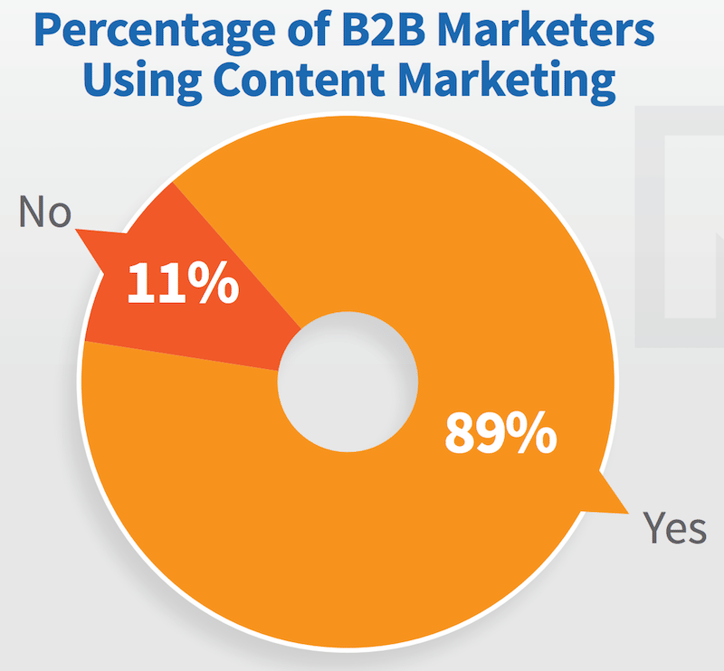 Only 11% of respondents said their organizations weren't using content marketing, and of those 11%:
52% said they plan to launch a content marketing effort within 12 months
43% said they had no immediate plans to use it
5% had used it previously but stopped
What This Means for You
The majority (89%) of organizations these days are in fact using content marketing in their overall marketing strategy, which means you really need to make your content stand out in order for people to find it amongst the noise and actually want to read it!
2. Most marketers describe their content marketing maturity level as adolescent.

The majority of respondents (35%) described their organization's content marketing maturity level as adolescent, meaning they've "developed a business case, [are] seeing early success, [and are] becoming mores sophisticated with measurement and scaling."
Next up were the youngsters (26%) who are experiencing growing pains and are challenged with "creating a cohesive strategy and a measurement plan." In third place were the mature content marketing efforts which are "finding success, yet challenged with integration across the organization."
What This Means for You
It takes time to really grow and mature a content marketing strategy. If you're just starting out and not seeing the results you anticipated, don't worry. It will take time to adjust your strategy and learn what improvements need to be made in order to reach your goals.
3. There's room for improvement when it comes to overall content marketing success.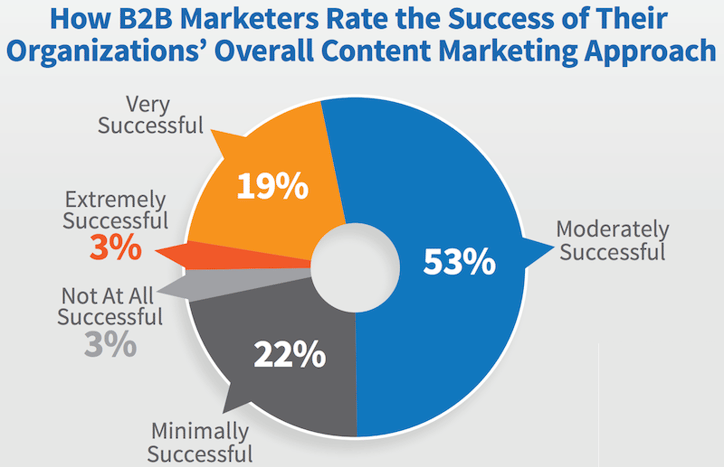 The B2B Content Marketing Report found that only 3% of respondents believed their organizations' overall content marketing approach was extremely successful. What's more, only 19% found them very successful.
Overall, at 53%, most B2B marketers believed their approaches to be moderately successful, 22% found them minimally successful, and 3% said they were not at all successful.
What This Means for You
Always be improving and adjusting your content marketing strategy based on what your target audience wants and what they respond to the most. The more you pin down pain points and work to address them in your content, the more successful your efforts will be.
Conclusion
Thanks to CMI and Marketing Prof's B2B Content Marketing Report, we now know that:
In order to stand out from the noise, we'll have to make our content marketing more specific and extremely valuable.
Content marketing strategies take time to develop, so we shouldn't get disheartened if it's not immediately where we want it to be.
We need to constantly adjust and improve our strategies in order to really impact our target audience and consider our efforts extremely successful.