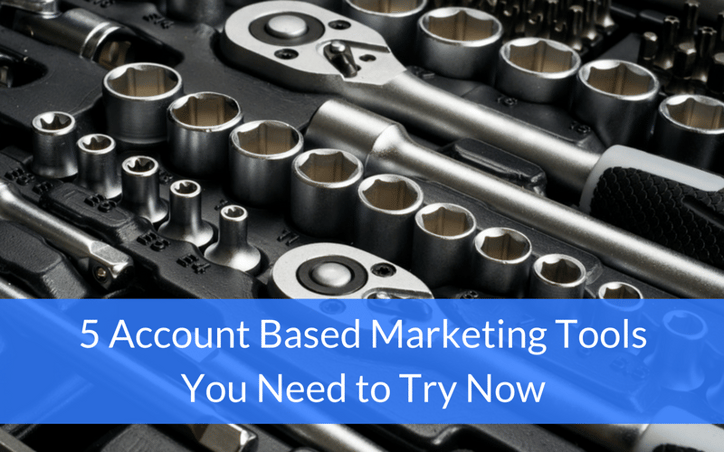 Are you doing account based marketing in the most efficient way possible?
As we discussed in a recent post about marrying account based and inbound marketing, account based marketing is basically outbound marketing but for specific accounts (usually companies). This allows you to go after one specific business at a time, targeting your efforts, reducing marketing costs and increasing your chances of winning the deal.
So how can you make your processes even more efficient? Here are five account based marketing tools and resources that you should look into and/or try out today.
1. Marketo
Marketo offers a lot of resources on ABM. They partner their Consumer Marketing solution with tenets of ABM to help discover and define your dream prospects, define personalized and effective messaging, determine optimized channels, execute targeted campaigns and measure, learn and optimize campaign results.
2. Terminus
According to their website, Terminus "enables B2B marketers to run ABM at scale." They do this by targeting best-fit accounts, engaging decision makers and influencers on their terms, and accelerating marketing and sales pipelines at scale. What's more, all of the set up and onboarding can be done in 30 minutes!
3. HubSpot Smart Content
HubSpot's Smart Content feature allows users to add the company and visitor field in HubSpot COS pages and emails. This alters content displayed within rich-text, HTML, or form modules depending on viewer characteristics, creating a more customized experience for your leads. This also makes all of your marketing materials feel more personalized, as if they were specifically created for that individual business.
4. Engagio
When you first land on Engagio's website, you'll read "Hello Account Based Everything." But what does that mean? Not only does Engagio provide account based marketing, they also offer account based sales, sales development, and customer success. According to Jon Miller, the CEO of Engagio:
We're building a solution that complements your existing marketing automation tool with the account-centric database and measurement capabilities needed for ABM. We're building tools to help engage accounts and deepen sales-and-marketing alignment, no matter what strategy makes sense for your company.
5. SiriusDecisions
SiriusDecisions offers ABM as a part of their unique advisory model, one that "distills over 2,000 years of combined practitioner experience into collaborative counsel that gives you the perspective, insight and guidance you need to recalibrate operations and catalyze performance." Their ABM solution offers operational intelligence, representative coverage areas, and representative models.
Conclusion
These tools and resources will hopefully help further clarify how account based marketing can help you and your business operate more efficiently and cost-effectively.
Many of them offer demos, so make sure to check them out before picking one!
To learn how ABM can be supercharged by inbound marketing, click here. To learn what you should be including in both account based and inbound marketing campaigns, click on the button below!