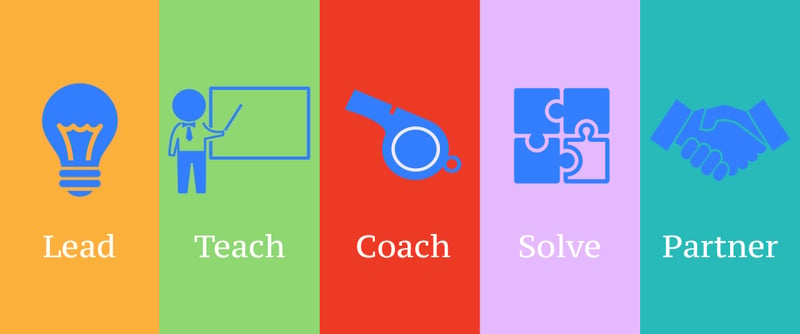 In an age where inbound marketing is omnipresent and content is being created and consumed at a rapid rate, salespeople need to take on more roles than ever.
While this may seem overwhelming at first, there is content to help you every step of the way. Salesforce and Kapost recently joined forces to outline how leveraging the right content at the right time can "take your relationship well beyond customer and salesperson."
Here's what we learned from their collaboration: the five roles salespeople must adopt to achieve sales success.

1. The Thought Leader
Being active online is paramount to sales success. In fact, studies show that 78% of salespeople using social media outsell their peers. By consistently posting engaging, valuable content about your industry, you'll be seen as an expert in your field and become a well-known industry professional.
If you and/or your company are producing high quality content, you'll be able to build a reputation as an industry thought leader over your competitors. The positive perception that results from your expertise and authority will reinforce trust in your company (and what you sell).

2. The Teacher
Salespeople need to be industry experts and knowledgeable resources. They also need to share their wealth of information with others. Use content to educate prospects on their profession and your industry. It will demonstrate that you have a deep understanding of both.
By sharing valuable content with prospects, they'll come to see you and your company as a go-to source for useful and helpful information. What's more, educational content will help them think differently about their business and find new ways to be more effective.

3. The Coach
As any great salesperson knows, the most effective of the bunch "pushes buyers to think differently, educates buyers with new insights, and tailors conversations to their needs."
First and foremost, it's important to identify and understand your prospects' strengths, weaknesses, and what matters to them most. Once you have this information, you can tailor your content and subsequent conversations to what's important to them. It's also important to provide insights and content that challenges your prospects "to push themselves and their business forward."

4. The Problem Solver
Create and utilize content that solves prospects' pain points. This makes you even more of a trusted resource, and proving you can help prospects solve problems garners trust.
By establishing yourself as a resource and a problem solver, prospects will be comfortable being honest about their challenges. And the more you know about those challenges, the easier it will be to share content that addresses them and provides value.

5. The Partner
If you're using content correctly throughout the buyer's journey and have helped prospects grow and learn during the process, they'll come to see you as a partner in their success.
Ultimately, incorporating content into your sales strategy will help move prospects closer to purchase more quickly and efficiently.
Conclusion
Overall, content is a great way to establish relationships with prospects and help them succeed. Taking advantage of the internet to engage in online conversations and share content with your buyers will naturally help strengthen relationships.