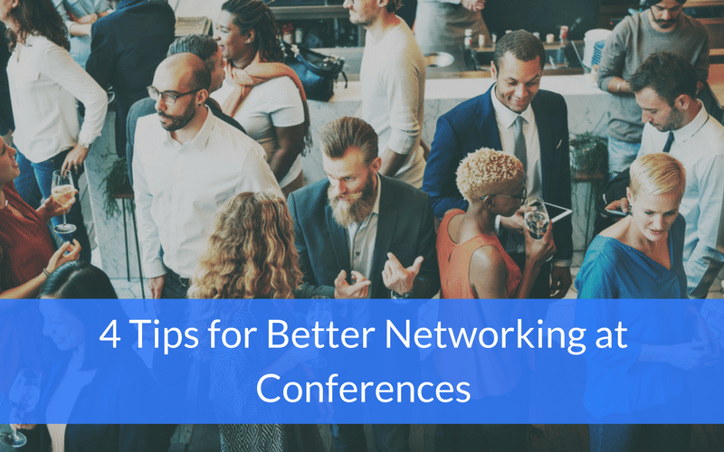 When you're at industry conferences, do you develop meaningful connections that lead to business partnerships, sales opportunities, or even lifelong friendships?
While salespeople tend to be naturally gregarious and outgoing, they sometimes sabotage their chances of making valuable connections at events and conferences.
Here's a collection of ideas to help you make the most of your time at professional conferences.
1. Don't Be a Loner
Take every chance you have to network. Most all-day events supply breakfast and lunch for attendees, so it's an easy way to log in some face time with peers. If you have to break away to catch up on emails or take calls, do so in the lobby or other common areas. That way, you'll create opportunities for spontaneous interaction.
Starter questions: "What brought you to this event?" and "What are you hoping to learn today?"
2. Make It Worth the Wait
Turn waiting time into networking time. Usually the first thing you do when you get to an event is stand in line to pick up your registration badge. Is there a line? Great. Turn to the person behind you and ask where he's from and what he hopes to learn today. Waiting in line at the lunch buffet? Another great time to start some small talk—at this point, you should have heard some presentations, so your opening question can be about one of the speakers. Stuck in a lull between presentations? Perfect. Ask the person next to you how her day is going and if the event is living up to her expectations. In short, take every possible chance to introduce yourself to others.
Starter questions: "What are some of the top speakers and sessions you're planning to attend this year?" or "What do you think of the speakers so far?"
3. Leverage Social
Participate on the event hashtag on Twitter. It's a great way to connect with people you might never meet otherwise. Most events have a designated hashtag. For example, HubSpot's Inbound Conference uses #inbound16. If someone else tweets something interesting, you can retweet it and/or reply to that person. Voila, instant connection! At the Sales 2.0 Conference, Chief Networking Officer Alice Heiman encouraged attendees to snap and tweet selfies whenever they met someone new. (Bonus, this is a great way to remember names and faces.)
Starter question: "Loved the presentation about inbound marketing this afternoon. What did you think?"
4. Set the Stage
You can set the stage for great networking before the event starts by taking a couple of easy steps.
Set your auto reply message so you don't feel compelled to constantly check your email.

Take good notes during presentations. This will help you kick-start small talk when you meet someone new at the event.

Cancel or reschedule any non-urgent conference calls so you can focus on what's happening in the here and now.

Designate a colleague to be a first responder to any fires that might normally be your responsibility to handle.
If you're in a sales role, any activity that takes you away from customer-facing activities needs to be time well spent. Use these tips to improve your networking skills at conferences and make the most of your experience at professional events.