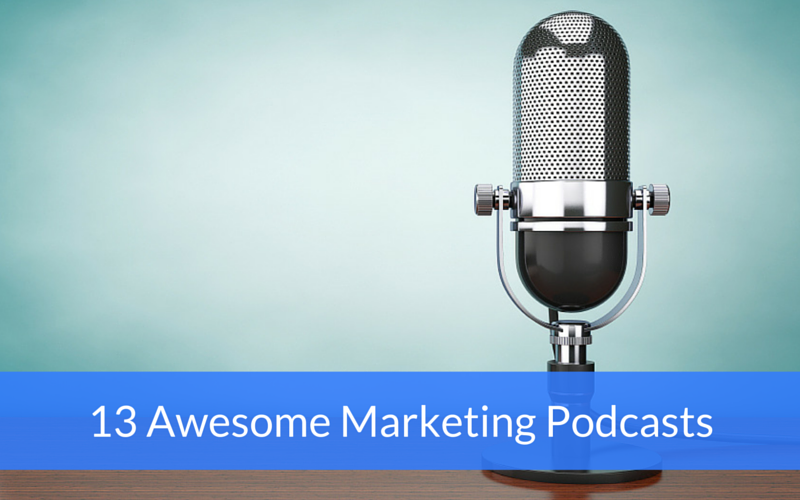 We live in an age where you can learn a lot about almost any given industry for free online.
Take digital marketing for instance. If you were interested in learning about the industry, you could learn a ton about it online from free resources like eBooks, videos, webinars, blog posts and podcasts.
While the former examples are more common, the latter is still, in my opinion, an underrated form of content.
If you still haven't jumped into listening to podcasts, now might be the time. They can offer a ton of valuable information in a fun way.
Here are 13 of the best marketing podcasts that you should definitely add to your queue today.
1. The #AskGaryVee Show
The #AskGaryVee Show is hosted by the legendary Gary Vaynerchuck, an entrepreneur who took his family's wine business from $3M to $60M in five years. He currently runs VaynerMedia, a successful "social media first" digital agency.

On the #AskGaryVee show, Gary answers listener's questions about marketing, social media, and entrepreneurship. There are currently 226 episodes and all are FREE! There is also an accompanying YouTube channel if you want to watch the sessions.

A Sampling of Shows
Employee Poaching, Nervousness & YouTube Influencers
Business Networking 101, Yelp Advertising & The #AskGaryVee Book
The Future of Instagram, Employee Turnover & How to Make Money as a Teen
2. ConversionCast
ConversionCast is all about metrics. Each episode provides "real-life case studies from marketers who are already deep in the marketing trenches." These marketers share a tactic they've used to increase their numbers and the hard data of the before and after results.

This podcast is hosted by Tim Paige, the Conversion Educator at LeadPages, who has helped the company generate over 100,000 new leads and 30,000 paying customers.
A Sampling of Shows
How Squatty Potty Generated 60 Million Video Views
Increasing Open Rates By 75%
The Simple Tactic That Generated 290K New Email Subscribers
3. Duct Tape Marketing
The Duct Tape Marketing podcast is hosted by small business marketing expert John Jantsch, author of the books Duct Tape Marketing, The Referral Engine, and The Commitment Engine.
This podcast includes "interviews with authors, experts and thought leaders sharing business marketing tips, tactics, and resources." John started the podcast late last year and publishes a new one each week, all for free!
A Sampling of Shows
The Secret to Building High Quality Links
Why Facebook Advertising is Great for Every Industry
Using the "Eavesdrop Effect" to Get Ideal Clients
4. Entrepreneur on Fire
Entrepreneur on Fire, hosted by John Lee Dumas, is "a top ranked business podcast where I interview today's most inspiring Entrepreneurs 7 days a week." EOFire has won the Best of iTunes award based on its commitment to guide its listeners on their entrepreneurial journeys.
Every podcast covers the guest entrepreneur's biggest failure and lessons learned, his or her "Ah-ha" moment and the steps they took to turn it around, and a lightning round where s/he must answer six rapid-fire questions.
A Sampling of Shows
How to stop hunting for clients and instead be hunted
Get the right people to your website and convert them into subscribers and sales
Accomplish more without the hustle and leave a legacy that has a lasting impact
5. The Fizzle Show
The Fizzle Show is "a podcast for creative entrepreneurs and honest business builders who want to earn a living doing something they care about." It's a weekly indie business talk show for those "who want to do great work, dent the universe and support yourself doing something you care about."
Listen to learn about marketing, productivity, self-employment advice, work-life balance, growing an audience and other business essentials. This podcast is hosted by four members of the Fizzle team, including the CEO, Creative Director, the Head of Growth and the Head of Member Success.
A Sampling of Shows
How Much Should You Promote Your Own Content?
Squarespace vs. Wordpress
Rethinking How to Get More Traffic
6. The Growth Show
The Growth Show is HubSpot's business podcast for "leaders consumed with driving growth—growing a company, growing a movement, growing an idea, growing a team." Each episode features someone who has achieved remarkable growth and dives into how s/he did it.

This podcast has various hosts (Kipp Bodnar, the CMO of HubSpot being one) and guests, including WildFire's founder and the man behind PostSecret.
A Sampling of Shows
The Risks & Rewards of Getting Acquired by Google
How to Build a Brand When No One Understands What You Do
The Realities of Scaling a Startup: Inside Wistia's 10-Year Path to 200K Customers
7. The Marketing Companion Podcast
The Marketing Companion Podcast is hosted by marketing author and consultant Mark Schaefer and researcher Tom Webster. The podcast includes a comedic take, guest appearances, and "cutting edge marketing insights."

The guys started back in 2013 and have continuously put out at least two free podcasts per month!

A Sampling of Shows
Achieving the Digital Mindset
Why Twitter Matters
Influencer Marketing is Hot and about to Get Hotter
8. Marketing Over Coffee
Marketing Over Coffee is a podcast that covers both classic and new marketing. It covers topics including social networking, SEO, email marketing, copywriting, and offline marketing.

Hosts include John J. Wall, VP of Marketing at EventHero, and Christopher S. Penn, co-founder of the PodCamp New Media Community unConference.

A Sampling of Shows
Special Interview with Simon Sinek, Author of "Start with Why"
Ann Handley on Everybody Writes
Missing Links Edition: Basic SEO Toolkit, Twitter, and News for Free on Your Kindle
9. Seth Godin's Startup School
Seth Godin's Startup School podcast is a bit older (it ran from late 2012 to early 2013) but it's still relevant. In the podcast, Seth "guides thirty entrepreneurs through a workshop exploring how they can build and run their dream business."
The 15 episodes run from 17 to 38 minutes and have garnered four and a half stars on iTunes.
A Sampling of Shows
Freelancer or Entrepreneur?
Creating Scarcity
Raising Money
10. The Smart Passive Income Podcast
The Smart Passive Income Podcast is hosted by Pat Flynn, a successful online entrepreneur who teaches people how to earn passive income online.

The podcast includes strategy, weekly interviews, and advice for building your own online business. It has been featured on iTunes and in the New York Times, and has won awards from the Academy of Podcasters, New Media Europe, and PodcastAwards.com.

A Sampling of Shows
Tim Ferriss on Podcasting, Productivity, Experimentation, and if He Had to Start Over
Michael Hyatt on the Secrets of Team Building and Leadership
A Product Launch Sequence That Works—How to Create a 3-Part Video Series with Amy Porterfield
11. Social Media Marketing Podcast
The Social Media Marketing Podcast is hosted by Michael Stelzner, CEO and founder of the Social Media Examiner. Listen to this podcast to help your business "navigate the social jungle." It includes expert interviews and success stories from leading social media marketing pros.
You'll also "discover how successful businesses employ social media, learn new strategies and tactics, and gain actionable tips to improve your social media marketing." This is a free weekly podcast with over 150 episodes!
A Sampling of Shows
Content Creation Hacks: How to Quickly Produce Valuable Content
Facebook Advertising 101: How to Get Started with Facebook Ads
Google Analytics: How to Know if Your Marketing is Working
12. Social Pros Podcast
The Social Pros Podcast, brought to you by Convince & Convert, was recently named the best podcast at the Content Marketing Awards. The podcast is hosted by Jay Baer of Convince & Convert and Adam Brown of Salesforce.
Check out this podcast to listen to "real insight [from] the real people doing real work in social media." Learn how companies like ESPN, Ford, IBM and Dell "staff, operate and measure their social media programs."
A Sampling of Shows
How to Maintain Your Brand's Authentic Voice
Listen Smarter: How to Balance Proactive and Reactive Listening on Social
How Customer Service Can Devastate Your Social Media Plans
13. This Week in Google
This Week in Google covers the latest Google and cloud computing news. The show is hosted by Leo Laporte, founder and owner of the TWiT Netcast Network, and Jeff Jarvis, author of "What Would Google Do?" and creator and founding editor of Entertainment Weekly.
This podcast boasts over 350 episodes and also includes videos.
A Sampling of Shows
Ranking Mobile Sites with Matt Cutts
Google I/O 2016: Android N, Google Home, Allo and Duo, Daydream Virtual Reality
Ad Blocking, Right to Be Forgotten, and Cheese
What are your favorite marketing podcasts? Please list them for us in the comments!