xoombi CEO & Co-Founder Doyle Slayton was recently featured on Tony Scelzo's video series "The Line" which highlights successful professionals sharing insight into their respective industries.
Tony and Doyle chatted about the changing face of sales and marketing and provided insight into the direction companies need to start moving.
Here are some of the key takeaways from the video:
1. The game has changed.
Doyle admits he still believes in outbound sales strategies, including prospecting and cold calling. However, those strategies alone simply aren't enough, "At one point 15 years ago I might be able to make 15-25 calls and get an appointment…now sales reps have to make 100 to 200 prospecting attempts just to get an appointment." Challenges with prospecting leads to a high burn out rate for sales professionals and a high turn over rate for companies.
In order to solve this problem, lead flow must be supplemented and list building needs to be improved. Companies need to have an established online presence so that they have a more visible and recognizable brand. This goal is to have prospects recognize your company's name before salespeople even make the first call. These tactics will allow for a higher ROE, or Return On Effort, and will position the company and the salesperson as industry experts.
2. Technology has given salespeople an advantage.
After Forbes' article "The Disappearing Sales Process" came out two years ago stating that consumers made their way through 60 percent of the sales process before making contact with a brand, many outlets focused on how much information and power the consumer had due to technology. However, few explored how that same technology gave salespeople an advantage.
Nowadays, sales reps have access to a plethora of information about their target audience and can therefore find and reach out to more qualified prospects. This means that the leads salespeople call have at least some interest in the product or service that's being sold before they even answer the phone.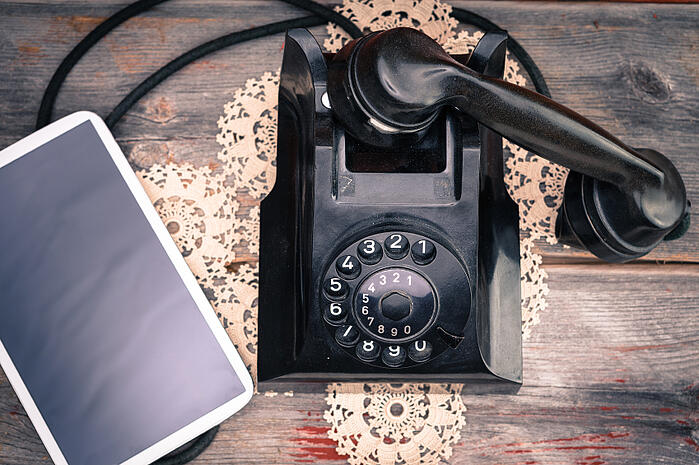 3. It's time to combine outbound with inbound.
Doyle and Tony agree that it's time to combine the old school mentality with the new school mentality and companies need to strengthen outbound sales activities with inbound marketing tactics.
"The thing that frustrates me the most is when people say inbound is the only way to go and that the phone is dead," Doyle explains, "It makes me cringe. When people talk about how others don't want to be sold…those statements are [misconstrued] by salespeople who don't want to prospect and don't want to hunt for new business."
Doyle continues by explaining that it's important to incorporate inbound strategies with outbound tactics to truly have the most effective sales process.
4. Marketing and Sales teams need to work together.
Part of the pre-Internet mentality was that marketing and sales teams were separate and should remain that way. Today, however, with an ever-evolving technological landscape, marketing and sales teams need to work together.
That's why Doyle and xoombi believe in "sales-driven marketing." At the end of the day, sales drive the business, and marketing supports the sales strategy. By understanding the sales process and creating marketing campaigns that support it, customers will move through the buyer life cycle more swiftly and smoothly.
A more communicative sales and marketing force will also reduce mishaps like sending two different and completely unrelated emails to the same prospect in one day. If efforts are mutually agreed upon and supported, a unified team will eventually provide the new face of a unified company.
Ultimately, we need a shift in mindset and to change the culture from the inside out. Communication has changed a lot in 30 years, but the ruling company culture still hasn't caught up. We need people who understand both sales and marketing, and how they can work together, to start this conversation. Hopefully, this will lead to more businesses implementing more cohesive work strategies to get both Sales and Marketing teams on the same page.
Image Source: iStock