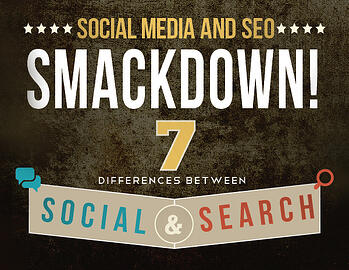 Sales and Marketing teams are constantly looking for ways to generate leads that are going to close faster. Search engines and social media are the two main drivers for capturing an audience and driving traffic. Each has it's own strategy and they come from opposite ends of the spectrum. How do you succeed with both?
Ironically, a great social media strategy can get you in front of large audiences in a hurry, but the sales cycle is longer. With SEO, getting to your audience is more difficult and takes more time, but the sales cycle is shorter.
It's easy to see why most companies we work with are better at one strategy over the other.
Check out this great infographic by Orbit Media Studios. It breaks down the seven differences between social media and SEO.

Still have questions? Join the conversation on LinkedIn and GooglePlus.