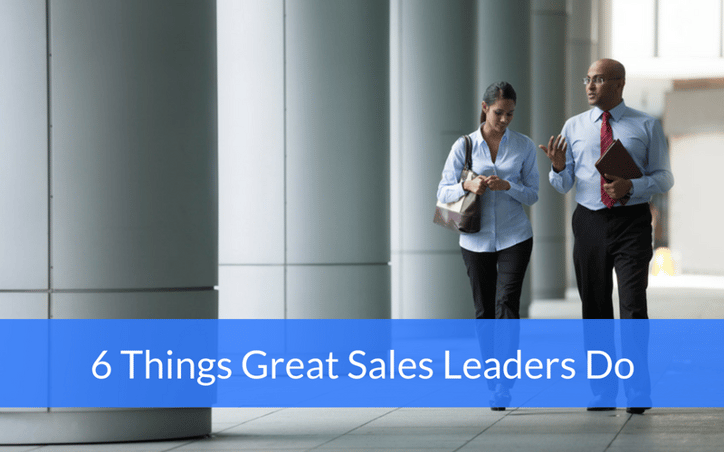 Sales leadership is one of the most difficult jobs in business today.
I've always enjoyed watching great leaders in action. When you observe the best, there are six things you'll notice that great sales leaders do.
1. Culture
Leaders define the culture. It begins with establishing a higher level of thinking reinforced with an understanding of how the organization responds in the face of a challenge. And, just as importantly, how it behaves during times of success. Leaders are first people who represent the brand and create an environment for success.
2. Opportunity
Leaders can see into the future and make decisions that will open doors for opportunity. They embrace up-and-coming talent and new ideas. Driven by an unyielding commitment, they take their people and the organization to a higher level of excellence.
3. Development
Leaders gain an edge when they develop their people. It lays the foundation for greatness and creates an "always be learning" attitude. Everything is about coaching, continuous improvement, finding ways to get better, and moving forward in a positive direction.
4. Performance
Leaders understand the business and the key performance indicators that generate results. They build strategic initiatives around leading indicators rather than lagging indicators. They assess a situation, connect the dots, and provide high value recommendations to improve results.
5. Empowerment
Leaders empower their people. Clear expectations, coupled with supreme confidence, allows leaders to step back and watch their people make their own decisions, decisions that will shape not only the present, but the future of the organization. They understand the power of putting people in a position to shine.
6. Recognition
Leaders recognize and reward top performance. They don't wait until the end of the year to celebrate success. Great sales leaders look for daily opportunities to provide sincere and timely recognition. They make their people feel valued, secure, and energized.
Share your experience and observations. What other leadership behaviors and characteristics would you add to this list?