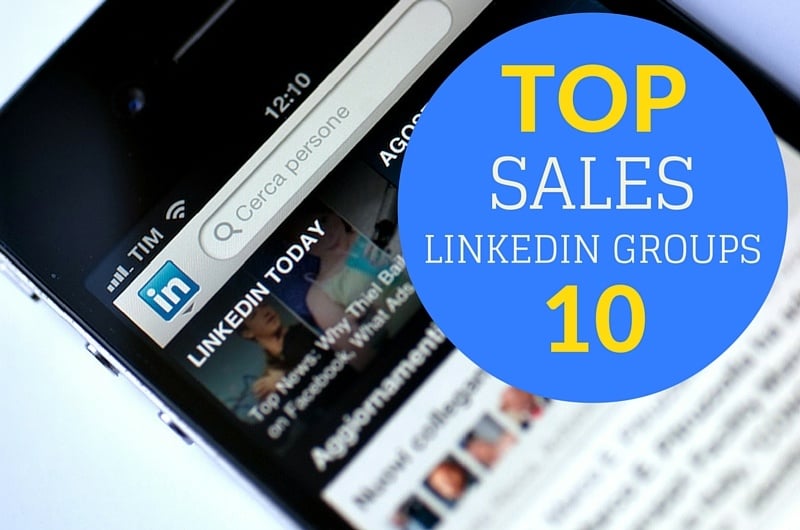 If you haven't noticed already, we're big fans of LinkedIn here at xoombi. As an agency that helps our clients with both inbound marketing and sales coaching, LinkedIn has a special place in our heart. Not only is it an excellent place for B2B social media marketing, it's also ideal for sales prospecting.
In our opinion, one of the best features of LinkedIn is the ability to join and participate in groups. But with millions of LinkedIn groups, how are you supposed to know which ones are the best to join?
To help you network more efficiently, we've created this list of the top 10 sales LinkedIn groups. (If you're interested in marketing groups, go here.)

1. Innovative Marketing, PR, Sales, & Social Media
This group comes to us by illumiNation.com and boasts almost 400 thousand members! Join this group to network with "innovative marketing, public relations, promotions, and sales professionals."
This is the largest LinkedIn group where you can "learn and share best practices, ideas, advice and solutions."

2. Sales Best Practices
The Sales Best Practices group has almost 280 thousand members and is about "sharing our experiences and solutions as it relates to selling, marketing and best practices."
Popular topics include:
Sales tools and software
Closing strategies
Sales development
Prospecting
Team management
Business strategy
Cold calling
Productivity
Marketing
Recruitment

3. Business Development: The Missing Link between Marketing & Sales
The Business Development group has about 260.5 thousand members and is run by the Noble House Group.
Typical discussions surround all things business development, from sales, marketing, and PR to boosting communication in order to "be and remain successful in the selected (new) markets."

4. Sales Management Executives
This group is the largest LinkedIn sales management group with over 241 thousand members. It's dedicated to "bridging the knowledge gap, allowing sales management executives to thrive."
After all, as the group owner explains, oftentimes "companies throw their best sales people into the role of sales manager but fail to train, develop, and mentor them."

5. Sales & Marketing Executives
This group was the 2015 award winner for "Best LinkedIn Group for Chief Sales/Marketing Executives." What differentiates this group from others is that it's 100% made up of conversations, as no content sharing is allowed.
In order to keep the group focused on conversation, it has pretty strict rules (e.g. no self-promotion, blog posts, hyperlinks, etc.).

6. Sales and Marketing Alignment
These days, sales and marketing alignment is becoming more important that ever. The Sales and Marketing Alignment group on LinkedIn is a great place to learn from people that have implemented successful alignment strategies.
This community is made up of over 144 thousand members and shares "tips, tactics and techniques to help sales and marketing work together better." Join to check out resources on how to increase revenue, learn about buyer and price objections, and see if feature or solution selling is best for your business.

7. The Sales Association
The Sales Association group's mission is to "provide members a powerful and strategic means to connect with one another at events and online, grow professionally, and drive profits within their organizations."
Popular topics discussed in the group include:
Sales management
Enterprise sales
Business development
Sales quota
Complex sales
Channel partners
Negotiating
B2B Sales

8. Sales Playbook
Sales Playbook consists of close to 54 thousand members and, according to owner Paul Castain, is a place where members "do our best to figure out all this crazy 'sales' stuff as we share our thoughts, opinions, strategies, best practices, etc."
Topics include:
Sales enablement
Social selling
Prospecting
Lead generation
Pipeline management
Closing new business

9. Inside Sales Experts
This group, made up of over 51.5 thousand members, was created "to give Inside Sales executives a forum to share ideas and information."
Like the Sales & Marketing Executives group, this is a discussion-centered group and therefore all self-promotion and spam are removed.

10. Sales and Marketing Leaders
Last but not least is xoombi's Sales and Marketing Leaders group with almost 41.5 thousand members. This is a discussion forum and content sharing group for salespeople and marketers alike.
Popular topics include lead generation, social selling, pipeline management, prospecting, outbound sales and inbound marketing.