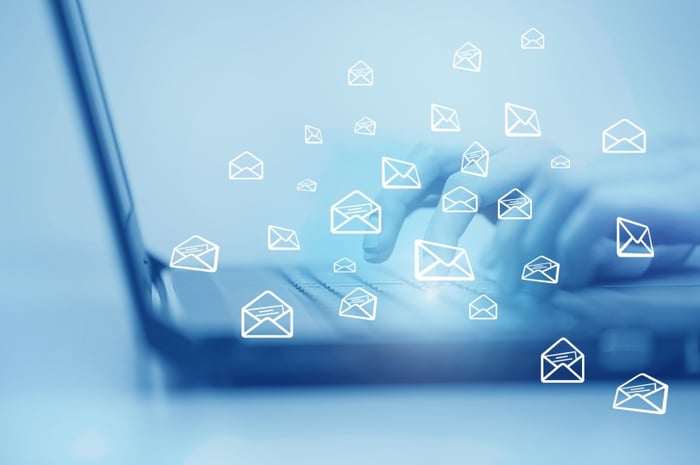 You spend a lot of time crafting your sales emails to be well written and effective. But what if those emails never get opened?
That's where subject lines come in. If you can craft a subject line that captures your recipient's attention and piques his or her interest, your hard work will pay off. It's an incredibly important aspect of the sales email, as 35% of email recipients open email based on subject line alone and 69% of email recipients report email as spam based solely on the subject line.
Subject Line Best Practices
Here are 10 sales email subject line best practices you should be implementing.
1. Keep it short and sweet.
According to a Hubspot study, emails with subject lines that were 30 characters or less were more likely to be opened than emails with longer subject lines.
2. Include the word "video."
According to Experian, including the word "video" in an email's subject line increases the click through rate (CTR) by 7%-13%. This means you'll have to include a video in your email of course, which also happens to be a best practice! In fact, embedding a video in an email generated an average conversion rate 21% higher than emails containing a static image alone.
3. Never forward an email onto a prospect.
Make sure you're not forwarding along an email to a prospect. If you need to pass along information in this way, make sure to personalize it before hitting send. Also, make sure you remove the "fw:" as subject lines with it are opened 17% less than those without.
4. Don't use the word "quick."
Sidekick by Hubspot found that emails that used the word "quick" in the subject line were opened 17% less than those without. Instead of asking a prospect to connect for a "quick" call or to have a "quick" conversation, be more specific. To create a sense of urgency, try asking if s/he can connect for a "five-minute" phone call.
5. Use the word "tomorrow."
Emails using the word "tomorrow" in the subject line were opened 10% more than those without. While the word "quick" has a negative impact implying urgency, "tomorrow" creates a sense of time sensitivity that positively impacts open rates.
6. Avoid using the word "you."
Emails with "You" in the subject line were opened 5% less than those without. So don't send emails titled "Are you still interested in our solution?" or "It was a pleasure discussing our solution with you today." If you're using "you" to try to make your emails more personal, try using the prospect's name instead.
7. Include the word "free."
Sidekick also found that emails with "free" in the subject line were opened 10% more than those without. Try crafting your subject lines along the lines of "[Prospect Name], are you free to chat this week?" or "Feel free to contact me with any questions…"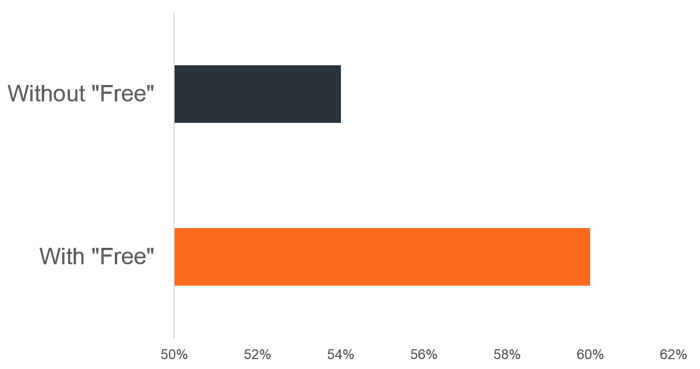 Graph via Sidekick
8. Don't use "meeting."
Your prospect is busy and already has a lot of meetings. The word "meeting" may convey that it's a necessary email and therefore make it unappealing, deterring prospects from opening it. In fact, sales emails with "meeting" in the subject line were opened 7% less than those without.
9. Avoid the word "newsletter."
According to Adestra, emails with the word "newsletter" in the subject line had an 18.7% decrease in click-through rates. Instead, use the word "alert," which has a 38.1% increase in opens and 61.8% increase in clicks.
10. Don't include a subject line.
This may seem counterintuitive in a post titled "subject line best practices," but Sidekick found that emails with no subject line were opened 8% more than those with a subject line. Without a subject line, prospects will see a preview of the email body. Don't use this approach for first contact, but rather after you've already connected with a prospect.
Subject Line Examples
Here are a few subject lines you can try today:
"Question about [recent event or prospect goal]."
"Thoughts about [title of blog post or eBook, etc.]."
"[Name of mutual connection] recommended I get in touch."
"Ideas for [thing that is important to prospect]."
Conclusion
In order for buyers to even give your emails a chance, they need to be attention grabbing, personalized, and valuable. To cut through the noise, your subject lines need to stand out from the pack and be more relevant and thought provoking than the rest.
When trying out new sales email subject lines, make sure to A/B test them. First, split your email list into two, send one half with one subject line and the second with another, and then track the batches' respective open and click through rates. This will give you a good indication of what works best for your specific industry and your unique prospects. Contact our xoombi sales consulting specialists to help your team craft high impact sales emails.
Have your subject line down? Now it's time to craft your opening line. Was your first email a hit? Here's how to write the follow-up email.