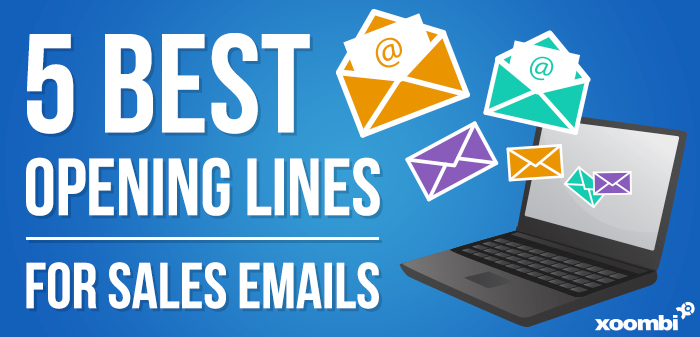 There was recently a great discussion that happened over at GrowthHackers.com, an online community where you can "learn and share about ethical online marketing techniques that drive effective, scalable and sustainable growth."
This amazing conversation was prompted by GrowthHackers team member Logan Stoneman who asked: "What is the best opening line you've received from a cold sales email?"
He followed up his question by stating that getting a new business started is the hardest part, especially when you have to write a cold email to someone who doesn't know you or your product. Many community members helped answer the question: "What's the best first sentence or introduction you've seen or received from a cold sales email?"
Here are the top five responses.
1. "[Insert Name] suggested I get in touch with you about some potential challenges you may be having with [Insert Problem]…"
This one comes from Sean Ellis, the founder and CEO of Qualaroo and GrowthHackers.com. He explains that this approach works because of the referral, and that it's even better if the person referring the sender makes the introduction. He continues by explaining that if you're going to cold email, invest a lot of time personalizing it. "In my opinion everything else is spam."
He adds that what's starting to get worn out is the "Are you still the person who handles [activity]?" email. "I get this form email almost every day. A couple years ago it may have worked, but by now everyone has read the same book and is using the same email."
2. "Hey [Insert Name]"
Adam Szabo, a growth-focused marketer-engineer, prefers to receive more informal emails. The "best cold emails I have received (without a referral) are the ones that look like emails I get from my friends. No formatting, lower case subject, short text starting with something like 'Hey Adam.' When there's a lot of formatting and the first sentence is 'We are a x company giving y solutions…' I'm not even reading further."
He goes on to explain that it's essential to do some real work before hitting send, like pointing out SEO issues with the recipient's site if you're an SEO service.
3. "Dear [Insert Name], I saw your post on [X Site] about [X topic]…"
Tiffany Dasilva, the Digital Strategy Director at Powered by Search, explains, "having someone who noticed something about me and had a question about what I did, or answered a question I had on here [GrowthHackers.com] or on twitter with their product has always worked wonders."
Flattery works. And if you take the time to listen to someone and respond to someone's needs, you'll likely get him or her to open and respond to your cold sales email. User Jason Bedunah agrees, "Already knowing something about one of my posts/comments/tweets and tying it into some initial information usually got me to click."
4. "I noticed you're having trouble doing [X] and here's how you can fix it."
Stuart McKeown, co-founder at Gleam.io suggests, "I usually had the best success pointing out how the recipient was doing something poorly and how we could help do it better (sometimes complete with a working example)."
These emails usually take a little more time to execute, but the more effort you put in, the more the recipient will be able to tell and the more likely s/he will be to read it and respond. Try to include visual elements like screenshots or GIFs of problems you bring up in your email.
5. "Hi [Insert Name]. I found your company via [referral person, their blog post, etc.] and want to talk to you about helping you get more people interested in [name their company or product]."
This one comes to us from Pawel Janiak, a software developer at Unboxed Consulting. After this opening line, he goes on to give a short pitch about how his product can scale up benefits, increase quality conversations, and help with retention rates and SEO.
This is a great approach because it mixes elements of numbers one and three: it uses a referral touch point—either by means of a person, social media interaction, or blog post—and offers value to the recipient.
Conclusion
One of the recurring themes throughout people's responses was that the email shouldn't be about the sender or the product s/he is selling, but about the recipient. People are naturally selfish and curious, so if you can incorporate something that speaks to both of these traits in your sales emails, as one member puts it, "you're golden."
Lastly, don't get discouraged if someone doesn't respond to your first email. Many times, people are busy, inboxes get full, and emails get missed. Don't let a non-response to your initial email deter you; many times, you'll get positive responses from a second or third email.