The Internet has provided businesses with an opportunity to sell their product or service to a global audience. However, selling online encompasses a whole new set of rules than that of traditional selling. Given the importance of inbound marketing and having a digital presence nowadays, it's essential that businesses learn the art of marketing online. After all, combining inbound marketing techniques with traditional outbound marketing methods will only increase your sales and success.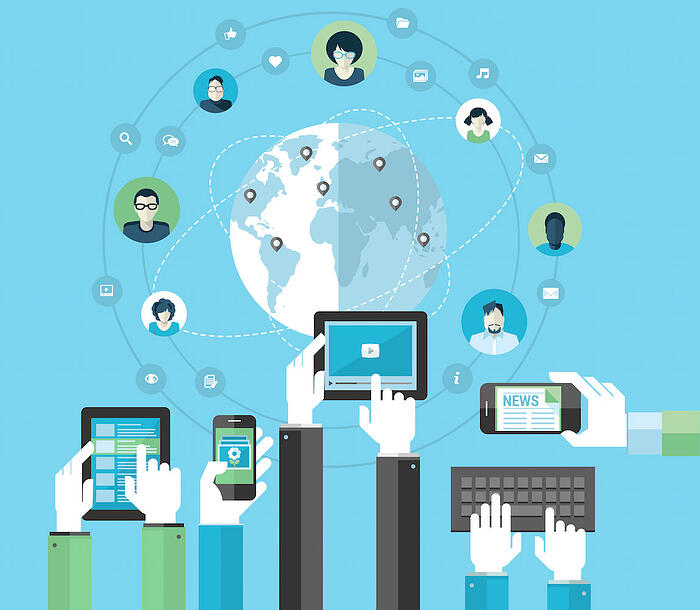 Step 1: Getting Started Online
Before diving into marketing online, it's important to first establish an online presence. Make sure you have these fundamentals in place before moving forward:
Website: This may seem obvious, but you'd be surprised by how many companies brush over this crucial step in their excitement to find business online. Make sure you have a well designed, easily navigated, SEO-friendly website in place before drawing attention—and prospects—to your company online. This will ensure that prospects have a place to go and learn more about your business wherever they may find you on the World Wide Web.
Social Media: There are a lot of social media platforms out there, so don't feel like you have to be on absolutely all of them. The nature of your company will determine which social media sites you should have a presence on. For example, if you're a company that sells physical products, you should definitely be on photo-friendly platforms like Pinterest and Instagram. On the other hand, if you sell B2B services, make sure you have accounts on LinkedIn and Google+.
Blog: Ever heard of something called content marketing? It's one of the most effective ways to get online prospects to your website. Creating content, whether it be in the form of a blog post, in-depth article, infographic or eBook, will not only increase the SEO friendliness of your site, but will provide value to prospective customers.
Step 2: Doing Your Research
Instead of writing and posting whatever you want to your company's blog, you need to first do some research.
Before putting pen to paper, or fingers to keyboard, you need to know who you're writing for and what content they want to consume. This can be achieved by creating buyer personas.
A buyer persona is a semi-fictional representation of your ideal customer. This persona is based on real data and market research about your existing customers. When crafting a buyer persona, you need to include your customers' behavior patterns, motivations, demographics and goals.
For example, say you are a software company that sells content management systems. Your demographic primarily consists of white, male inbound marketers and startup founders. LinkedIn is their favorite social media site and they tend to be online weekdays during business hours.
With this information, you now know not only whom you're writing for and what content they want to consume (a list post of how content managements systems can improve their content marketing strategies), but where and when you should market your content online.
Step 3: Networking with Leads
It's important to network with potential customers online. Luckily, this has been made a lot easier with the prevalence of social media. Use the platforms your company is active on to consistently engage with prospects and move them along the sales funnel.
What's great about networking with prospects on social media is that they are on these sites to interact, engage with, and learn from others. As long as you can consistently provide helpful, valuable information to potential customers, they'll welcome your engagement.
After all, in the words of renowned marketing consultant and best-selling author Jay Baer:
"Sell something, get a customer for a day. Help someone, get a customer for life."
Step 4: Being Persistent
Once you have an online home established for your business, you will be able to engage prospects in a variety of different ways from a multitude of channels. Make sure that you've laid the groundwork, continue to research your prospects, and network with potential customers online in order to develop a truly effective inbound marketing strategy.
---
Although it's like learning a new language, marketing online will ultimately prove its worth as a source of fresh, new business: a welcome addition to your tried and true outbound marketing techniques.