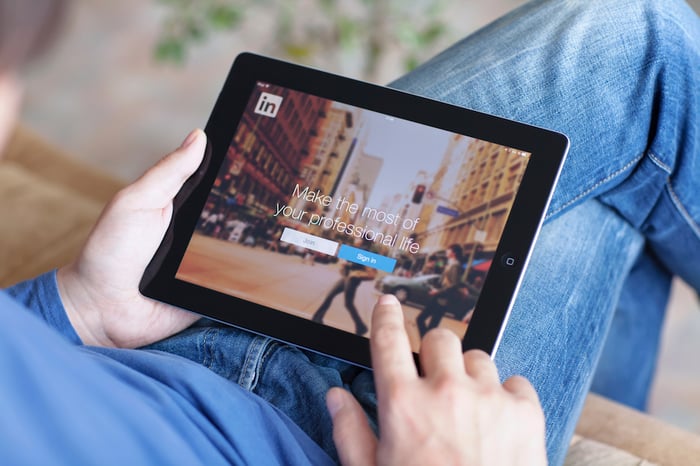 If you're running a B2B business, the best social media site you can be on is LinkedIn. Not only does LinkedIn boast 347 million users, it's rapidly expanding, with two new members joining per second.
The LinkedIn community is also very active, with 40% of users logging onto the site daily. What's more, the social media site is used in 200 countries and territories worldwide.
So how do you leverage LinkedIn for your B2B Business? Ethos3 recently created an awesome infographic to teach its readers just that. Here are some of the most important takeaways:
Post on LinkedIn on Tuesdays and Thursdays between 7am and 9am local time.
According to Buffer, "LinkedIn has found that 20 posts per month can help you reach 60 percent of your unique audience."
Keep long-form posts between 500 and 1,200 words.
LinkedIn reports that company updates with images have a 98% higher comment rate than updates without images.
Share original content. According to Jason Miller, the senior manager of content and social at LinkedIn, "content is now viewed six times more than jobs-related activity."
Have salespeople keep their profiles up to date, as many prospects will check them to assess credibility.
Instead of using a generic link to your website on your company page, use a call to action.
Share high-quality resources, expert advice, and other information with your network.
Embed infographics and SlideShare presentations into your company page, personal profile, and long-form posts. People love visuals!
Use the @ symbol to include people or other businesses you want to see your LinkedIn status updates.
Join groups and stay active in them by starting and participating in discussions.
Use the Evernote integration on LinkedIn to organize business cards, LinkedIn information, and networking notes in one place.
Add a short video about your company to your company page, your profile and your employees' personal profiles.
Share visual presentations (like SlideShare presentations) in groups.
Use keywords on your company page like you would in a blog post.
Remember, your business doesn't only live on its LinkedIn company page; it also lives on every employee's personal profile. Make sure your employees are representing the business and themselves well.
If you have employees contributing to your company blog, encourage them to add the URLs to their posts under their current position on LinkedIn. This will show up as an eye-catching rich media field under their job description.

If your B2B company doesn't have a presence on LinkedIn, it's time to get started today. There's no social media site better tailored for making professional connections and driving traffic than this awesome business networking platform.